If you're a small business owner, you know the unexpected happens and you might need access to financing as soon as possible. In this case, you'll be looking for same-day business loans—in other words, a loan that you can apply to, receive approval for, and access, all within the same day.
Finding and accessing same-day business loans can be tricky. Plus, the faster you need the funding, the more expensive it's likely to be. But if you're in a tight situation, you'll want to know what your business loan options are.
This guide explores the best options for same-day business loans, including what to expect from lenders, what types of financing products fund quickly, and the pros and cons of accessing same-day small business loans.
Best Lenders for Same-Day Business Loans
See Your Business Loan Options
Same-Day Business Loans: The Best Lenders for Immediate Financing
Here are the best lenders that can offer same-day business loans:
Fundbox: Fundbox provides short-term lines of credit with a simple application and funding possible within the same day.
BlueVine: BlueVine offers invoice factoring and lines of credit. You can apply and receive approval in as little as five minutes, with financing possible within the same day.
PayPal Business Loans: These short-term loans have a 10-minute application process and can provide capital in your bank account as soon as the next business day.
Rapid Finance: Rapid Finance, formerly Rapid Advance, offers both short-term loans and merchant cash advances. Funding is possible as soon as the same day.
CAN Capital: CAN Capital, one of the oldest alternative lenders in the industry, provides short-term loans, as well as medium-term loans, and can offer financing within the same day.
Let's learn more
Types of Same-Day Business Loans
If you're looking for same-day business loans, you'll likely be choosing from the following:
Short-term loans: Similar to a traditional term loan, a short-term loan will allow you to borrow a set amount of money and pay it back, with interest, in daily or weekly payments over a period of about three to 18 months.
Merchant cash advance: A merchant cash advance (MCA) is a lump sum of capital you borrow from an online financing company and repay using a portion of your daily credit card transactions.
Business line of credit: With a business line of credit, you'll have access to a pool of funds that you can withdraw from whenever you need it. You'll only pay interest on the funds you withdraw and once you pay back what you've borrowed, your line will reset, similar to the way a credit card works.
Invoice financing: With invoice financing (also known as accounts receivable financing), you'll work with a lender to get an advance of about 85% of the value of your outstanding invoices. This way, you'll get paid right away, and when your customers pay their invoices, you'll receive the remaining 15%, minus the lender's fees.
These types of financial products lend themselves to speed better than others. SBA loans, for example, are notorious for their slow funding—due to the extensive application requirements and the lengthy process involved. This being said, however, SBA loans also have some of the most competitive terms and rates on the market.
Same-Day Business Loans: Pros and Cons
If you're looking for a same-day business loan, time may be of the essence. But you don't want to rush through the process and end up with the wrong business financing product—something that you can't afford or won't actually fulfill your needs.
Let's discuss further.
Pros of Same-Day Business Loans
So, what are the top benefits of same-day business loans?
First, of course, there's speed. With any of the financial products we've explored from top same-day lenders, you'll have access to the business funding you need, and quickly. Whether you need the funding to cover an emergency or take advantage of a new opportunity, sometimes it's necessary to access financing as quickly as possible—and in this case, you'll have access to the funds you need, fast.
Along these lines, another benefit of these same-day business loans is that they're available in many types of financing products. These options are not just short-term loans, but also medium-term loans, lines of credit, invoice factoring, and more. Therefore, these loans will not only give you access to financing fast, but they will also allow you to explore different products to find the one that will best meet your specific needs.
Moreover, many of these lenders and products have lenient requirements and simple application processes. Compared to a traditional bank loan or SBA loan, you'll be able to apply for a loan quickly and easily (and mostly online) and often won't have to worry about excessive documentation or information. Not only does this add to the speed of the loan, but it also makes the whole process easier for you.
Plus, for many newer businesses or business owners with less-than-ideal credit, it can be extremely difficult to receive financing. With many of these options, however, you'll find that lenders are flexible with their requirements—whether time in business, credit score, or revenue—meaning a greater amount of business owners can access the funding they need.
Cons of Same-Day Business Loans
There are also notable downsides to consider when it comes to same-day business loans.
First and foremost, speed often comes at a price. On the whole, the faster you need access to financing, the more expensive it's going to be. This is especially true if you can only meet lower-level business loan requirements. Therefore, although these loans may be able to get you financing quickly, you'll also be paying a significant amount in interest and fees to receive this capital.
Along these lines, same-day business loans will also have shorter repayment terms, especially in comparison to other products on the market. In this way, you'll not only be paying more for access to financing, but you'll also have to pay back what you've borrowed in a shorter amount of time.
Finally, since you'll only be able to access same-day funding from online, alternative lenders, you'll have to take more care as you explore lenders and what they can offer. Overall, the online lending industry is much less regulated than traditional banks, and therefore, you'll need to be on the lookout for predatory companies looking to take advantage of small business owners.
Although there certainly are reputable lenders out there—like the ones we've discussed—there are also companies that will promise immediate funding but will also charge hefty fees, expensive rates, and ultimately, trap your business in a cycle of debt that's difficult to break. With this in mind, if you're looking for same-day business loans, you'll want to take extra care to ensure that you're working with a trustworthy lender and aren't falling prey to scams or unsavory companies.
How to Choose the Right Same-Day Business Loan
Ideally, you would turn your search toward the financing products (like SBA loans or bank financing) that can offer you the best rates as opposed to the fastest funding times. However, sometimes time is your top priority, and in that case, you'll want to keep the following in mind when trying to determine what's right for your business:
Type of product: You'll want to consider what type of financing—a term loan, line of credit, or another option—will best meet your business needs.
Rates and fees: Rates and fees will be extremely important with same-day business loans. This funding will likely be more expensive compared to other options, so you'll want to know exactly how much any product will cost you and what the process will look like to pay back what you've borrowed.
Time to funding: Of course, if you're looking for a same-day business loan, time will be important. However, even if a lender can fund customers within the same day, it doesn't mean they always will. You'll want to remember that it may take longer than a day to work through your application and get access to your funds; plus, time to funding may depend on you—how fast you are to provide documentation, answer questions from the lender, etc.
Lenders: Whichever lender you decide to work with, you'll want to take extra steps to ensure they're reputable. Ask any questions you have, and determine that they're the right choice to work with your business throughout the business loan application and payback process.
By considering all of these factors, you should be able to narrow down your options to determine what type of same-day business loan and what lender will be able to best serve your business. However, if through this process, you find that you can wait to find a product with more desirable terms and rates, we'd recommend you do so, as it will likely be better off for your business in the long run.
Frequently Asked Questions
The Bottom Line
All in all, if you need a same-day business loan, there are options out there—including different types of products from different online lenders.
However, and we can't stress this enough, speed comes at a price. In other words, same-day business loans are going to be some of the most expensive business loans. Nevertheless, sometimes you need an emergency business loan or funds to jump on a once-in-a-lifetime opportunity. In these cases, it's important that you still take the time to find the right product and the best lender for your business.
And, if you can efficiently qualify and pay back a same-day business loan, you'll put yourself in a better situation in the future to find and receive funding that may be slower to fund, but can offer the most ideal terms and rates.
See Your Business Loan Options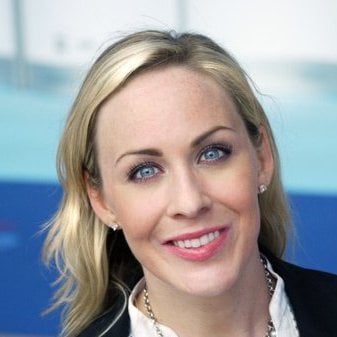 Founding Editor and VP
at
Fundera
Meredith Wood is the founding editor of the Fundera Ledger and a vice president at Fundera. 
Meredith launched the Fundera Ledger in 2014. She has specialized in financial advice for small business owners for almost a decade. Meredith is frequently sought out for her expertise in small business lending and financial management.
Read Full Author Bio