Best SBA Lenders for the Most Popular SBA Programs
SBA loans are the gold standard of business loans. They come with high loan amounts, low interest rates, and long repayment terms.
If you think an SBA loan might be the right fit for your business, you're probably wondering first, which lenders offer SBA loans, and second, which SBA lenders are the best to work with.
In this guide, we'll break down the best SBA lenders within the most popular SBA programs—including the 7(a) loan program, microloan program, and 504/CDC loan program. We'll also explain how to choose the right SBA lender for your business, plus review the basics of the application process and answer some frequently asked questions.
The Best SBA Lenders for the SBA 7(a) Loan and SBA Microloan Programs: A Quick List
Apply for an SBA Loan
The Top SBA Lenders to Work With
Now that you have a better sense of what each of the three most popular SBA loan programs entails, let's break down the best SBA lenders based on the program.
Ultimately, due to the way each of the loan programs operates, the top lenders will largely be unique to the specific program.
Let's learn more.
Top 10 SBA Lenders for the 7(a) Program
As we mentioned above, the SBA 7(a) loan program is the most popular of the SBA loan programs. As a result, this program has the largest number of participating lenders. Large banks, in particular, are very active 7(a) SBA lenders.
Below, we've listed the top SBA lenders within this program, with data on the loan volume and number of loans updated by the SBA as of December 31, 2019. The average loan size should give you a good idea if the lender is a good fit for you.
It's important to note that all of these lenders are part of the SBA's Preferred Lender Program. This means the SBA has authorized these lenders to approve applications for SBA funding without submitting the application to the SBA first. Working with a Preferred Lender will save you valuable time when searching for a business loan.
See Your Loan Options
1. Live Oak Banking Company
Based in Wilmington, North Carolina, Live Oak Bank doesn't offer any consumer loan products and does not have physical branches. Instead, this bank focuses exclusively on business loans, including SBA loans.
Live Oak offers a streamlined, electronic application for their SBA loan process and currently holds the spot for the top SBA 7(a) lender in the country. In addition, Live Oak works with other SBA loan programs as well, including the 504, 504 Green program, and more.
Number of loans approved: 250
Total amount approved: $347,271,200
2. Newtek Small Business Finance
Within the realm of business solutions, Newtek's business loans are only one feature this company offers. This being said, however, in terms of financing products, Newtek provides both SBA loans and traditional term loans, as well as lines of credit.
Number of loans approved: 253
Total amount approved: $205,579,500
3. Wells Fargo Bank
Wells Fargo is an SBA lender that offers a variety of financing options for small businesses: lines of credit, term loans, real estate financing, and equipment financing. As of the last update of this article, Wells Fargo's SBA loan volume makes them the second-most active SBA lender for 7(a) loans.
Number of loans approved: 692
Total amount approved: $144,769,600
4. Byline Bank
5. The Huntington National Bank
The Huntington National Bank is a Midwest bank with more than 1,000 branches across eight states. They are consistently ranked as the top SBA lender in the Midwestern region.
Number of loans approved: 762
Total amount approved: $124,924,100
6. Celtic Bank Corporation
Celtic Bank is one of the top SBA lenders, but this bank is a little different from most traditional banks. Celtic is a branchless bank and processes and underwrites loan applications completely online. This works in your favor because the Celtic Bank SBA loan process goes faster, and there's no need to visit a branch in person.
Number of loans approved: 142
Total amount approved: $114,060,900
7. JPMorgan Chase
You've probably already heard of JPMorgan Chase. This is one of the nation's biggest banks and they are also a very active SBA lender. Along with a wide range of business loan products, Chase offers some great business credit cards.
Number of loans approved: 472
Total amount approved: $91,328,900
8. U.S. Bank
U.S. Bank is another bank that you have probably already heard of. In addition to the standard U.S. Bank small business loans and lines of credit, this institution specializes in helping health care practices obtain business financing.
Number of loans approved: 697
Total amount approved: $83,206,500
9. KeyBank
Second-to-last on our top 10 list is KeyBank, a Cleveland, Ohio-based bank. Although based in Ohio, the bank can help businesses in the following states obtain SBA loans: Alaska, Colorado, Connecticut, Idaho, Indiana, Maine, Massachusetts, Michigan, New Jersey, New Hampshire, New York, Ohio, Oregon, Pennsylvania, Utah, Vermont and Washington.
Number of loans approved: 105
Total amount approved: $77,272,900
10. Readycap Lending
Finally, our last top SBA lender is Readycap Lending, which is based in New Jersey. Readycap Lending specializes in a variety of business financing products, including SBA loans.
Number of loans approved: 63
Total amount approved: $73,215,400
Top 10 SBA Lenders for the Microloan Program
As we mentioned above, microloans are a good option for entrepreneurs who need startup capital or funding for very small businesses.
Microloans are a little different from SBA 7(a) loans. Most of the top 7(a) lenders, as you will notice above, are large banks. However, these large banks don't provide microloans, in most cases, because doing so simply isn't profitable for them.
To provide microloans, the SBA partners with specially designated intermediary SBA lenders. These intermediaries are generally nonprofit, community-based organizations that have experience in lending. And as an added benefit, these SBA lenders usually provide management and technical assistance to small business owners—assuring that the money borrowed will be well spent.
This being said, the SBA lenders that offer SBA microloans will vary depending on your location. The SBA has a personalized lender matching tool that will help you find a microlender and other SBA lenders near you. To find an SBA microlender in your area, you can also check out the SBA's list of approved intermediaries in each state.
Here is a list of the top 10 SBA microlenders as of 2016, the most recently available data.
1. Justine Petersen Housing and Reinvestment Corporation
3. Economic and Community Development Institute
6. Oregon Association of Minority Entrepreneurs Credit Corp.
8. Renaissance Economic Development Corporation
9. Rural Enterprise Assistance Project / Center for Rural Affairs
10. Flagship Enterprise Center
Number of microloans: 99
Microloan volume: $1,930,164
Top SBA Lenders for the CDC/504 Program
The CDC/504 loan program works perfectly for small business owners who want to finance the purchase or upgrade of equipment or real estate.
Ranking the top CDC/504 lenders isn't that easy because this loan actually comes from two lenders. An SBA-approved certified development company (CDC) makes 50% of the loan. CDCs are usually nonprofit, community lenders. Banks make 40% of the loan. And the remaining 10% is a down payment from the borrower.
With this in mind, the best bank and CDC lenders for SBA 504 loans vary significantly based on region. Regional SBA offices usually rank local CDCs and banks. For example, here's a list from the mid-Atlantic region, one from Austin, Texas, and another from Los Angeles County. Over 270 CDCs exist nationwide and operate primarily in their state of incorporation.
This being said, however, you may find that many of the banks that are top SBA 7(a) lenders also offer loans within the CDC/504 program. Celtic Bank, for instance, which is the sixth-most active 7(a) lender, also offers 504 loans. Additionally, Five Star Bank, based in California, also offers both 7(a) and 504 loans. Although not in the top 10 SBA lenders for 7(a) loans, Five Star does make the top 100 list for this program (and also works with Fundera, along with Celtic Bank).
If you're interested in a CDC/504 lender near you, you can find one using the SBA's CDC search tool.
How to Choose the Right SBA Lender for Your Business
So, now that we've discussed the best SBA lenders within each individual program, you might nevertheless be wondering: How do I choose the right SBA lender for my business?
Although there is no set-in-stone method for deciding which SBA lender will be the best to work with, there are a few things you can keep in mind as you explore your options:
Does the lender have the SBA program you want? Of course, you'll need to compare different lenders that actually offer the program you want.
What does the lender's application process look like? Some SBA lenders may have online, expedited application procedures, whereas others may require that you complete the application at a branch. You'll want to consider what kind of process you prefer and how each individual lender conducts their application.
How long is the lender's timeline? On the whole, the SBA loan timeline is going to be one of the longest that you'll find, especially in comparison to more short-term products from alternative lenders. This being said, however, you'll want to see what the timeline looks like for any specific lender—is it around 30 days? Longer?
Will you actually qualify? Although there are some standard SBA loan requirements, it will largely be up to the lender to determine the qualifications you'll need to meet. You'll want to investigate what the typical requirements are for any particular SBA lender to see what your chances are of qualifying. You don't want to waste your time on the application process if you know right off the bat you won't qualify with that lender.
Who will you be working with? Some SBA lenders will assign a specialist or representative to work exclusively with you on your application, whereas others might have a less-defined assistance procedure. You'll want to know how this part of the application process will work, as well as what kind of system you'd prefer before you decide to work with any specific lender.
SBA Lenders: Frequently Asked Questions
The Bottom Line
At the end of the day, there isn't a cut-and-dry formula for finding the perfect SBA lender to work with.
Nevertheless, you can set your business up for success by researching the SBA lenders who participate in the program you're applying to. You can also review your own qualifications, the lender's application process, and the top lenders with each individual program, as we listed above.
By understanding all the options at your disposal, you'll have a better idea of which SBA lender will work best for your business.
Apply for the SBA Paycheck Loan Program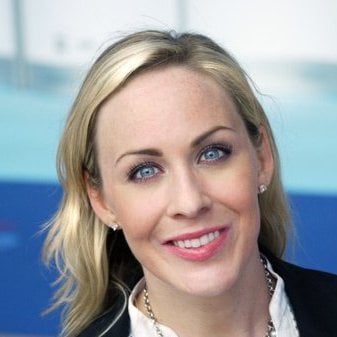 Founding Editor and VP
at
Fundera
Meredith Wood is the founding editor of the Fundera Ledger and a vice president at Fundera. 
Meredith launched the Fundera Ledger in 2014. She has specialized in financial advice for small business owners for almost a decade. Meredith is frequently sought out for her expertise in small business lending and financial management.
Read Full Author Bio