Square vs. PayPal
When comparing Square vs. PayPal, each offers several product options to consider including point of sale systems, online processing, invoicing, and more. Ultimately, although Square and PayPal can provide your business with similar functionalities at a comparable cost, Square is better for brick and mortar businesses who need a robust point of sale system, while PayPal is preferable for solely online-based businesses.
Choosing the perfect point of sale system or online payment processor for your business is no joke. Credit card processing statistics show not only that credit card payments are growing at the highest rate but also that U.S. merchants spent $7 billion in credit card processing fees in 2017.[1] So it's no wonder that small businesses are taking their point of sale choice seriously now more than ever.
Square and PayPal are two of the most popular, well-regarded, and easy-to-use payment processing options on the market. Square and PayPal both offer a variety of products including point of sale systems, online payments, invoicing, and more. This being said, because Square and PayPal each have so many product offerings, the comparison between the two will depend on what your business needs and therefore, the kind of product you're considering. As an example, if you need a POS system for your brick and mortar store, you'll want to compare PayPal Here vs. Square POS. On the other hand, if you're looking to accept payments online for your ecommerce store, you'll want to consider Square Payments compared to the PayPal web payments offerings.
To help you sort through Square vs. PayPal, we've compiled all the pertinent information you'll need for your comparison—including product options, features, and pricing so that you can make the decision that's right for your business.
Square Product Offerings
One of the most appealing qualities of Square as a whole is the number of different products they offer. To make an effective comparison between Square vs. PayPal, we'll explore the features and pricing of the Square POS systems as well as the Square Payments platform.
Square Point of Sale
Of all the top PayPal alternatives we've researched, Square is really one of the only competitors that can sit with PayPal as a household name. To be sure, small business payment processing isn't such a widely discussed topic, but because Square has been able to disrupt and democratize point of sale systems so drastically, they've been an easily recognizable brand.
But beyond the Square brand, what can Square point of sale systems offer your small business? The first step to choosing between Square vs. PayPal will be learning about the core details of the three point of sale software options, corresponding hardware choices, and the overall Square cost.
Square Point of Sale Software
The first software option Square offers is their main product, Square Point of Sale. The Square POS software gives you the full range of tools you need to run your business—everything from credit card processing to inventory management. Square Point of Sale is a free app and comes with the following features:
Open tabs
Split tabs
Manage inventory
Track employee hours
Reconcile tips and commissions based on time cards
Real-time analytics
Access to Square Dashboard for administrative and billing management
Invoicing
Customer directory
Payment acceptance, online and offline
Option for the integration of Square and third-party add-ons
Deposits to your bank account in one to two business days
Sign Up for Square for Free
Square for Retail Software
Square also offers POS software specifically for retail businesses called Square for Retail. This software comes at a monthly fee of $0, $60, or $299+ per month depending on the plan you choose, but you'll be able to access all of the capabilities of the Square POS app, as well as:
Inventory alerts
In-app purchase orders
Inventory tracking across multiple locations
Elevated customer relationship management capabilities
Exchange and return processing
Keyword search and barcode scanning for ringing up sales
Vendor management
Unlimited staff permissions
Sign Up for Square for Retail
Square for Restaurant Software
Similarly to Square for Retail, Square also offers a restaurant point of sale software. Once again, like Square for Retail, this software costs $0, $60, or $299+ per month depending on the plan you choose, and includes all of the functionality of Square POS, plus:
Table maps
Seating tracking
Dining options—pickup, deliver, for here
Coursing
Repeat orders
Quick check splits
Automatic gratuity
Conversational ordering modifiers
Additionally, all of Square's software offerings give you the ability to turn your computer into a virtual terminal and manually enter a customer's payment information.
Square Hardware
Square POS hardware comes in many different shapes, sizes, and, of course, prices. There are five Square reader options, and they range in pricing from free all the way up to $999, so you've certainly got options.
Here are the details on Square reader pricing:
Reader for Magstripe: Free with account and $10 for additional ones
Reader for Chip and Magstripe Cards: $35 per reader
Reader for Chip Cards and Contactless Payment: $49 per reader
Square Stand: $169 for the Stand (not including cost of iPad)
Square Register: $799 per system
While three of the five Square hardware options are mobile, smart device-reliant readers, two of them are countertop POS systems, and one of these countertop POS systems is completely stand-alone and doesn't require a smart device. With these five Square reader and POS system options, you have the ability to mix and match to build the perfect POS system for your small business.
Square POS Payment Processing Fees
The ultimate Square fees for using their point of sale depend on a few factors. For manual card entry with a virtual terminal, Square charges 3.5% of the transaction value, plus $0.15 per transaction. For payments that you process through any piece of Square hardware, you'll pay an even2.6% plus $0.10 of the transaction value. Additionally, if you use Square for Retail you'll pay 2.5% plus $0.10 per transaction, whereas with Square for Restaurants you'll still pay 2.6% plus $0.10.
Square Payments Platform
When comparing Square vs. PayPal, you'll also want to look at what each provider has to offer for online businesses. If you run an ecommerce store and want to accept payments on your website, you can utilize the Square Payments platform. With this platform, you'll be able to create your checkout using Square's online payments APIs and customizable payment form. You can also integrate the Square Payments platform into your mobile app, as well as third-party point of sale or ecommerce software. With online payments, like with the Square POS software, you won't pay a monthly fee, only a fee of 2.9% plus $0.30 per transaction.
PayPal Product Offerings
Now that we know the details relating to the different Square products, let's break down PayPal's products. In comparing Square vs. PayPal, the counterpart to Square's POS software would be PayPal Here. PayPal Here, as we'll discuss, is a payment app, essentially a mobile POS, that can be paired with different card readers. Taking this into consideration, there really isn't a true comparison, however, between a PayPal POS vs. Square. Although PayPal offers their payment processing services through third-party POS providers, like Touchbistro or Talech, they don't offer a truly all-in-one point of sale solution like Square. This being said, though, we'll still explore the differences between PayPal Here vs. Square, as well as look into the ways PayPal Payments compare to Square Payments.
PayPal Here Features
As we mentioned, PayPal Here is a mobile POS app that, when paired with a card reader, allows you to process in-person payments through a smart device. With the free PayPal Here app, you'll be able to customize your business profile and receipts, calculate sales tax, record cash and check transactions, and send invoices. Additionally, you'll be able to create a product list with pictures and descriptions, which will mean quicker, easier checkout processes for employees and customers. Furthermore, you can set up employee roles and permissions within the app, as well as track sales by product, time, and employee.
PayPal Here Hardware Pricing
Once again, one of the biggest differences between PayPal Here vs. Square is the hardware options. PayPal Here's hardware options are limited to card readers that rely on a smart device to function. Here are the details on the four card reader choices that PayPal Here offers small businesses:
Although there are four options for PayPal card readers vs. three Square readers, these card readers are the whole of the PayPal Here hardware options. All of the PayPal readers rely on a smart device and all of them are completely mobile, non-countertop points of sale. If you're looking for a countertop system and full-service point of sale system, therefore, Square will be your only choice after comparing Square vs. PayPal Here.
PayPal Here Payment Processing Fees
Just like Square, PayPal Here charges payment processing fees based on how you process a given payment. In fact, the PayPal Here vs. Square fees are not that different from one another. To explain, for transactions you manually enter, you'll pay 3.5% of the transaction value, plus $0.15 for each transaction. For payments you process through a PayPal Here mobile card reader, you'll simply have to pay 2.7% of the transaction value. To invoice a customer through PayPal Here, you'll have to pay 2.9% of the invoice value, plus $0.30 per invoice. And, finally, if a transaction involves a cross-border transfer, then you'll have to pay an additional 1.5% of the transaction amount.
PayPal Online Payments
Just like Square offers a payment platform that enables you to accept payments online, PayPal has three different options for online payments—PayPal Checkout, PayPal Payments Standard, and PayPal Payments Pro.
PayPal Checkout
With PayPal Checkout, you can add a payment module from PayPal directly to your business website or ecommerce store. With this checkout module, you can give customers the option to pay with PayPal, Venmo, credit cards, and debit cards. This checkout also allows customers to complete their purchase without leaving your site in just a few steps. If you want to add PayPal Checkout to your website, you'll probably need assistance from a web developer. If you use an ecommerce software, however, PayPal Checkout may already be integrated into the platform—all you have to do is add it. Like the Square Payments platform, you don't have to pay a monthly fee to use PayPal Checkout. In fact, in comparing PayPal vs. Square fees for online transactions, the rate is exactly the same: 2.9% plus $0.30 per transaction.
PayPal Payments Standard
With PayPal Payments Standard, you'll receive everything you need for online payments, including a checkout experience that's already optimized across desktop and mobile. PayPal Payments Standard gives you the ability to add a secure payment button to your website, as well as accept credit cards, debit cards, and PayPal payments across multiple countries and currencies. Unlike PayPal Checkout, however, your customers do not stay on your site for the entirety of the payment process. You can however, integrate PayPal Payments Standard with all major shopping carts and ecommerce platforms. Once again, there is no monthly fee to use this PayPal product, you simply pay the same PayPal fees for every transaction: 2.9% plus $0.30.
PayPal Payments Pro
If you want more advanced payment features, you can pay $30 per month (plus transaction fees) for PayPal Payments Pro. This payment solution includes all of the same features as PayPal Payments Standard but also allows you to keep customers on your site throughout the checkout process, customize your checkout, and accept phone payments with a virtual terminal. Additionally, PayPal Payments Pro includes an ecommerce payment gateway. When comparing Square vs. PayPal in terms of online payments, therefore, both providers offer similar functionality. Although PayPal has more options to choose from, Square's Payment platform actually has the same, if not more functionality, and no monthly fees.
Where Square Wins in Square vs. PayPal
Where does Square beat its opponent in Square vs. PayPal? If you're looking for a robust, all-inclusive point of sale system, you're going to be better off choosing Square. Although PayPal Here offers a free mobile app, card reader options, and comparable processing fees, Square's variety of POS offerings clearly come out ahead when comparing PayPal Here vs. Square. Square has three different point of sale software options, more hardware terminals to choose from (including countertop devices), and generally offers more features with their products. Additionally, the Square point of sale software includes much more powerful inventory tracking, customer insights, employee management tools, and a virtual terminal.
If you're looking for online credit card processing, however, the comparison between Square vs. PayPal becomes more difficult. Although PayPal is considered the expert in the online payment space, there's no reason to say you shouldn't choose to use Square Payments. The Square vs. PayPal rates for online processing are essentially the same and Square is well on their way to becoming as prevalent for online payments as PayPal. This being said, if you're looking to accept payments in-person as well as online, we would suggest going with Square Payments, in addition to Square point of sale. This way, you can keep all of your payment processing and business operations tools in one place and benefit from the cohesion of these resources and information.
Where PayPal Wins in Square vs. PayPal
The way we see it, PayPal wins when it comes to online processing, even though Square Payments is quickly coming up as an equal in the space. Although Square Payments offers many of the same capabilities at the same rate, PayPal has the benefit of allowing you to offer your customers PayPal as a form of payment. Additionally, PayPal is still probably the payment integration you'll see most frequently offered by ecommerce platforms, making it an easy and effective connection.
Furthermore, if you already use PayPal's online payment processing, then it might be worth using PayPal Here vs. Square. Whereas Square POS systems are more stand-alone points of sale, we see PayPal Here as a supplement to a PayPal account for businesses that primarily process payments online.
So, if you're looking to have a more convenient way to charge your customers if you're processing a one-off, in-person payment, then PayPal Here would be ideal for that. Although very similar, the credit card processing fees for using a PayPal reader vs. Square reader will be more affordable if you making smaller transactions with PayPal Here than with Square. Ultimately, however, the software and hardware that PayPal Here provides are not quite enough to serve as a full-fledged POS system for high-volume, in-person retail businesses.
Square vs. PayPal: The Verdict
At the end of the day, it's hard to go wrong whether you're debating PayPal Here vs. Square or PayPal Payments vs. Square Payments. Both of these payment service providers are among the top options for small businesses and offer online and mobile-based technology that make payment processing more accessible than ever. This being said, the choice that is best for your business will truly depend on your particular needs. If your business relies on in-person transactions and would benefit from a robust point of sale system with multiple software and hardware options, we would suggest choosing Square.
On the other hand, if you already process payments online using PayPal and need to supplement with occasional in-person payments, PayPal Here can easily give you this functionality. When it comes to only processing payments online, there's no doubt that either PayPal or Square Payments is a worthy choice. If you're still unsure of which provider's features and cost will be right for your business, we'd recommend talking to Square and PayPal directly or even testing out both services. Neither PayPal or Square require long-term commitments, setup fees, or cancellation fees, so it might be worth actually working with each provider to see which one will best meet your needs.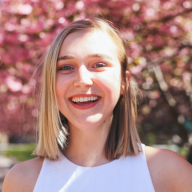 Contributing Writer
at
Fundera
Maddie Shepherd is a former Fundera senior staff writer and current contributing writer for Fundera. 
Maddie has an extensive knowledge of business credit cards, accounting tools, and merchant services, but specializes in small business financing advice. She has reviewed and analyzed dozens of financial tools and providers, helping business owners make better financial decisions. 
Read Full Author Bio