Stripe vs. Square: The Breakdown
When it comes to Stripe vs. Square, Stripe is the best choice for those looking for a developer-friendly online payment platform that offers far more payment options for customers. Square will offer you more powerful in-person payment options and an easy ecommerce store setup option. Stripe charges a 2.7% + $0.10 in-person transaction fee, while Square's is 2.6% + $0.10. Square and Stripe have the same fees for online transactions at 2.9% + $0.30.
Two of the most recognizable merchant services companies on the market today are Stripe and Square, and as a result of this brand recognition, business owners frequently wonder about the differences between the two and which is better for their business.
Although Stripe and Square are remarkably similar in some regards—both are payment service providers, meaning they group all their merchants into one large merchant account—their services can actually be remarkably different in practice. As a result, distinguishing the differences within the Stripe vs. Square debate is a crucial step in finding the right payment solution for your business's needs.
In this guide, we'll go through all you need to know about Stripe and Square—and even provide you with other top payment options. Here is your ultimate Stripe vs. Square comparison to help you decide which—if either—is right for your business.
Stripe vs. Square: Quick Comparison
| | Square | Stripe |
| --- | --- | --- |
| In-person payment processing cost | | |
| Online payment processing cost | | |
| | Better for brick-and-mortar businesses | Better for online businesses |
| | Best for brick-and-mortar businesses | Better for online businesses |
| | | |
| | | |
Stripe vs. Square: Overview
Stripe Overview
If you've ever made a payment online or through a mobile app, odds are you've made that payment through a Stripe payment platform—although you might not have realized it. That's the whole point of Stripe: They're a white-label online payment service that's meant to take on your brand and desired checkout experience.
For in-person payments, they also offer Stripe terminal, a handheld point of sale (POS) device that works with a variety of credit card readers. Integrated credit card readers start at $59.
All in all, Stripe gives you a way to seamlessly integrate online payments into your business's website.
Square Overview
Square made their debut with in-person payment solutions in 2009 and changed the game with their iPad POS system. Chances are good, you've paid via their hardware if you shop at small businesses.
In 2016, Square came out with their very own online payment solution, and since then, the Stripe vs. Square dilemma has only grown for business owners.
Stripe vs. Square: Setup
Stripe Setup
Setting up a Stripe checkout experience on your business's website can range from simple to intricate, depending on what you need from your payment platform. If you don't have a tech professional at your disposal, you can simply copy and paste a line of JavaScript to your business's website to install the Stripe embeddable checkout. If you have a developer to help you, then you can access the Stripe custom UI toolkit for creating your own payment platform called Stripe Elements.
On the other hand, if you're selling through a platform like WordPress or Shopware, installing a Stripe payment platform will be even easier—you'll simply need to install the open-source Stripe plug-in that these ecommerce platforms offer.
Square Setup
Setup for Square payments will work much like Stripe's, with less emphasis on developer resources. For instance, Square provides ecommerce plugins on much of the same technology as Stripe does. Plus, they provide an embeddable checkout option along with a customizable online payments API, though the developer documentation for these will be less thorough than Stripe's.
One upside to Square's setup, though, is their Weebly offering. In April 2018, Square acquired ecommerce platform Weebly to allow Square customers to easily set up their online store on their own.[1] Now, whether you set up your store directly through Weebly, or set it up through Square Online, you can access your retail website and payment platform all in one place.
Stripe vs. Square: Features
Stripe Features
One of the most notable features that Stripe offers is their nearly universal payment options. If your customer wants to pay in a certain way, then your Stripe payment platform will almost certainly allow them to. Payment options are as diverse as ACH payments to Discover card to Microsoft Pay—and pretty much anything in between.
Plus, Stripe offers up unified financial reporting, built-in reporting, and customer reporting with Stripe Sigma. Stripe will also offer accounting support with QuickBooks and tax reporting integrations to boot.
Other Stripe features include:
Stripe Billing: Send custom invoices and request payment from customers. Stripe Billing also allows you to create recurring, usage-based, tiered, promotional, and scheduled payments.
Stripe Sources: The Sources API allows merchants to accept payment methods from all around the world with a single integration. Supported payment methods include Alipay, Bancontact, and Giropay. You can also use Stripe.js to build your own checkout form with their set of APIs.
Stripe Connect: A payment platform for large ecommerce marketplaces.
Stripe Atlas: A toolkit for setting up an internet business in the United States.
Stripe Relay: An API to power mobile in-app purchases.
Square Features
Square online payments come with most of the draws that Square in-person payments boast: They offer fast deposits, reporting tools, and PCI compliance. Even more upsides are added to the list if you choose to build your online store through Square Online and accept online payments through Square. You'll be able to access customizable website themes, a top-rated mobile app for backend reporting, and a free custom domain for a year if you opt for a paid online store plan. Plus, you'll be able to access shipping labels, inventory management, advanced analytics, and marketing tools.
One feature Square offers that Stripe does not is POS software. Square offers a free version of their POS software, as well as paid services designed specifically for restaurants and retail businesses. Through Square POS, you can perform important business-related functions like manage inventory and employees, produce reports on your sales performance, and offer perks like gift cards and discounts.
Sign up for Square for Free
Stripe vs. Square: Fees
Stripe Fees
To access the Stripe payment platform for your business's website, you'll have to pay the Stripe payment processing fee of 2.9% + $0.30 for every successful credit card charge. For in-person card processing, the fees are 2.7% + $0.05 per successful card charge.
If someone wants to pay with an international card, you'll pay an additional 1% processing fee on top of the standard 2.9% and 2.7%.
This service is pay-as-you-go, so there are no monthly fees with Stripe. There are also no additional fees for accepting mobile pay like Apple and Google Pay. There is, however, a $15 disputed payment fee that comes out of your account along with the initial payment amount if you face a chargeback.
For more information, check out our complete guide on Stripe fees.
Square Fees
If you're simply using Square to accept online payments, then you'll only have to pay the Square payment processing fees of 2.9% of the transaction value, plus $0.30 per transaction. Looks familiar, right? That's because Square vs. Stripe fees for online payment processing are exactly the same.
That said, if you decide to build your ecommerce store with Square, you may eventually decide to opt for a paid plan which will have a monthly fee—depending on the features you want for your online store.
For in-person payments, Square is slightly cheaper than Stripe. You'll only pay a processing fee of 2.6% + $0.10 per transaction.
For more information, check out our complete guide on Square fees.
Stripe vs. Square: Benefits 
When it comes to comparing Stripe vs. Square, let's look at the unique advantages of each of these online payment processors.
Stripe Benefits
Here are some of the top benefits Stripe has to offer.
Developer-Friendly
Once you take a look at the documentation for developers that Stripe provides on their website, you'll understand—this is truly a payment platform meant for the tech-inclined business owner. More specifically, Stripe is a payment platform made primarily for businesses that have at least one developer on their team.
Their branded custom UI toolkit is one of their most noteworthy features, and it's used by some of the biggest brands out there—like Glossier and Slack. Plus, Stripe offers an in-app payment platform option, so developers will be able to integrate a custom checkout experience into your business's app.
What's more, a Stripe payment platform is better for higher-volume online transactions, so most online-only companies will rely on Stripe. As a result, many will already have developers on their team, and they'll be eager to take advantage of this easily customizable checkout platform.
Accepts More Payment Methods
Additionally, Stripe wins out in the Stripe vs. Square debate when considering how many payment options your customers will have. The list of payment options available through Stripe[2] is long and diverse: from popular credit cards to pretty much any mobile wallet you can name. If your customer uses it, Stripe probably processes it.
Having so many payment options can seriously improve your business's bottom line by increasing conversion rates significantly. When customers are able to pay exactly how they want, they're more likely to actually follow through with a purchase.
Square Benefits
Overall, you'll notice that Square's upsides are centered around small businesses and their needs. For instance, if you're looking to expand your brick-and-mortar business by starting an ecommerce store, then Square's online payment solutions might be better suited for your needs.
Accepting online payments through Square will be more intuitive for business owners who are split between in-person business and online payments, but aren't entirely web-based.
Let's look at the two places where Square outperforms Stripe:
Square Online Store Setup Option
For business owners who are taking their first steps toward setting up their ecommerce presence, Square Online is an absolute game-changer for creating your ecommerce store. You will be able to access professionally designed online store templates and set up your shop, all without a professional developer. Plus, you'll be able to access a custom domain free for one year with a paid plan.
Beyond aesthetics, though, choosing Square payments and tacking on the Square online store setup option will give you access to other key features. Namely, you'll be able to access integrated shipping labels to send your goods to customers, manage inventory, and market your new store. For a monthly price starting at $12, this is pretty remarkable and opens up a lot of possibilities for businesses without access to web developers.
POS Solution
Finally, Square certainly wins out over Stripe with their in-person payment offerings. So, if you do most of your sales face-to-face, then Square will probably be your winner when comparing Stripe vs. Square.
When you create a Square account, they'll send you their proprietary mobile credit card reader free of charge. But the Square POS hardware options don't stop there. Here are some of the most popular Square POS hardware options:
Square Register: Square's most powerful POS hardware, Square Register is an all-in-one countertop payment processing system that includes a customer-facing display. Square Register can accept magstripe cards, chip cards, and contactless payments, and the Square POS app is included in the hardware.
Square Terminal: Square Terminal is the most compact all-in-one POS terminal Square offers. It's a handheld device that can accept all the same payment types as Square Register and can connect via USB, Ethernet, or WiFi.
Square Stand for Contactless and Chip: Square Stand is essentially what it sounds like—it's a stand to which you can connect your iPad. Then, once you download the Square POS app to your iPad and connect the included hardware, you can use your iPad as your business's POS system.
Square Card Readers: Square offers a collection of external hardware, each of which is built to accept different types of payments—along with the aforementioned mobile magstripe reader, there's a chip card and magstripe card reader, and a chip card and contactless payment reader. Note that you get a magstripe card reader for free when you sign up.
Through Square, you can also purchase iPads, cash drawers, barcode scanners, receipt printers, and everything else you need to accept payments in-person.
And, of course, there is also their free POS software that we mentioned above—making Square a complete solution for in-person and online payments.
Stripe vs. Square: Top Alternatives
Having dug into all the intricacies of Stripe vs. Square, we would be remiss if we didn't mention other payment processing options to consider. Here are some other services we recommend looking into:
PayPal
Another main contender for small businesses looking for payment processing is PayPal. Their entry-level checkout experience—Payflow Link—will only cost you $0.10 per transaction (plus whatever fee your merchant account charges).
That said, it's only a payment gateway and will require you to come to the table with your own merchant account. But if you already have your own merchant account for your business, then PayPal could be another viable option for online payments.
If you're eager for more details on how PayPal compares to Stripe and Square, check out our review on Stripe vs. PayPal to get a better idea.
Payment Depot
Payment Depot is different from Square, Stripe, and PayPal in that it offers wholesale interchange rates. This means you'll pay a monthly membership fee between $49 and $199 and be treated to the lowest interchange rate possible, plus transaction fees ranging between $0.05 and $0.15.
Unlike PayPal, Payment Depot also provides subscribers with a merchant account, payment gateway, and virtual terminal. With Payment Depot you can process Visa, Mastercard, American Express, and Discover credit and debit cards. You can also accept ACH and e-check payments. Payment Depot also integrates with a wide range of POS hardware and software, as well as most major ecommerce platforms.
Get Started With Payment Depot
Authorize.Net
A third option is Authorize.Net, which only provides a payment gateway for online payment processing. With Authorize.net, you'll be able to offer your customers a number of payment options, including credit and debit cards, e-checks, and digital payments, all within your website or ecommerce platform.
If you already have a merchant account, you can sign up for their payment gateway-only plan, which costs $25 a month, plus $0.10 per transaction and a daily batch fee of $0.10. On the other hand, if you don't have a merchant account, then you can opt for their combination plan, which includes a merchant account and a payment gateway. In this case, you'll pay a $25 monthly fee and a per-transaction fee of 2.9% + $0.30.
Final Thoughts
As you move forward with all of this information about Stripe vs. Square, keep it top-of-mind when choosing your online payment platform. Each will serve your business in a different way because each was made with a different kind of business in mind.
With that said, be sure that you're choosing the right online payment experience that fits your business's and your customer's needs.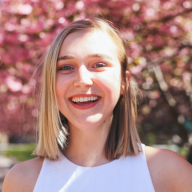 Contributing Writer
at
Fundera
Maddie Shepherd is a former Fundera senior staff writer and current contributing writer for Fundera. 
Maddie has an extensive knowledge of business credit cards, accounting tools, and merchant services, but specializes in small business financing advice. She has reviewed and analyzed dozens of financial tools and providers, helping business owners make better financial decisions. 
Read Full Author Bio