Editorial Note: Fundera exists to help you make better business decisions. That's why we make sure our editorial integrity isn't influenced by our own business. The opinions, analyses, reviews, or recommendations in this article are those of our editorial team alone.
Clover vs. Square: Key Differences
When it comes to Clover vs. Square, you're looking at two very popular payment service providers with high-tech POS hardware and software. In our analysis, we found that Clover is superior for merchants who want a highly customizable, scalable solution and Square is better for merchants who want a low-cost POS solution with industry-specific software.
It's safe to say that the goal of pretty much every business owner is to make money—but perhaps less top of mind is how to actually process that money at the point of sale (POS). Luckily, that's a task you can outsource to your business's point of sale system. If you've done some research into the payment-processing space, you're likely curious about how Clover vs. Square stack up, as they're two of the leading names in payment solutions for small businesses.
As a quick reminder, your POS system refers firstly to your POS terminal, which is the hardware that physically accepts credit card payments, cash, and checks. But if you opt for an all-in-one payment service provider like Clover or Square, your POS system will also include software that can process those payments, as well as offer additional capabilities that help you run and manage your business, like inventory management, employee tracking, customer-behavior data, sales report generation, and more.
So, how do Clover vs. Square compare—and which one is right for your business? To answer those questions, we'll give you an overview of both so you can make a side-to-side comparison of these two POS systems.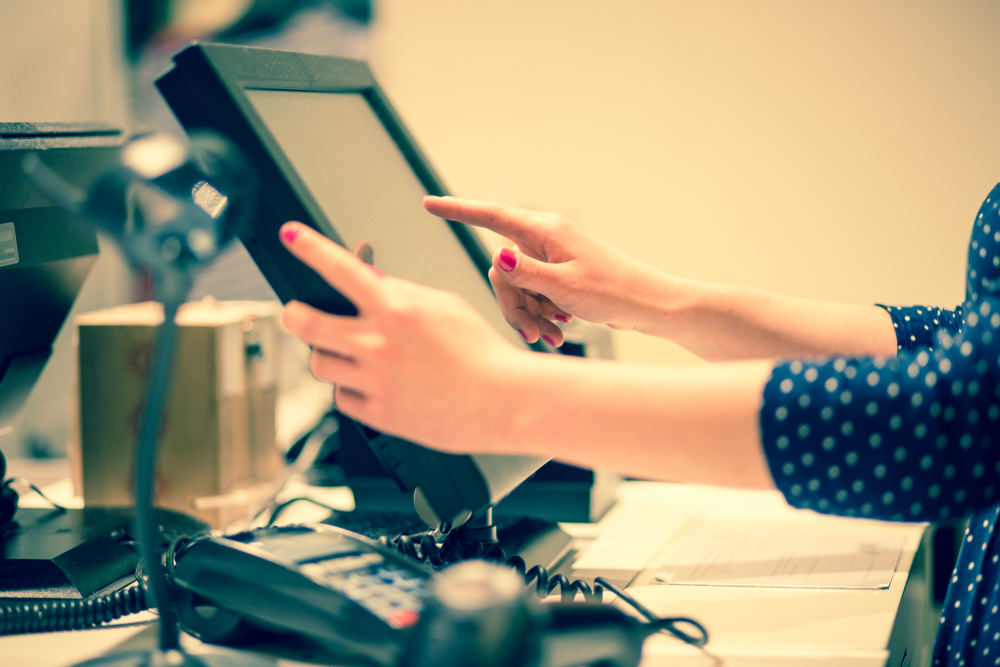 Clover POS
Clover allows business owners to build their ideal payment processing system with a combination of their hardware and software offerings. Let's take a closer look at both.
Clover POS Hardware
Here's what Clover offers in the POS hardware department.
Clover Go:

This device connects to your smartphone or tablet via Bluetooth, and can process magstripe cards, chip cards, and contactless payments. However, unlike other Clover POS system hardware options, Clover Go requires you to come to the table with additional technology—be it a smartphone, tablet, or iPad. Clover Go will only be able to process payments if it's attached to another device.

Clover Flex:

Flex is Clover's handheld, WiFi-connected payment processing option. In addition to accepting all the same payment methods that Clover Go can, Clover Flex can capture signatures, scan barcodes, and print receipts. 

Clover Mini:

Clover Mini has similar capabilities to Clover Flex, but in a (predictably small) countertop format, rather than as a handheld device. You'll be able to process all payments, scan barcodes, and print receipts—and do so with greater speed than you would with mobile Clover point of sale hardware options.

Clover Station:

Clover Station is Clover's most powerful, secure, and fastest POS offering. This countertop payment processor can accept credit cards, of course, but it also comes with a cash drawer. On its large, high-definition display screen, you can also access all of Clover Station's additional business-management capabilities, like inventory management, employee tracking, and sales reports.
All of these hardware devices can work alone, or together—choose whichever tools you need to serve your particular business.
Clover POS Software
In addition to its external devices, Clover also offers three service plans. The tier you choose depends upon the amount of credit card transactions your business processes per year, and the additional features you want from your Clover POS terminal:
Payments Plus
Payments Plus is Clover's most basic service plan. With it, you can accept all payment types, and also receive a few additional functions, like employee time tracking and customer engagement tools.
Register Lite
With Register Lite, you can accept cloud-based payments and some pretty powerful employee and customer management tools. This plan is designed for any business with under $50,000 in annual credit card sales. The complete list of what you can do with Register Lite is as follows:
Accept and process all forms of payment, including credit, debit, chip, and contactless
Track cash payments
Process payments offline
Ring up items, discounts, and tax
Email, text, and store digital receipts
Capture electronic signatures and tips
Track sales and reports
Item-level taxes
Process refunds
Set employee permissions and shifts
Monitor activity, sales, and refunds remotely
Liability protection up to $100,000 in event of data breach
Access the Clover App Market
Register
Clover's third service plan works for businesses that have more than $50,000 in annual credit card sales. This plan includes everything that comes with Register Lite, plus the following tools:
Inventory management
Create customer loyalty program
Add gratuity to checks
Read customer feedback and reply with coupons
Build mailing list
There are also some powerful tools for running restaurants and retail businesses, including the ability to push orders to the kitchen, manage reservations, perform exchanges, and add variants to your inventory.
Other perks that come with all Clover plans include 24/7 support and the ability to create and distribute gift cards.
Clover is currently running a limited-time only offer where you can get a $250 statement credit when you open a new merchant services account.

Clover Pricing
Clover's mix-and-match services come at a price, of course. Here's how Clover's costs pan out, for both their hardware and software options:
Clover Go:

$69

Clover Flex:

$499

Clover Mini: Prices start at $749
Clover Station: Prices start at $1,349
Payments Plus: 2.7% + $0.10 per in-person transaction, and 3.5% + $0.10 for keyed-in transactions
Register Lite: $14 monthly fee, plus 2.7% + $0.10 per in-person transaction, and 3.5% + $0.10 for keyed-in transactions.
Register: $29.95 monthly fee, plus 2.3% + $0.10 per in-person transaction, and 3.5% + $0.10 for keyed-in transactions.
Square POS
Next up in our Clover vs. Square round-up is, of course, Square POS. Perhaps the best-known name in POS systems, Square offers business owners a range of hardware to physically accept payments, along with a payment processing software, which is available as an app for both Apple and Android.
Let's take a look at everything this payment service provider offers.
Square POS Hardware
You can choose whether to purchase an all-in-one POS terminal to process your payments, or to use your own iPad or smartphone as your POS terminal—in which case, you'll need to download the Square POS app and purchase an external hardware that can accept card payments.
Here's a quick rundown of Square's hardware, and the types of payments each can accept:     
Square Register:

Square's most powerful POS hardware,

Square Register

is an all-in-one, countertop payment processing system that includes a customer-facing display. Square Register can accept magstripe cards, chip cards, and contactless payments, and the Square POS app is included in the hardware.  

Square Terminal: Square Terminal is the most compact all-in-one POS terminal Square offers, most comparable to Clover Flex. It can accept all the same payment types as Square Register, and can connect via USB, Ethernet, or WiFi.  
Square Stand for Contactless and Chip:

Square Stand

is essentially what it sounds like—it's a stand to which you can connect your iPad. Then, once you download the Square POS app to your iPad and connect the included hardware, you can use your iPad as your business's POS system. 

Square Card Readers:

Square offers a collection of external hardware, all of which are built to accept different types of payments—choose among a

chip card and magstripe card reader,

 a

magstripe card reade

r, and/or a

chip card and contactless payment reader

. Note that you get a magstripe card reader for free when you sign up.
Square POS Software
In terms of software, Square offers a free POS app, as well as paid apps for retail and restaurants. The free Square POS app comes with most of what you'll need, including inventory, employee, and customer relationship management tools. There's also reporting functions, a virtual terminal, 24/7 support, and (of course), the ability to accepts all major payment forms and methods.
In terms of add-on services, Square offers tools for marketing, payroll, and customer loyalty, all of which will cost you an additional monthly fee.
Square's paid POS apps are a bit more complex. Let's look at what you can do with both:
Square for Restaurants
Let's start by saying Square for Restaurants can do everything the free Square POS can do. Additional tools include menu management, front of house management (table mapping, custom floor plans, order modifications etc.), a delivery and takeout tool, and the ability to run restaurant-specific reports.
Square for Retail
As the name suggests, Square for Retail offers tools for brick-and-mortar and online retailers of all sizes. This means the inventory management tools are a bit more robust (print barcode labels, organize your stock by category, link vendors to specific items in your catalog etc.). You can also access more in-depth employee management tools with Square Team Management, which you can get for an added monthly fee.
Square Pricing
As we already mentioned, the Square POS app is totally free. But to accept and process physical payments at your point of sale, of course, you'll need to purchase necessary hardware—though the exception is the Square magstripe reader, which you'll receive for free.
Let's go through those prices for each Square product:
Square Register: $799
Square Terminal: $299
Square Stand: $199
Square Contactless and Chip Reader: $49
Square Magstripe Reader: First magstripe reader free, $10 thereafter
Square Chip and Magstripe Reader: $35
Square for Restaurants: Starting at $60 per month
Square for Retail: Starting at $60 per month
Square Marketing: $15 per month
Square Loyalty: $45 per month
Square Payroll: $34 per month
Square Team Management: $35 per month
Additionally, you'll need to pay Square processing fees for every transaction, and fees depend upon the type of hardware you choose and the type of transaction you're processing. Prices start at 2.6% + $0.10 for in-person transactions, 2.9% + $0.10 for digital transactions, and 3.5% + $0.10 for virtual terminal transactions.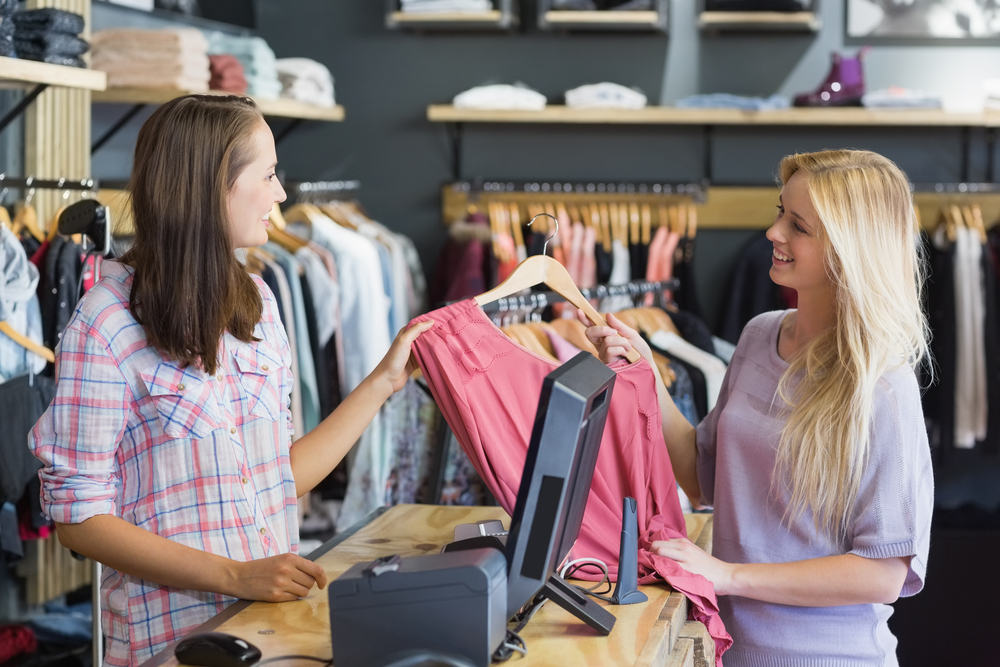 | | Clover | Square |
| --- | --- | --- |
| Hardware Cost | $69 – $1,349 | Free – $799 |
| Software Cost | Free – $29.95/month | Free – $60/month |
| Payment Processing Fee  | Starting at 2.7% + $0.10 | Starting at 2.6% + $0.10 |
Clover vs. Square: Similarities
Now that we've given you all the details on both Clover and Square, it's time to pit Clover vs. Square to see which one is better for your business. To start, let's talk about Clover vs. Square in terms of similarities. There's one big one, and it's that Clover and Square are payment service providers.
This means they both group all of their merchants together into one large merchant account in order to allow each of them to accept credit card payments. The benefit here is that merchants don't have to undergo an in-depth underwriting process in order to receive a merchant account (as they might if they went to a bank). The flip side, however, is that payment service providers are more likely to freeze accounts or hold funds for liability purposes.
Another similarity is that Clover and Square both offer POS software for merchants in the restaurant and retail industry. However, Clover's software comes built in to your plan. Square industry-specific software will cost you extra.
Where Clover Is Better
Now that we've told you the similarities between Clover vs. Square, let's talk about the benefits if you were to go with a system like Clover.
Customization
The real draw for a Clover POS system is that it's highly customizable. As we mentioned, you can pick and choose among their hardware options, depending on how and where your business needs to process payments. If, for instance, you have a brick-and-mortar store but you also sell your wares at farmers' markets or craft fairs, you can pick up either a Clover Mini or Clover Station for your store, along with a Clover Go for when you're not tied to a countertop.
Clover Flex, their handheld POS system, is a particularly unique device. Flex can be especially useful for restaurants that want to settle up with their customers tableside, service-based businesses that make house calls, or any other business that wants the freedom to process payments (while accessing other management features) pretty much anywhere they go.
Scalable
The other area where we think Clover is superior is scalability. Thanks to Clover's tiered service plans, business owners can upgrade their system as they scale. When you start out, you might only need the Payments Plus plan in order to accept payments. But a few years down the line, when you operate multiple locations, you'll need something more in depth like the Register plan. Clover makes it easy to change plans as you grow. Square, on the other hand, offers more of a one-size-fits-all solution.
Where Square Is Better
Now that you know the benefits of going with Clover, let's see where Square is better.
Price
Where Square wins over Clover is its price-point, as all of Square's hardware are less expensive than their respective, comparable Clover devices. On top of that, the Square POS software is free, while you'll need to pay for Clover's service plans (or two out of the three). You'll also get the Square magstripe reader for free, which just might tide you over as your sole payment processing hardware until you want or need to upgrade.
Transparency
Another thing we like about Square is that pricing is upfront and straightforward. There are no long-term contracts, and you can cancel at any time. With Clover, this isn't always the case. That's because Clover uses resellers to distribute their product. There's nothing inherently wrong with this, but resellers tend to have a spotty track record when it comes to fairness and transparency.
If you go through a reseller, make sure to study your contract closely. You could get locked into a multi-year contract with an early termination fee. What's more, Clover is owned by First Data. They're one of the largest merchant services providers in the world, but they don't exactly have the best reputation.
Alternatives to Square and Clover
If you've evaluated Clover vs. Square and found neither to your liking, here are two additional options to consider:
Shopify POS
Shopify is a POS system tailored made for ecommerce merchants—which is something neither Square or Clover specialize in. With Shopify POS, you get a POS already integrated into your ecommerce website when you sign up for the Shopify Basic plan ($29 per month). This will give you access to all of Shopify's customer and inventory management software, plus a payment processing rate of only 2.7% per transaction. What's more, Shopify's more expensive software plans feature lower payment processing rates. Shopify also sells POS hardware if you need to sell in-person as well as online.
Payment Depot
If you read this Clover vs. Square review and thought the price of both was out of your range, Payment Depot is a good option for you. Payment Depot is primarily a payment processor. With Payment Depot you get membership pricing and wholesale interchange rates on credit card transactions. Memberships range from $49 to $199. With your membership, you'll get the lowest interchange rate possible plus transaction fees ranging between $0.15 and $0.05. Payment Depot also partners with several POS system providers so you can get a complete payments platform.
Clover vs. Square: Which POS Terminal Should You Use?
Now that you have an overview of Clover vs. Square, how do you know which of these POS systems will work best for your business?
Clover is likely a better option for businesses that want some of the most flexible features available in a POS terminal. Merchants who also want a POS system they can grow with would benefit from choosing Clover.
Square is worth looking into if you run a retail, restaurant, or service business, as they offer dedicated POS solutions for these industries. Square also works well for businesses that need a no-fuss POS solution that reliably accepts and processes a variety of credit payments in several formats. 
All told, you'll need to take stock of what you want from your POS terminal and, of course, how much you're willing to pay for it. Whether you choose Clover vs. Square, though, know that you'll be taking advantage of some of the most advanced and secure all-in-one payment processing systems on the market—and if you find that neither option are right for your business, know that there are plenty of other top POS system options available to you.
Caroline is a former Fundera staff writer and current freelance writer, specializing in small business and finance. She has an MFA in fiction from New York University. She loves finding creative ways to help entrepreneurs grow.