If you had any doubts about the importance of setting up an online ordering system for your bar, restaurant, or cafe, 2020 has probably squashed them. Now, restaurants are either entirely or heavily reliant on takeout and curbside pickup while in-person operations are stalled due to COVID-19. And we probably don't have to tell you that customers are much more inclined to order online or through an app than pick up a phone and call you.
Ahead, we'll walk you through five of the best restaurant online ordering systems (though these are equally viable for bar and cafe owners, too). Some are full-service restaurant POS systems equipped with online ordering platforms, while others only provide online ordering functionality. Some of these platforms have adapted their offerings and pricing models to better help restaurant owners impacted by COVID-19 meet their needs, as well. But across the board, all these online order taking software make things easy and intuitive for your customers to place their orders—and equally easy for you to manage that influx of orders.
The Top 5 Restaurant Online Ordering Systems
1. Toast
One of the most popular all-in-one point of sale systems for restaurants is Toast POS. Online ordering is just one of their many integrated features, which also includes a range of POS hardware, email marketing tools, powerful reporting and analytics, payroll services, and team management tools. And while branded, mobile-friendly, commission-free online ordering has always been part of Toast's product package, the company recently launched two new features that facilitate the end-to-end digital ordering process: Toast Now and Toast Delivery Services.
Toast Now provides restaurant owners all the tools they need to adapt to our increasingly digital (and contact-free) world. First, there's Toast TakeOut, a mobile ordering app similar to Seamless or Grubhub that shows customers available restaurants in their area. But this app aggregates restaurants in the Toast POS network, and it doesn't charge commission fees. Customers can choose either contactless delivery or curbside pickup.
With Toast Delivery Services, restaurant owners without their own fleet of drivers can locate and dispatch local delivery people to fulfill online orders. Toast is also offering a digital gift card system as part of this package, which can be a great way to free up cash flow while your brick-and-mortar operations are on pause.
Toast Pricing
Toast has amended their pricing plans in light of the impact of COVID-19 on bar and restaurant owners. In addition to their standard POS plans, they've added the option for restaurant owners to sign up for digital ordering solutions only, which doesn't require that they purchase POS software or hardware.
Digital Ordering: $50 per month for online ordering, Toast TakeOut, and contactless delivery.
Full Suite: $75 per month for everything included in Digital Ordering, plus e-gift cards.
Whichever plan you choose, you'll get the first three months free. There are no onboarding or setup fees, either. Note that Toast is offering discounts on their standard POS service plans, too—now, plans start at $999 + $75 per month.
2. Upserve
Another popular restaurant POS system is Upserve, which is similarly jam-packed with fully integrated restaurant management features—think tableside ordering, inventory management, analytics, secure customer information storage, online review aggregation, server performance tools, a customer loyalty program, and a logbook where servers can input feedback on their shifts. And that's just scratching the surface.
With their online ordering feature, you can embed an online ordering portal into your existing business website. It's designed to be mobile-friendly, so customers can easily order from their phones, too. Customers can either choose to pick up their order, have it delivered ASAP, or schedule a delivery at a future time or date. The online ordering service also automatically gathers customer data for targeted marketing and so you can offer incentives to loyal customers.
Upserve Pricing
Upserve has three subscription plans, which increase in available features. Note that the least expensive plan doesn't come with online ordering, but you can buy it as an add-on. Purchasing Upserve POS hardware is required with every plan.
Core: $59 per month, plus $60 per terminal
Pro: $199 per month, plus $50 per terminal
Pro Plus: $359 per month, plus $40 per terminal
3. ChowNow
ChowNow isn't a full POS system like Toast or Upserve. Rather, it's dedicated solely to providing restaurant owners all the tools they need to take orders across several digital channels. With ChowNow, you can allow your customers to order via branded mobile app, your Facebook page, Google, or an online ordering hub on your own website (rather than rerouting to a website hosted by a third party). Orders made through the mobile app are entirely commission-free, so all sales will go directly to your restaurant.
This service also provides restaurant owners with customer data and insights, a special ChowNow tablet for managing orders, 24/7 customer support and dedicated account onboarding, and custom marketing campaigns designed by ChowNow's in-house team of marketing experts. They've also introduced curbside pickup and a customer loyalty program, which can help drive sales over the long-term.
ChowNow Pricing
All ChowNow customers have access to all the company's offerings, but they can choose among three payment plans:
Monthly: $149 per month, plus a one-time $399 setup fee per location
Annual: $119 per month, plus a $199 setup fee per location
Two-Year Plan: $99 per month, plus a $199 setup fee per location
You'll also need to pay credit card processing fees of $0.10 + 2.8% per transaction for Visa, Mastercard, and Discover, or $0.15 + 3.5% per transaction for American Express.
Add-ons like a branded mobile app, food ordering with Google, and ChowNow Discover will cost extra. (You'll need to contact ChowNow for those prices.) And if you don't already have one, ChowNow can build you a restaurant website from scratch for $14 per month.
4. CAKE POS
Another full-service POS system (equipped with online ordering) for your consideration, CAKE isn't quite as comprehensive as Toast or Upserve, but it offers restaurant owners essentials like hardware, reporting, and guest management tools for an additional monthly fee.
On the downside, they don't currently offer a customer-facing mobile app. But on the plus side, CAKE POS gets universally positive reviews from restaurant owners using this service, who cite the platform's ease of use, excellent customer service team, and that the platform is constantly adding new features and integrations.
With CAKE POS, customers can order through your business website or Facebook page, and they can customize their order however they want (and you allow). They can also choose among several delivery options, including curbside pickup and contactless delivery. CAKE POS also has a unique curbside management tool, which is equipped with secure customer messaging where customers can share the make and model of their cars—that way, your staff can quickly identify them and safely drop off the right order with the right customer.
CAKE POS Pricing
CAKE POS software and service fees start at $69 per month. You'll need to pay for CAKE POS hardware separately. You'll also be responsible for a 5% processing fee on every order—vastly lower than the 15% to 20% commission rate typical of third-party ordering platforms.
5. GloriaFood
Opt for GloriaFood if you want a simple, straightforward restaurant online ordering system—nothing more, nothing less. While this is a no-frills option, this platform really sets itself apart from its competitors by offering a completely free service plan.
At no cost whatsoever, users get online ordering capabilities via embedded widget on your business website, mobile app, and Facebook. Customers can order pickup or delivery for now or later. It also supports unlimited orders and charges zero commission.
GloriaFood Pricing
If you're in need of restaurant online ordering software for free, GloriaFood may be the one for you. However, the platform also offers optional features for a fee:
Credit card payment service: For $29 per month, GloriaFood can connect your online ordering system with your payment gateway
Website: For $9 per month, GloriaFood can build an SEO-optimized, mobile-friendly website for your business.
Marketing: For $19 per month, you can offer and manage multiple promotional tools.
Mobile app: For $59 per month, you can custom-build a branded mobile app.
The Bottom Line
For the most part, choosing a restaurant online ordering system comes down to the features you need and how much you're willing to pay for it.
Need a full-service POS system in addition to online ordering? Opt for Toast, Upserve, or CAKE POS. But if you're prioritizing the option for customers to order through a dedicated mobile app, then CAKE might not be the best choice for you. If you're only looking for online ordering, then Toast's Digital Ordering subscription plan or ChowNow are excellent options if you can afford their monthly fees. Otherwise, GloriaFood is more limited but still effective; and, of course, it's totally free.
It's also a good idea to read up on user reviews for all the software you're considering, paying special attention to other restaurant owners' feedback on each service's ease of use, customer support, and any hidden fees. This software will become an integral aspect of your restaurant's operations, so you need to feel comfortable using it—and know that your problems will be solved efficiently if you run into them.
Once you've made your decision, you can get to work setting up your online ordering system so your customers can start placing their orders as soon as possible.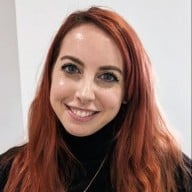 Contributing Writer
at
Fundera
Caroline Goldstein is a contributing writer for Fundera.
Caroline is a freelance writer and editor, specializing in small business and finance. She has covered topics such as lending, credit cards, marketing, and starting a business for Fundera. Her work has appeared in JPMorgan Chase, Prevention, Refinery29, Bustle, Men's Health, and more.
Read Full Author Bio