Fresh out of graduate school, Shayna Ferullo relocated to San Francisco, jumping into a job with a consulting firm. After just a few months living in the Bay Area, she crossed paths with a young Peruvian entrepreneur.
A mutual love for coffee—and each other, of course—soon led Ferullo and that entrepreneur, Manuel Ainzuain, to marry in 2009.
At the time, Ainzuain was busy running a business shipping Peruvian spirits, while Ferullo made the shift to start working with Quest Exchange, a company that coordinates foreign exchange student placements.
True "coffeehouse kids," Ainzuain and Ferullo soon befriended coffee veterans behind big names like Blue Bottle Coffee. Before they knew it, they were learning how to roast and cut coffee.
Around this time, San Francisco was really taking off as a must-live destination and real estate prices were skyrocketing. The couple decided it was the perfect time to try something new, so they packed up their things and moved cross country—all the way to Cape Cod.
After settling into their new home, Ferullo and Ainzuain figured it was finally time to turn their passion into their career…
And the idea for Snowy Owl Coffee Roasters, a small batch coffee roaster and cafe, was born.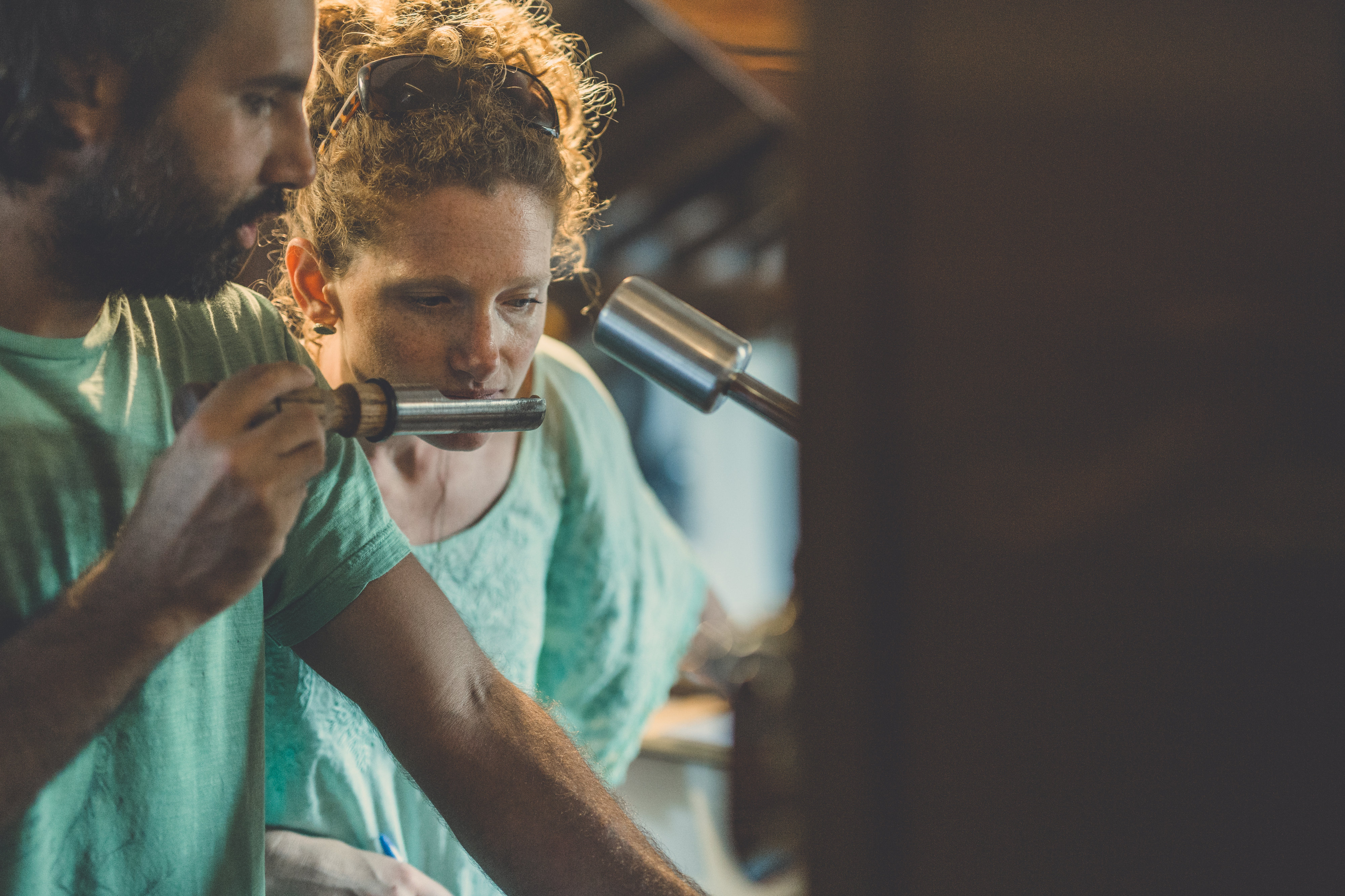 More Than a Business
But starting their own roaster and cafe wasn't just about owning a business. It meant much, much more to the pair.
"I've always been in international development and relations. That's what attracted me to what's called 'third wave' coffee," explains Ferullo.
"I want coffee farmers to get compensated for growing high quality coffee. And with the third wave movement, farmers get paid based on quality, which means they take better care of their coffee plants, don't use pesticides, and pick only when things are ripe."
The movement is having a broader impact on the coffee industry, and Ferullo and Ainzuain wanted to contribute to that impact with their new business.
From Husband & Wife to Co-Founders
To get things started, the duo signed a lease for their coffee house in April of 2015 and started to build up the space.
On Labor Day weekend in September 2015, Snowy Owl Coffee Roasters opened for the residents and visitors of Cape Cod.
Out of the gate, the biggest challenge for the two was prioritizing where money should be spent.
"We spent quite a bit of money on the build-out, but we also needed a really great espresso machine and brewer. Then, of course, you have to get everyone paid, train the staff. It really adds up," says Ferullo.
Operating a business on Cape Cod comes with its own set of challenges, too, since the area's population triples over the summer.
But Snowy Owl benefited from opening in the offseason, letting them capture the local audience first. By offering a nice place to hang out during the slow season, they filled a real void for locals.
Now, bracing for summer is their toughest obstacle. "It's important that our service quality remains high despite the increased demand," adds Ferullo.
Financing Open Doors
When Ainzuain's father unfortunately passed away in 2013, the couple received some inheritance that would eventually give them the capital they needed to get off the ground.
"The Snowy Owl" actually pays homage to Ainzuain's father, Cesar, whose owl-shaped pillow was the source of laughter and happy memories during his last days in the hospital.
But the inheritance only provided enough to make Snowy Owl a reality—not to keep the business growing.
"We needed funding to make getting off the ground easier. As a startup, you underestimate how much you'll actually need. So we applied at a local development organization and were denied. Then we applied a bank—and guess what? Never even heard back," says Ferullo.
Those dead ends soon led Ferullo to Fundera.
"I saw some entrepreneurs I knew had liked Fundera on Facebook. And when people you know like something, it's like a seal of trust. We managed to get a line of credit through Fundera, and couldn't be happier. Our Account Manager, Annie Harvey, is just so responsive, and so pleasant. It has been such a personal experience."
The line of credit Snowy Owl received gave them just what they needed to get through their initial offseason and brace for their first summer in business.
Now, they can focus on the future.
"Our first goal was to survive the first year, which we're close to. After that, we really want to get into wholesale."
Although it's a great area for potential growth, Ferullo and Ainzuain still want to be careful.
As Ferullo explains, "Anytime your coffee gets sold by someone else affects your reputation."
Also on the list: bottling Snowy Owl's Cold Brew and expanding into Boston.
"We'd really love a nice hole-in-the-wall place in Boston that we could capture the university audience. It'd be a great place for volume," says Ferullo.  
***
Beyond business growth, Ferullo and Ainzuain's biggest priority has always stayed the same.
"We want to connect people to the source of their coffee. Coffee has always been around on a massive scale. Everyone drinks it, but very few people know where it's coming from. We want to get more people to think more deeply about what it takes to get that coffee in their cup."