Getting a Loan for an Entertainment Business
For creatives and entrepreneurs pursuing artistic projects, sometimes the biggest challenge isn't the creative process itself (although that certainly comes with its own set of challenges)—it's securing the right entertainment business loans so you can get your project off the ground and share your work with your community.
For many artists and entertainers, navigating the financial world is tricky, nonintuitive, and, frankly, uninteresting. But the reality is that, in certain cases, funding is necessary in order to create your project in the first place—whether it's a short film, a play, a video game, a comic book series, a full-length album, a digital short, or another project that requires gear or materials, a cast and crew, and other pricey incidentals in order to come to fruition.
But because individual creators and business owners in the entertainment industry often seek loans in order to fund a business idea, entertainment business loans may not be the conventional lump-sum bank financing you'd expect. Here, we'll show you just a few of those creative funding ideas that may work for creative entrepreneurs.
A Quick Rundown on Entertainment Business Loans
If you're seeking entertainment business loans, you can certainly try your luck with debt financing, which is the exchange of money for the promise of repaying that money, plus interest, over a predetermined window—in other words, it's the arrangement that likely springs to mind when you think of a conventional loan. But for financial institutions to trust that you'll hold up your end of the bargain, they need substantial evidence of your financial solvency. Typically, that evidence takes the form of industry experience, a strong credit score, high annual revenue, and a serviceable DSCR, among other factors.
But considering that many artists and creators seek financing to start their projects, hopeful applicants simply won't have the credentials needed to secure debt financing from traditional lenders or online platforms. That said, there are a couple forms of debt-based business financing that are accessible for entertainment business owners, mostly because these methods don't involve going down the straight-and-narrow business financing path (but what fun is going the conventional route, anyway?).
In many cases, though, entertainment business owners—by which we mean individual artists and creators, or owners of entertainment-related businesses, like production companies—secure their funding without creating debt. Zero-debt financing can take a few forms: You can seek investors to put up their money in return for equity in your business or project; or solicit generous strangers to donate small amounts of their own money.
Entertainment Business Loans: Your 6 Top Options   
With that primer in mind, here are just a few of the best options for entrepreneurial artists seeking entertainment business loans:
Crowdfunding

For most artists and creators, the safest route toward securing at least part of your required finances is through a crowdfunding platform, like Kickstarter or Indiegogo. Depending on the platform you choose and the nature of your project, you can provide your backers with rewards in return for their donations, like an advanced copy or demo, merchandise, a ticket to the premiere, a commissioned art piece, or a cameo in your project. Often, rewards increase in value (and work, on your end) along with the dollar amount your backer pledges.

There are so many upsides to crowdfunding. First off, as long as you're aligned with your particular platform's guidelines, virtually every creator is eligible for this form of financing. And in addition to receiving money for your project, creating a crowdfunding campaign is an excellent way to forge a community of guaranteed fans and supporters even before you deliver your product—a boon for every artist hoping to publicize their work. You can also use your crowdfunders as a testing ground and receive valuable, direct feedback about your project.

On the downside, however, crowdfunding most likely won't provide you with all the cash you need for your project; so if possible, this financing method is best used in tandem with a more substantial method, like one of the forms we'll outline next. Also be aware that most crowdfunding platforms charge a fee for the use of their services, so a small percentage of the money you do end up raising won't actually make it into your pockets.

Angel Investors

As we mentioned, certain forms of zero-debt financing involve the exchange of money for some form of influence over your business—and angel investing, another popular type of entertainment business loan, is one such financing method.

Angel investors are individuals who offer up their own wealth to help early-stage businesses and projects they believe in get off the ground. In exchange, angels often take equity in the business. Depending on the investor and the stake they take in your project, they may expect a key decision-making role in your processes or, at the very least, they'll provide their guidance and expertise.

Business owners will often need to leverage their personal and professional networks to find angel investors. But if your network is limited, or if you need to brush up on your in-person networking strategies, you can also turn to online platforms like AngelList and Angel Investment Network to connect to potential investors.

Whether you find your angel investor through a personal connection or online, be prepared to prove why your project is worth their investment. Create a presentation or document detailing your unique value proposition (or, in the case of creative projects, how your project differentiates itself from what's already on the market), how much money you need and how exactly you'll use your funds, your financial projections, and your marketing plan. The better prepared your presentation, the more likely potential angels will be to believe in both your financial responsibility and the value of your creative project—and to offer up their money and guidance to help you get that project started.

Friends and Family Loans

As an artist, you understand how crucial it is to surround yourself with people who support your work; and at a certain point in your artistic career, you may need to tap that network not only for emotional support, but for their financial backing, too. If you're approaching your friends and family for a loan, however, do so with the utmost care. Prepare a detailed loan agreement or promissory note so they understand that you're legally bound to repaying their contribution, and don't be afraid to solicit the help of an attorney if need be.

Kiva Loans

Kiva loans are a kind of hybrid between crowdfunding and an alternative lending platform. This 501(c)(3) nonprofit is an online lending platform that offers businesses and individuals with 0% interest loans up of up to $10,000, with repayment terms ranging between three and 36 months. Like a crowdfunding platform, loan funds come from individuals who can browse the Kiva site and contribute to the causes they believe in. Unlike a crowdfunding platform, however, those lenders will receive their money back, according to a repayment schedule determined between Kiva and the business owner.

While several types of businesses and initiatives can be eligible for a Kiva loan, the platform intends to create funding opportunities to the individuals who are often excluded from traditional lending institutions, or who simply don't have access to traditional forms of financing—including women, refugees, IDPs, and business owners in developing nations and conflict zones. But even if you're not one such business owner, you may be a good match for a Kiva loan if your project is inherently socially conscious or environmentally responsible. Take a look at Kiva's Arts loans page for a better idea of the types of creative businesses that have been approved for these unique loans.

Personal Loan for Business

If you need a substantial sum of money for your entertainment business or project, it makes sense to want to turn to a bank or online lending platform for that lump sum. But as you now know, very few of these lenders, whether brick-and-mortar or online-only, are willing to risk extending credit to new businesses.

But if your personal credit score and financials are strong, you can consider securing a personal loan from a bank or online lender. Unlike a business loan, which you need to use for business-related purposes, you can use a personal loan for virtually anything you need, including your startup or creative pursuit. As is always the case, however, you need to be certain that you can responsibly repay your loan and interest within your lender's repayment period. There's no doubt that your work is important—but in the long run, it's probably not worth getting caught in an unnecessary cycle of debt for.

Business Credit Card

A business credit card is one of the most accessible forms of financing for businesses, regardless of their industry, experience, or financial situation—in fact, if your business doesn't have its own financial history to provide on your credit card application, then the card issuer can simply evaluate your personal financial information instead.

Of course, your credit card probably won't give you access to all the funds you need to finance your entertainment business, especially if you're working on a larger-scale, financially demanding project like shooting a movie or recording an album; and even if you did have access to a substantial credit line, your credit card's short billing cycle probably wouldn't provide you enough time to repay that amount without incurring added interest. Instead, use your business credit card to pay for any smaller, day-to-day expenses related to your entertainment business, like inexpensive gear, art supplies, or even meals for your cast or crew (even if you're actually the only credited cast and crew member). If you can qualify for one, we'd recommend using a cash back or points card so you can reap additional benefits every time you spend.
The Bottom Line on Entertainment Business Loans
There are tons of alternative funding options for creative types, and this guide only highlighted a few of the more popular and accessible methods of securing financing for creative projects. Other options, for instance, are to look into both government- or privately funded grant programs, paid residencies, or scholarships, which may provide you full or partial funding as well as the time, materials, resources, and space you need to work on your project.
Remember, too, that many of these funding methods can be used in tandem with one another. Crowdfunding makes an excellent supplement to a heftier form of financing, for example, and a business credit card is a must-have for any serious business owner, regardless of industry, to pay for their incidentals (and earn perks and rewards in the process).
There's no doubt that navigating the financial aspect of your entertainment business can become a project within itself—but probably not as creative a project as you'd like it to be. If you're daunted by the task, start with what and whom you know. Reach out to your fellow creators and ask how they've financed projects in the past. Launch a Kickstarter or Indiegogo page and see if it gains traction. And, if it makes sense for your project's needs, take a few minutes to apply for a business credit card online and start separating your business and personal finances. Then, as  your project picks up, you can move onto larger forms of financing, like loans and investors.
See Your Business Loan Options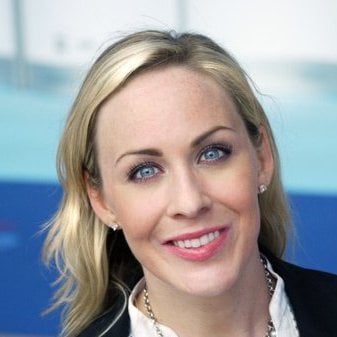 Meredith Wood is the founding editor of the Fundera Ledger and a vice president at Fundera. 
Meredith launched the Fundera Ledger in 2014. She has specialized in financial advice for small business owners for almost a decade. Meredith is frequently sought out for her expertise in small business lending and financial management.
Read Full Author Bio