How to Get Equipment Financing with Bad Credit
Maybe you need a new computer or three to replace your ancient systems. A forklift, since the one you use every day is on its last legs. Or, finally, a new brite tank for your crazy-popular craft brewery. (And while you're at it, you might as well replace the worn-out stools in your taproom, too.) So you think about securing a way to pay for your new setup … but you're worried about finding equipment financing with bad credit.
Although you might think that loan options are only open to entrepreneurs who are in great—or even just good—credit standing, one of the many excellent things about the ever-expanding lending market is that alternatives of all types are opening up for small business owners. Including ones with poor credit history.
So, you're not totally out of luck—in fact, you might be pretty pleased to find out just how many options are out there for equipment financing with bad credit. You just have to know where to look, and maybe get a little creative in the process.
In order to do that, though, and make the best decision for your small business, let's get back to the root of what exactly equipment financing is. How is it different from other types of lending, and what are rates based on? Here's what you need to know.
What Is Equipment Financing?
Equipment financing is a loan you can take specifically for buying new equipment for your small business. Unlike many small business loans, equipment financing is collateralized—meaning that whatever you're buying with the funds can be repossessed if you default.
Loans for equipment can vary, but they're typically over about three to five years. And since the loan is collateralized, they're less risky for the lenders that provide them. That means they can typically offer a lower rate than standard term loans—usually interest rates are between 6% and 20%.
The rate will, of course, depend on your profile for qualification (more on that below). But another kind of neat thing that determines APR is how "resellable" the equipment is. So, for instance, if the borrower defaults on a loan for a custom machine, its resale value is lower, driving APR higher. But something like an x-ray machine has a much wider resale value, so it could push APR lower.
Equipment financing for your small business can be a good way to fund the cost of whatever you need to keep things running smoothly or to modernize. And the great news is that since these small business loans are automatically collateralized with the equipment purchase, they're generally easier to qualify for than traditional term loans.
How Do You Know If You Qualify for Equipment Financing?
Of course there's no tried-and-true formula for qualification, but a good barometer for whether you'll be eligible for some kind of equipment financing is:
You've been in business for 11 months or more
Have at least a 600 on your credit score
Generate about $100,000+ in annual revenue
For some perspective, it might be helpful to know that most Fundera customers who've been approved for equipment financing have had a time in business of more than two years, generated $130,000 or more of revenue, and have a credit score of 630 or so.
But even if you don't slot into these categories—especially that last one—most businesses can still qualify for some kind of funding. It's because of that collateralization part, which means you can still probably find equipment financing with a bad credit rating. How much your business qualifies for, though, and the interest rate you'll pay on that loan, depends on the value of the equipment, your business's financial history, and your credit score. In fact, equipment financing companies are looking at what's securing the loan just as much as they are at your business's creditworthiness.
What Kind of Documentation Do You Need to Apply for Equipment Financing?
Honestly, not a ton! And that's one of the things that makes applying for an equipment loan easier than some other types of small business loans. And, unlike more document-intensive options for financing, like SBA loans for instance, which have more stringent asks from borrowers, fewer requirements open the door to obtain equipment financing with bad credit.
If you're exploring equipment financing, you'll want to gather:
Your driver's license
Personal credit score
Business bank statements
Business tax returns
A quote for the equipment you're looking to finance
A voided business check
That last one, of course, is so lenders know where to deposit those funds once you're approved!
How to Make Yourself a Better Candidate for Equipment Financing with Bad Credit
If you're still worried about bad credit history affecting your ability to qualify for the equipment loans you need, you can strengthen your appeal to lenders with a few adjustments:
Find a cosigner

If someone with better credit will agree to cosign on your loan, lenders might be more willing to offer you equipment financing, and at a more desirable rate.

Offer other assets as collateral

Do you have other equipment or real estate you could offer as collateral? Typically, the equipment you need to purchase for the loan is used as collateral in case of a default, but if you have poor credit, offering more collateral may be the boost you need to get the funds you want.

Make a big down payment

If you have enough cash on hand to knock out a good portion of the total equipment cost, lowering the overall loan amount, you'll have a much better chance with prospective lenders as a candidate with bad credit.

Show strong business

Easier said than done, of course, but it's worth trying to prove to the lender that your business has been soaring lately. Can you show hugely growing revenue with several months of bank statements? Lenders may be more forgiving of a bad credit score with evidence that a business is really booming.
Check Out Online Lenders for Equipment Financing
If you have less than a 600 FICO score, you're unlikely to be a candidate for a loan from a traditional lending institution like a bank. Equipment financing with bad credit, however, is much easier with alternative lenders, who are more lenient with their requirements.
As you might already know, though, the looser the requirements are for the loan, the higher the rates you'll find. But if your business needs the equipment, and your credit isn't in the best shape, online lenders just might be your best option. And there are lots of great choices for getting equipment financing in as few as two days with quick, easy applications. (Some don't even require a hard credit pull at all!)
A Business Line of Credit Could Work, Too
There are a variety of other options available to bad credit borrowers—like merchant cash advances, short-term loans for bad credit, and business lines of credit.
Your best approach could be applying for a business line of credit. They're a great option for small businesses with bad credit history that need financing for equipment. The requirements are less stringent for a business line of credit—roughly $50,000 of revenue and about six months in business—which could open some options to newer businesses that need equipment help.
Think of a business line of credit like a business credit card: a lender extends a maximum credit amount from which you can draw cash, and this amount can be used to cover all or some of the cost of the equipment. The nice thing about business lines of credit is that you only pay back what you take out from the credit line—as opposed to a lump sum loan.
A heads up that interest rates on these may (and probably will) be higher than traditional equipment financing. But if you need the cash, a line of credit is still a good option to help pay for the full or partial cost of the equipment you need. And this type of loan, too, can happen in a few days if you decide to apply for a line of credit with alternative lenders.
When to Use a Business Credit Card Instead
Speaking of business credit cards, they're very similar to business lines of credit—you can purchase your equipment with a credit card, and then pay off the purchase through the terms of your card. Also similar to a business line of credit, you can sometimes use a business credit card to pay for a portion of the cost of the equipment, and try to seek out equipment financing for the rest of the cost with a better interest rate than what your card offers.
If you go this route, make sure you're using a business credit card that pays dividends for your particular type of spending. Earning rewards for the big purchases you're making now makes for a hefty payoff for your small business later.
Worth noting: Business credit cards are separate from your personal credit score. This ensures that large purchases made for the business—such as heavy equipment—won't hurt your personal credit score down the line. (That's nice if you're thinking about taking out a personal loan like a mortgage, for example.)
Or, Think About Equipment Leasing Instead of Buying It Outright
You don't necessarily need to buy your equipment—and, hey, it may not even be the best investment if you're in an industry in which technology is changing insanely quickly. Instead, you might want to explore leasing instead. Springing for equipment leasing vs. equipment loans is a good option for small business that don't have great credit, don't want to put a hefty down payment on the equipment, or aren't in a position to fork out cash upfront.
The downside? Long term, leasing may cost more than the total value of the equipment. So, if you have the ability to make a down payment and your interest rate isn't prohibitive, leasing might not be the right option.  Here's what we mean:
Let's say you have a piece of equipment you'd like to buy that costs $20,000. An equipment financing lender offer to give you the cash upfront to purchase that equipment, but they'll charge you 12% APR over a five-year term. That means your $20,000 piece of equipment will actually cost you $26,700 once you're done paying it off over that 60 months. Your monthly payment would be $444.
The best bet here would be to do the math. Calculate your total equipment loan offer and its monthly payments against what a lease will end up working out to. Then, decide what's most cost efficient. In the end, only you know what's best for your small business. Whether that's leasing whatever you need for a little more in the end, or finding a way to finance your purchase outright, go with the decision that makes the most financial sense for your business.
Equipment Financing With Bad Credit Is Possible, So Consider Your Options
As with any small business financing decision (and any decision you'll make in the life of your business, period), equipment financing comes with lots avenues to consider. But that's good! And so is the fact that even if you have poor credit, you'll still likely have options available to you. Sure, it may be difficult for to secure the best kind of equipment financing out there with tip-top rates, but you certainly won't be out of options.
Above all, when you're pursuing equipment financing with bad credit, make 100% sure you understand the cost of the equipment you're purchasing, plus the maximum monthly payment your business can afford to take on. This is key in deciding which financing options are right for you, especially if there are multiple options on the table, such as buying equipment vs. equipment leasing.
Think outside the box! If you have bad credit, it's definitely possible to secure the equipment financing you need in a way that's sustainable for your business. Just do your homework first, and you'll be riding that new forklift in no time.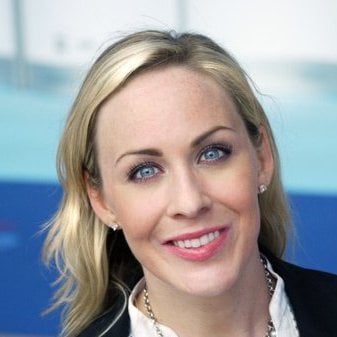 Meredith Wood is the founding editor of the Fundera Ledger and a vice president at Fundera. 
Meredith launched the Fundera Ledger in 2014. She has specialized in financial advice for small business owners for almost a decade. Meredith is frequently sought out for her expertise in small business lending and financial management.
Read Full Author Bio