OnDeck vs. BlueVine 2020 Review
If you're in the market for business financing, it makes sense to consider online lenders along with (or even instead of) traditional bank financing. Typically, online platforms have much less stringent eligibility requirements than banks do, so they can offer financing to businesses that have been at a historical disadvantage in the lending space.
Since these platforms are digital, their application, underwriting, and funding processes are incredibly fast, efficient, and as painless as possible. There are lots of online lenders out there right now, but OnDeck and BlueVine are two of the most reputable—which may lead you to wonder whether OnDeck vs. BlueVine is the better choice for you.
Since their launch in 2007, OnDeck has become one of the most established and trusted names in online lending, especially for offering short-term loans and lines of credit. Founded in 2013, BlueVine initially made a name for itself for offering invoice factoring, a unique form of financing that frees up working capital tied up in outstanding invoices. Now, this online platform also offers short-term loans and lines of credit.
We'll do a side-by-side comparison between OnDeck vs. BlueVine so you can better understand how these two platforms stack up. In particular, we'll walk you through their loan types, terms, costs, application and underwriting processes, and customer reviews.
Overview
OnDeck
BlueVine

Loan products

Short-term loans
Lines of credit

Short-term loans
Lines of credit
Invoice factoring

Amount

$5,000 to $500,000 for term loan
$6,000 to $100,000 for line of credit

$5,000 to $250,000 for term loan and line of credit
$20,000 to $5 million for invoice factoring

Terms

Three to 36 months for term loan
12 months for line of credit

Six or 12 months for term loan and line of credit
One to 13 weeks for invoice factoring

Interest rates

9.99% to 99% annual interest rate for term loan
13.99% to 63% APR for line of credit

4.8% to 51% annual interest rate for term loan and line of credit
0.25% to 1.7% per week for invoice factoring

Payment structure

Daily or weekly

Weekly or monthly

Additional fees

0% to 4% origination fee for term loan
$20 monthly maintenance fee for line of credit (with possibility to waive)

1.6% to 2.5% draw fee for line of credit

Requirements

One year in business
600 personal credit score
$100,000 annual revenue
business bank account

Six months in business (three for invoice factoring)
600 credit score (530 for invoice factoring)
$10,000 monthly revenue
OnDeck vs. BlueVine: Loan Terms
Probably the most important factors to consider when deciding between OnDeck vs. BlueVine are their respective loan terms, which includes their types, costs, payment structure, fees, and collateral requirements—because if one or the other doesn't offer the kind of financing you need or can reasonably take on, then there's really no need to go any further with your research.
One thing to keep in mind: Interest rates vary depending on your creditworthiness, so we can't provide a hard-and-fast answer to what your particular interest rate will be with either lender. Generally, the numbers we're providing here represent the lowest and highest interest rates that borrowers encounter for each platform.
Also, remember that interest rates and APRs are not the same thing: An interest rate only represents the interest you'll pay on your loan, whereas an APR accounts for the interest rate plus any additional costs baked into your loan, such as origination fees and closing costs. This is especially important to take into consideration in a side-by-side comparison between two platforms because if one platform provides interest rates and another provides APR, then it's not quite a side-by-side comparison.
OnDeck Loan Terms
OnDeck offers two loan types: short-term loans and lines of credit. The former is best suited for financing one-time projects with predictable costs, like purchasing inventory, funding your startup costs, or buying or repairing equipment. The latter is ideal if you need ongoing access to capital to fund a variety of projects, as and when they pop up. You'll only pay interest on the funds you use, and your line of credit will replenish to its original amount once you've repaid what you owe. Both loan types are handy if you run a seasonal business and need a cash cushion during your slower periods.
Here's what you need to know about each of OnDeck's loan types.
OnDeck Short-Term Loans:
Loan amounts: $5,000 to $500,000
Term lengths: three to 36 months
Estimated AIR (annual interest rate): 9.99% to 99%
Payment structure: automatic daily or weekly payments
Origination fee: 0% to 4%, depending on whether you've worked with them before
OnDeck Lines of Credit:
Loan amounts: $6,000 to $100,000
Term lengths: 12 months
Estimated APR: 13.99% to 63%
Payment structure: automatic weekly payments
Monthly maintenance fee: $20 (waived for six months if you pull $5,000+ within the first five days after opening your credit line)
OnDeck doesn't require specific collateral to secure their loans. Instead, their loans are secured by a general lien on the business assets and a personal guarantee. They won't accept the guarantor's personal assets as collateral.
BlueVine Loan Terms
BlueVine offers three types of loans: short-term loans, lines of credit and invoice factoring. With invoice factoring, you'll sell whatever outstanding invoices you want to BlueVine, who'll then take over responsibility for collecting the full amount from your customers. In return, BlueVine will provide you about 85% to 90% of the value of those invoices upfront, so you can have immediate access to that working capital. You'll receive the rest of the invoice amount, minus BlueVine's fees, once your customers have paid. (Note that your credit line is determined based on your customers' creditworthiness, since this type of financing hinges on their ability to repay.)
Here are the details for all three of BlueVine's loan offerings.
BlueVine Short-Term Loans:
Loan amounts: $5,000 to $250,000
Loan terms: six or 12 months
Interest rate: 4.8% to 51%
Payment structure: fixed weekly repayments
BlueVine Lines of Credit:
Loan amounts: $5,000 to $250,000
Loan terms: six or 12 months
Interest rate: 4.8% to 51%
Payment structure: fixed monthly or weekly payments
Draw fees: 1.6% to 2.5%
BlueVine Invoice Factoring: 
Loan amounts: $20,000 to $5 million
Loan terms: one to 13 weeks
Interest rate: 0.25% to 1.7% per week
Payment structure: weekly payments
The collateral requirements here are the same as OnDeck: BlueVine doesn't require a specific type, amount, or value of collateral to secure their loans. Rather, their loans are secured by a general lien on the business's assets and backed by a guarantee.
OnDeck vs. BlueVine: Loan Eligibility Requirements
The next important factor to consider when evaluating loan platforms is their qualification requirements. This, too, makes it easy to weed out certain loan types or lenders—if you know that you can't qualify right off the bat, you can move onto those that you can.
Here are the requirements your business needs to meet in order to be eligible for financing from OnDeck and BlueVine.
OnDeck Minimum Loan Qualifications
Qualifying for either an OnDeck short-term loan or business line of credit call for the same minimum eligibility requirements:
Time in business: one year
Personal credit score: 600
Annual business revenue: $100,000
Note that you'll need to have a business bank account, too.
Beyond that, OnDeck can't work with businesses in the following industries:
Adult entertainment/materials
Drug dispensaries
Firearms vendors
Government and nonprofits, public administration
Horoscope, fortune telling
Lotteries, casinos, raffles, gaming, gambling
Money services business
Religious or civic organizations
Rooming and boarding houses
Vehicle dealers
Used good dealers
Auction houses
OnDeck can't offer loans to people seeking financing to purchase a business or business owners who operate out of their homes. Also, OnDeck can't work with businesses that have total liens and judgments against their business amounting to over $20,000, or over 5.5% of their total revenue. They can work with business owners who have filed for personal bankruptcy, but they require that two years have passed since discharge before you can apply for a loan.
BlueVine Minimum Loan Qualifications
To qualify for either a BlueVine short-term loan or line of credit, you'll need to meet the following minimum requirements:
Time in business: six months
Personal credit score: 600
Monthly business revenue: $10,000
And here's what you need in order to qualify for BlueVine invoice factoring, which is only available for B2B businesses:
Time in business: three months
Personal credit score: 530
Monthly business revenue: $10,000
Like OnDeck (and most other lenders, for that matter), there are certain industries that BlueVine won't work with. BlueVine lists the following as restricted industries:
Gambling
Pornography and paraphernalia
Political campaigns
Legal and illegal substances (including medicinal marijuana) and paraphernalia
Firearms and paraphernalia
Financial institutions and lenders (including insurance)
Donation-based nonprofits
Auto dealerships
BlueVine can approve customers who have declared personal bankruptcy, as long as at least one year has passed since discharge. They can also work with businesses with tax liens, but these businesses will have to provide proof of a repayment plan for approval.
OnDeck vs. BlueVine: How to Apply
Next, we'll take a look at the application materials you'll need for each platform, and how the application and underwriting processes themselves work for OnDeck and BlueVine.
OnDeck Application Process
OnDeck's one-page application is entirely online, and it can take you less than 10 minutes to complete. Here's the information you'll need to provide:
Three months of business bank statements
Voided business check
Copy of your driver's license
Business tax ID number
Business owner's social security number
From there, OnDeck uses a combination of technology and human expertise to complete the underwriting process. During this process, they'll evaluate your cash flow, bank statements, and annual revenue to determine whether you're solvent enough to handle a loan. They'll also perform a soft pull on your credit, which won't affect your credit score, to take a look at your credit history.
Your loan application can be reviewed and approved in as little as a single day. If you're approved, then a loan advisor will call you to discuss your best offers. Once you've accepted the loan agreement, you can have access to your funds in your business checking account within 24 hours. Plus, you can access your OnDeck account both online and via their mobile app.
BlueVine Application Process
BlueVine also has an online application, which they say can take under two minutes to complete. Here's what you'll need in order to complete this application:
Three months of business bank statements or a read-only connection to your business bank account
General information about the business, including your business address, phone number, business DBA, and tax ID number
Personal information about the business owner applying, including phone number, email, personal address, social security number, date of birth, and ownership percentage
If you're applying for invoice factoring, then you'll also need to provide either copies of your invoices, or a read-only connection to your invoicing or accounting software.
Then, BlueVine will do a soft credit pull and review your business's cash flow and revenue. If you're applying for invoice factoring, they'll also evaluate your clients' creditworthiness. The outstanding invoices you submit must be at least $500, with a due date between one and 13 weeks away.
Approval typically takes one business day. If you decide to accept your loan offer, funds can be deposited into your bank account within hours if you opt for a wire transfer (for a $15 fee), or up to three business days if you choose a free ACH transfer. Note that BlueVine will perform a hard credit pull if you accept their loan offer, which will slightly affect your credit score. BlueVine also has an online dashboard and app where you can manage your account and request loan funds.
OnDeck vs. BlueVine: Customer Reviews
When evaluating potential lenders, it makes sense to go straight to the source: customers who've actually worked with the lenders in question. Now, we'll summarize what customers have said about both OnDeck and BlueVine—both the good and the not-so-good.
OnDeck Customer Reviews
First off, it's worth noting that OnDeck has an A+ rating on Better Business Bureau, and their average ratings across major customer review platforms are excellent or good.
Across the board, it seems that people are impressed by the professionalism, knowledge, and overall friendliness of OnDeck's sales team, and lots of customers give shoutouts to specific loan officers whom they've enjoyed working with. Otherwise, customers praise the speed, efficiency, and seamlessness of the entire process, from application to approval to funding time to repayment. Most customers say they would strongly recommend OnDeck to other small business owners.
On the other hand, most of OnDeck's critics point out their aggressive marketing tactics, which include receiving piles of mail and emails encouraging them to apply for a loan. However, these criticisms mainly come from people whose loan applications were denied. So if you do end up getting loan approval, this probably won't be an issue for you.
BlueVine Customer Reviews
BlueVine's ratings on review platforms are comparable to OnDeck: They also have an A+ BBB rating, and solid ratings across other review sites.
Happy customers also point out the speed and efficiency of BlueVine's processes. Customers also highlight their positive experiences working with BlueVine's loan advisors, whom they call patient, responsive, knowledgeable, and professional. One reviewer on TrustPilot called the experience "almost magical," and another called them "superheroes for small businesses."
As is often the case, negative reviews tend to focus on individual experiences, such as dissatisfaction with their loan amounts or fees. On a more material level, one reviewer said that BlueVine put a hold on their credit line due to a shift in their income, even though they had disclosed that information in their loan application.
OnDeck vs. BlueVine: Which Lender Is Right for You?
The obvious difference here is that BlueVine offers invoice factoring, and OnDeck doesn't. So if invoice factoring is appealing to you, your answer is obvious.
Otherwise, the differences between OnDeck and BlueVine are fairly small. In terms of their speed, ease of use, application and underwriting process, the professionalism of their staff, and (for the most part) their loan offerings, OnDeck and BlueVine are really comparable.
To get a little more granular about their differences, BlueVine's lines of credit can get expensive, since you'll be charged a fee every time you draw from your credit line—and those small percentages can add up fast. However, OnDeck charges an origination fee, whereas BlueVine doesn't.
BlueVine can offer higher lines of credit, but OnDeck can offer higher term loan amounts and longer terms. And BlueVine's eligibility requirements are slightly less demanding since they can work with less experienced business owners. That said, credit score requirements are comparable.
Ultimately, we can't give you a resolute answer about which platform (if either) is the best lender for your business to work with. You'll have to evaluate your own financing needs, including which type of loan you need, how much funding you need, how much you can pay for it, and what you can qualify for.
Of course, if you apply through Fundera, you can complete one application to see which loan products you qualify for across lenders and then compare your options with the help of one of our loan specialists to find the best option for your business.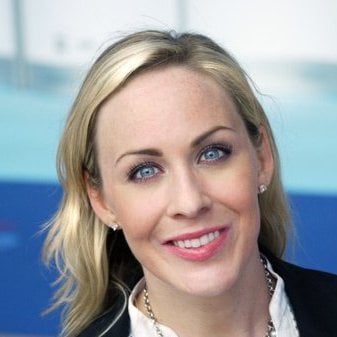 Meredith Wood is the founding editor of the Fundera Ledger and a vice president at Fundera. 
Meredith launched the Fundera Ledger in 2014. She has specialized in financial advice for small business owners for almost a decade. Meredith is frequently sought out for her expertise in small business lending and financial management.
Read Full Author Bio