Refinancing Debt with an SBA Loan
As a small business owner, you're always on the lookout for ways to save money—and a popular way to free up your cash flow is to refinance your outstanding debt with a business loan with more manageable terms. You might be aware that SBA 7(a) loans have some of the lowest rates and most generous payback periods on the market. This begs the question: Can you refinance debt with an SBA loan?
The short answer to this question is that you can refinance debt with an SBA 7(a) loan. But the most accurate answer is that it depends on your situation.
If you're looking to refinance an existing SBA loan with another SBA loan, then that answer changes to no. For the most part, the government tends to prefer to help those business owners who haven't yet secured SBA loans find financing, rather than to cut down rates on existing SBA loans. That said, the agency might consider your case if it falls under a few extenuating circumstances.
And even though it's difficult to refinance an existing SBA loan, you can refinance other existing debt with a new SBA loan. Of course, you'll still need to qualify for refinancing, according to the SBA's 7(a) standards.
In the infographic below, we break down under which circumstances you can refinance a loan with an SBA loan, whether that outstanding debt is with the SBA itself or another lender.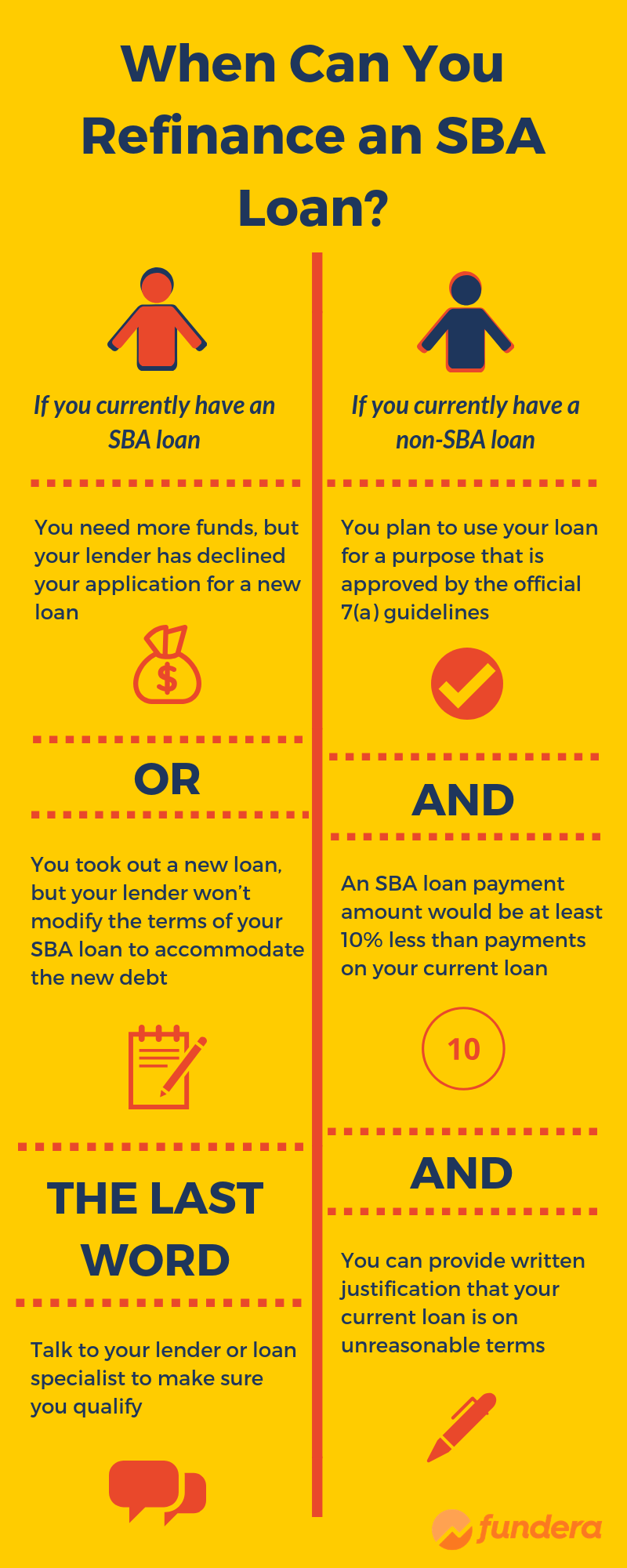 When You Can Refinance Debt With an SBA 7(a) Loan
If you currently have an SBA loan:
You need more funds, but your lender has declined your application for a new loan.
You took out a new loan, but your lender won't modify the terms of your SBA loan to accommodate the new debt.
If you currently have a non-SBA loan:
You plan to use your loan for a purpose that is approved by the SBA, per their official 7(a) guidelines.
An SBA loan payment amount would be at least 10% less than payments on your current loan.
You can provide written justification that your current loan is on unreasonable terms, such as:

Your existing debt is on a line of credit or credit card.
Your loan is over-collateralized.
Your interest rate exceeds the SBA's maximum.
Ultimately, understanding whether you can qualify for refinancing with an SBA loan can be a complex task. So, your best course of action is to talk to your lender or loan specialist, as they can navigate those complexities for you.
Catherine is a former content marketing associate at Fundera. She writes research-driven stories to help small business owners grow and thrive in their industries.
Read Full Author Bio