Most small business owners prefer to skip the legalese and focus on running their businesses. However, some legal issues, such as launching your business entity or entering into a contract with a potential supplier, are unavoidable.
In fact, a research study from Decision Analyst showed that almost 60% of small businesses experienced legal issues in the last two years.[1] But with hourly rates for business lawyers ranging between $100 to $1,000, it's no wonder that most small business owners can't afford an in-house lawyer or access to a law firm.
The good news is that online legal services can help you resolve some straightforward legal issues, without having to hire an attorney. Incfile and LegalZoom are two of the top providers in the space. What are the similarities between Incfile vs. LegalZoom, and how do they differ? Read on to see how they compare, and figure out which one is best for your small business's legal needs.
Incfile vs. LegalZoom: At a Glance
Here's a quick summary of the types of services available on Incfile vs. LegalZoom:
| Type of Service | Incfile | LegalZoom |
| --- | --- | --- |
| Form a new business | ✓ | ✓ |
| File for a patent, copyright, or trademark |  X | ✓ |
| Prepare and file tax returns | ✓ |  X |
| Business compliance | ✓ | ✓ |
| Make custom legal forms | X | ✓ |
| Speak with an attorney |  X | ✓ |
Incfile and LegalZoom both provide legal services online, but focus on different areas. Incfile helps with initial business formation and, once you're set up, with business taxes and compliance.
LegalZoom is more of a full-service legal provider. Like Incfile, they can help you with initial business setup and compliance. They also cover an array of other legal needs, such as filing a trademark application or drafting a contract. They'll even connect you with an attorney within their network for more detailed legal work. Let's dig into each company's services for more specifics.
Incfile vs. LegalZoom: Head-to-Head Comparison
Both Incfile and LegalZoom aim to make legal help affordable for small business owners. Instead of paying an attorney a steep hourly rate, you can access common legal services on these websites for a reasonable, flat fee.
As any lawyer will be quick to point out, these platforms are not a substitute for the help of an attorney. If you have a lawsuit pending against your business, or if you have a complicated legal situation, then you should find and hire a qualified business attorney. But for something relatively simple, a site like Incfile or LegalZoom can provide a fast, affordable solution.
When going the DIY route, you want to make sure you choose a platform that's right for you. To help, here's a detailed comparison of Incfile vs. LegalZoom:
Types of Services
As we mentioned above, Incfile focuses on business entity formation and compliance, whereas LegalZoom provides a full spectrum of business legal services.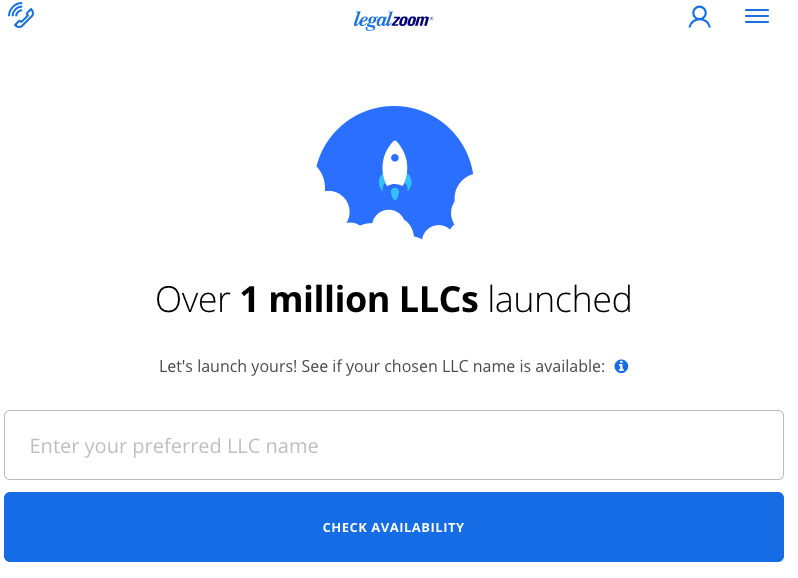 Photo credit: LegalZoom
Here are two categories of services you can access on both sites:
Company formation: Both on Incfile and LegalZoom, you can file formation papers for a corporation, LLC, partnership, or nonprofit organization. You can also verify the availability of a company name and file a fictitious business name if you're operating under a trade name. And both companies provide registered agent service. You must name a registered agent—someone who can accept legal documents on your company's behalf—when setting up a corporation or LLC.
Compliance: Once you set up your company, both Incfile and LegalZoom will help you keep the business in good standing. You can use either company to file your annual report, change your business name, or obtain a certificate of good standing.
The following services are available only on LegalZoom:
Intellectual property filings: LegalZoom will connect you with a lawyer to help you prepare and file a trademark, copyright, or patent application.
Custom legal forms: LegalZoom has over 100 legal forms. Fill out a questionnaire to create a legal form that's customized for your business's legal needs and enforceable in court. This is a very helpful service for small business owners who need to draft contracts.
Speak with an attorney: For businesses needing regular access to legal help, LegalZoom offers a legal plan. For a monthly fee, attorneys will review your legal documents, provide 30-minute phone consultations, and do an annual legal "checkup" of your business.
Get Started With LegalZoom
Tax filing services are available only on IncFile. As part of the monthly legal plan, LegalZoom can connect you with a tax professional who can give you an overview of your filing options. However, only IncFile will help you actually prepare and file your tax return.
Business tax services: Incfile will connect you to a tax professional who will prepare and file your personal or business tax return for a flat fee. Working with a professional helps you maximize your tax deductions and minimize errors in your return.
Get Started With IncFile
Photo credit: Incfile
Pricing
Incfile is less expensive than LegalZoom for comparable services. Here's a breakdown of costs for common services, so you can compare LegalZoom vs. Incfile's pricing for yourself:
Incfile vs. LegalZoom Pricing
| Service | IncFile Price | LegalZoom Price |
| --- | --- | --- |
| Form a new business | $0-$299 plus state fee | $149-$369 plus state fee |
| Registered agent | Included for free with business formation ($119 per year after that) | |
| File annual report | $88 plus state fee) | $55 plus state fee |
| File patent application | Service not available | $199 plus government fee |
| Create custom legal forms | Service not available | $7.95 per month or $59 per form |
| File tax returns | $599 for business and $299 for personal | Service not available |
| Monthly legal plan | Service not available | $31.25 per month |
For business formation services, Incfile offers a silver, gold, and platinum tier. Incfile's silver tier is completely free—you only pay the state filing fees—and includes next-business-day filing of formation papers with the state, name availability search, and email and phone support. The gold tier at $149 includes corporate bylaws or an LLC operating agreement, preparation of meeting minutes, and filing of Form 2553 (if you want your business to be taxed as an S-corp). Finally, the platinum tier at $299 includes a business website and domain name.
LegalZoom's three tiers include the $149 economy tier, the $239 standard tier, and the $369 express gold tier. What separates the tiers is the speed of filing and delivery. With Incfile, all tiers have guaranteed next business day processing. LegalZoom takes seven to 35 business days to process formation papers.
Speed
Sometimes, speed counts when you're officially launching a new business. For instance, you might be trying to find investors or enroll in a business accelerator. When it comes to speed, Incfile is the better of the two options.
No matter which tier you purchase, Incfile processes all business formation filings by the next business day. But LegalZoom makes you pay extra for faster filing. Their regular processing time is 20 to 35 business days. Even the most expensive LegalZoom plan with expedited filing takes seven to 10 business days of processing time.
Customer Support
Both Incfile and LegalZoom offer a variety of channels for customer support. LegalZoom has an FAQ page on their website, and you can also email a question. Phone support is available Monday to Friday 5 a.m. to 7 p.m. PT and Saturday 7 a.m. to 4 p.m. PT.
Incfile's help center is even more extensive than LegalZoom's. You can either submit a question by email, or contact them by phone Monday to Friday 9 a.m. to 6 p.m. CT. Weekend phone support is not available on Incfile.
User Reviews
Incfile gets very positive customer reviews. The company has an A+ rating on the Better Business Bureau and nearly a 5-star customer rating on the BBB.[2] Customers thought the business formation and compliance processes were clear and easy to understand. They also liked Incfile's transparent pricing. A few customers complained that the company didn't communicate well and didn't provide services by the stated deadline.
LegalZoom gets mixed customer reviews. LegalZoom has an A+ rating on Better Business Bureau, but only a 1.5-star customer rating on the BBB.[3] The main complaint was that LegalZoom charged users' accounts for services they didn't receive, charged the wrong amount, or charged users without their authorization. LegalZoom did respond to these complaints and seemed to have resolved them. On the positive side, customers appreciated the range of legal services they could access through LegalZoom.
How to Choose Between Incfile vs. LegalZoom
LegalZoom and Incfile are two of the biggest names in online legal services, so you'll make a good choice either way. However, the best way to choose between Incfile vs. LegalZoom is to take a close look at why you need legal services in the first place.
If you just want to incorporate a business or file your small business taxes, then Incfile is the better, more affordable choice. But if you want to access legal forms or anticipate needing an attorney on a regular basis, try LegalZoom.
Choose Incfile if:
You're launching a new business and need formation and compliance assistance.
You don't foresee needing regular legal help.
Get Started With Incfile
Sarah Walbolt and her husband Stephen, owners of Roof and Skillet Inc., chose Incfile to incorporate their company.
"My husband and I used Incfile to form an S-corp for our online blogging business, Roof and Skillet Inc. Our corporation was established within one week, and they sent me all legal documents both electronically and via mail with a nice contained document holder. We were very satisfied with Incfile, which has enabled us to focus on our business and not be bogged down with the legal requirements and filings."
Choose LegalZoom if:
You need legal help on a regular basis.
You want to draft contracts or other legal forms.
Get Started With LegalZoom
Matt Ross, co-owner of ecommerce stores RIZKNOWS LLC and The Slumber Yard, has used LegalZoom several times over the last three years.
"First, we used their services to form our LLC. This included an operating agreement and all the necessary filings and paperwork. Since then, we've also employed LegalZoom to trademark our two brands. Finally, we've also downloaded and used some their template documents. The employment contract we have new employees sign originated from LegalZoom."
The Bottom Line
Whether you opt for Incfile or LegalZoom for your business in the end, you're already a step ahead. Legal services like Incfile and LegalZoom make getting legal help fast and affordable for small business owners. You can take care of basic business formation, business compliance, and taxes all in one place. Plus, on LegalZoom, you can customize legal forms for yourself or speak to an attorney. Neither platform is a substitute for legal representation, but they both have the basics covered.
Senior Contributing Writer
at
Fundera
Priyanka Prakash is a senior contributing writer at Fundera.
Priyanka specializes in small business finance, credit, law, and insurance, helping businesses owners navigate complicated concepts and decisions. Since earning her law degree from the University of Washington, Priyanka has spent half a decade writing on small business financial and legal concerns. Prior to joining Fundera, Priyanka was managing editor at a small business resource site and in-house counsel at a Y Combinator tech startup.
Read Full Author Bio