As an aspiring digital entrepreneur (or side-hustler) with an inventory of physical products to move, your first order of business is choosing an ecommerce platform on which to sell and manage your stock. And if you're at all familiar with the ecommerce space—if not as a business owner then likely as a consumer—you know that Shopify vs. eBay are two of the biggest names in online selling. But which, if either, of these ecomm powerhouses is the right platform for your burgeoning online business? We'll help you figure that out.
Shopify vs. eBay: The Basics
Before we dive into the details about Shopify vs. eBay, let's paint some broad strokes about both platforms—because, to use an old (but accurate, in this case) metaphor, comparing Shopify vs. eBay is really like comparing apples to oranges. Both platforms enable small business owners—whether hobbyists with a handful of products to sell or the owners of multi-employee enterprises with varied and renewable inventory—to sell their products online. But that's about where their similarities end.
The better known eBay is an online marketplace on which users can list and auction off their products, but users don't have much control over their page or store's customization. Also, eBay doesn't offer much in the way of additional store-management features. On the other hand, Shopify is a full-service ecommerce platform that lets small business owners build, customize, and manage fully blown online stores. Shopify store owners also have control over their customer relationship management. That opens up an entire world of small business marketing, which in turn helps store owners establish and perpetuate brand identity and customer loyalty—which is crucial for a business's long-term success.
Now, let's take a closer look at how to get started on both ecommerce platforms.
How It Works: eBay
As you likely know, eBay is one of the oldest ecommerce selling platforms around (Amazon only predates eBay by a year), and, more specifically, it's the world's first online auction platform. While most sellers use eBay to list antiques, secondhand, and otherwise used items, you can certainly use eBay to list new and original items, too. Depending on how much inventory you have, you can either choose to list one-off items or, for an additional monthly subscription fee, you can open an eBay Store. The latter option is best for experienced eBay sellers with full inventories to sell (that's roughly over 100 products).
Either way, online marketplaces like eBay are a major draw for amateur business owners, hobbyists, or simply people with an excess of stuff to make some extra cash, mainly because it's so easy to get started on these platforms.
How to Start Selling on eBay
Here's a quick rundown of how to open a seller account and start auctioning off your stuff on eBay:
Sign up for an eBay account: This should take a matter of minutes, if not seconds, if you're using Facebook or Google to create an account. You can choose whether to open a personal account, which is best if you just have a handful of items to sell, or a business account if you have a more robust inventory.
Create a listing: Next, you'll describe your item, set a price, set a duration and schedule, and other details surrounding your item, shipping, and payment methods. You can use eBay's various listing tools to help you out here.
Price your item: Keep in mind that as eBay is an auction-style platform, your product's price is not necessarily set in stone. Rather, you can set a starting price, and the item will ultimately go to the highest bidder. It does allow sellers to set a reserve price in certain categories, which guarantees that you'll collect that minimum amount. Alternatively, too, eBay enables seller to list their items for a fixed price, rather than an auction-style listing, if you'd like to have absolute control over your price points.
Set up your payment method: As you'll be responsible for paying certain selling fees and charges (more on that later), you'll need to set up an automatic payment method, like PayPal or a credit or debit card.
Set up your shipping options: Decide which shipping options you'll offer your buyers—sending through USPS or UPS, dropshipping, and arranging a local pickup are a few of your options. You can also arrange for international shipping.
Get paid: Finally, you'll choose which payment methods you want to accept from your buyers. Options include PayPal; credit or debit card, which will be processed through PayPal's payment gateway; another merchant credit or debit card, if you've set up a separate payment gateway; or payment on pickup, in which your buyer can pay you via check, cash, money orders, PayPal, or cards when they collect your item.
Opening and managing an eBay Store takes a little more elbow grease than this, but the learning curve shouldn't be too steep if you have sufficient experience selling single items. Other than allowing you to list many more items at a time, there are certain benefits to opening an eBay Store, including access to certain fee discounts and a few promotional tools.[1] Also, eBay Stores allow for limited customization.
Also remember that you can visit eBay Seller Central, the platform's hub of information for sellers, if you run into any questions or problems.
How It Works: Shopify
Shopify is one of the most powerful online store builders available to ecommerce entrepreneurs. Rather than simply auctioning off your items, as you would with eBay, when you opt for selling on Shopify you're opting to have full control and management over your store, product fulfillment, and customer relationship management—so serious entrepreneurs only need apply.
How to Open a Shopify Store
Despite its sophistication, Shopify is intended to make it easy for ecommerce newbies to set up and run their online stores.
After you register on Shopify and create your store name, you'll choose from over 70 free, professionally designed store templates to build and customize your store according to your particular branding. If you have coding experience, you can customize your Shopify store in virtually any way you want on the backend. Also note that you can either transfer your existing domain name to your Shopify store or you can buy one through Shopify. Regardless, all of Shopify's stores are optimized for mobile navigation, so you can capture a crucial contingent of mobile buyers.
To list your products on your Shopify store, you can either manually add and organize your inventory, or you can bulk upload a CSV file or migrate your inventory from an existing platform. Next, you'll choose your payment options. The easiest option is to use Shopify Payments, Shopify's built-in, Stripe-powered payment gateway, which lets you accept all major payment methods at a discounted credit card rate. Alternatively, you can choose to integrate with a third-party payment processor for an additional rate. Shopify also has a native shipping service, Shopify Shipping, which allows you to handle all shipping processes in one place and fetches discounts from major shipping services.
Additional Shopify Features
Once you've launched your store, you can take advantage of Shopify's full suite of marketing, SEO, customer relationship, and store management features: think built-in SEO tips, blogging capabilities, secure customer information storage, discounts and gift cards, and social media integration. You can also take advantage of Shopify's analytics tools to generate sales reports, track customer behavior, access Google Analytics, and more. Also, as Shopify is a cloud-based service, any changes or updates made to your Shopify site via your dashboard will automatically sync with your Shopify App, and vice versa.
Perhaps the most valuable feature available with your Shopify store is access to the Shopify App Store, where you can download thousands of compatible apps that allow you to optimize your Shopify store even further—marketing, store design, order and shipping management, customer retention, inventory management, in-house fulfillment, and customer support apps are just a few of the umbrella app categories for which you can search. Also, if you plan to sell your items in-store in addition to online, you can use Shopify POS, the platform's range of physical card-reading hardware and accompanying software.
Shopify vs. eBay: Pricing
As you know, it takes money to make money—and that's true whether you use Shopify or eBay to sell your items. Here are the fees and costs involved in opening a Shopify or eBay store:
Shopify Pricing
If you decide to open a store with Shopify as your ecommerce platform, you'll choose among three services plans: Basic Shopify, Shopify, and Advanced Shopify. Plans increase in available features, capabilities, Shopify Shipping discounts and reduced rates through Shopify Payments. Whichever plan you choose, you'll be able to list unlimited products on your site as well as access a host of other features, all of which you can check out on Shopify's Pricing page.
Also remember that every service plan gets you access to the Shopify App Store—so if your Shopify plan doesn't include a certain process or feature that you're looking for, you can likely find it among the thousands of Shopify-compatible apps.
Basic Shopify: $29 per month
Shopify: $79 per month
Advanced Shopify: $299 per month
You can see that Shopify's monthly fees become steep for the advanced plans, but as they're flat fees, they're easy to plan for in your business budget. Before you sign up for a paid plan, you can take advantage of Shopify's 14-day free trial period.
Alternatively, very small or new businesses can opt for Shopify Lite, a $9-per-month plan that enables selling on Facebook and on your existing website or blog through an embeddable Buy Button. Businesses handling large order volumes can look into Shopify Plus, which provides tailored selling solutions and prices for enterprises.
eBay Pricing and Fees
If you're using the platform to sell one-off items, then eBay won't charge you a monthly service fee—but they do charge several types of selling fees when you list your products on this platform, including:
Insertion fees
Good 'Til Canceled listings fee
Final value fee and final value fees on shipping
Payment processing fees if you're a managed payments seller
The exact fees you'll need to pay depend upon the category of your listing. Since eBay fees are fairly complicated, before you hop on as a seller, we recommend taking a closer look at the selling fees you'd be responsible for according to the type of products you're auctioning off.[2]
Remember that if you open an eBay Store, you'll also need to pay either a monthly or yearly subscription fee, depending on which plan you choose. (Plans increase in enabled listings.):
Starter: $7.95/month, or $4.95/year
Basic: $27.95/month, or $21.95/year
Premium: $74.95/month, or $59.95/year
Anchor: $349.95/month, or $299.95/year
Enterprise: $2,999.95/year
The Bottom Line on Shopify vs. eBay
Now that you have all the necessary information about Shopify vs. eBay, which platform will you use?
All told, if you want ultimate control over your store management, store customization, and customer information, consider building a fully outfitted online store with Shopify. Shopify is also completely scalable—major enterprises like Kylie Cosmetics, Budweiser, and Nestle all use Shopify to power their ecommerce platforms—so you never need to worry about outgrowing your digital store. Just keep in mind that managing your Shopify store requires commitment, and it's up to you to drive traffic and establish customer loyalty. 
On the other hand, if you're a hobbyist, side-hustler, or if you have a limited number of items to sell (especially if they're vintage or secondhand) and limited time and energy to spend on managing your store, start out by listing those handful of products on eBay. If and when you're ready to sell more items, or if you're intent on becoming a fully fledged entrepreneur, you can set yourself up with a Shopify store.
And if you're up for it, follow the advice of many of the ecommerce store owners we spoke to and use both platforms. Use eBay as a testing ground to see which of your products sell best, and at which price points. Use that information to build your Shopify store and market your products optimally. Then, you can leverage eBay's massive existing customer base and redirect them to your standalone Shopify store, where you can remarket to your customers to establish long-standing customer relationships—and, ultimately, a super-successful brand.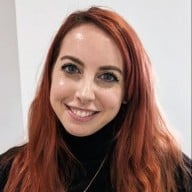 Contributing Writer
at
Fundera
Caroline Goldstein is a contributing writer for Fundera.
Caroline is a freelance writer and editor, specializing in small business and finance. She has covered topics such as lending, credit cards, marketing, and starting a business for Fundera. Her work has appeared in JPMorgan Chase, Prevention, Refinery29, Bustle, Men's Health, and more.
Read Full Author Bio