As a realtor, your major concern is helping people find their dream homes. But as a business owner, it's likely that your major concern (or at least one of them) is securing financing for your real estate business.
Below, we'll go over a few of the business loan options that make sense for realtors, including which projects each type of loan is best used for.
If you're looking for financing help during the COVID-19 pandemic, we recommend taking a look at our small business stimulus grants list.
The Best Small Business Loans for Realtors
The best small business loans for your particular real estate business ultimately depends on what you need to use your loan for. Do you need working capital to make payroll? A lump sum to open a second location for your real estate business? A pool of funds to purchase necessities for your office?
Here, we'll outline a few of your best options, all of which are suited toward different use cases:
1. Business Line of Credit
Best for emergencies and managing multiple projects.
If you need a backup reserve to finance a variety of projects—like smoothing out cash-flow gaps, purchasing inventory, launching a small business marketing initiative, or covering payroll—then a business line of credit might be your real estate business's best loan option.
Both banks and alternative lenders, like Kabbage, offer business lines of credit. Banks can offer some of the highest loan amounts and lowest interest rates you'll find, but they can be difficult to qualify for. Online lenders, on the other hand, require much less stringent qualification requirements, though they'll often carry higher interest rates.
If you're approved for a line of credit, your lender will give you access to a predetermined amount of funds you can draw from whenever you need it. You'll only be responsible for repaying the funds you use (plus interest). After you've repaid what you owe, your line of credit will replenish, so you can continue to pull funds for as long as your draw period lasts.
Business Line of Credit Quick Facts:
Interest rates start at 7%-25%
Loan terms are from 3 months – 18 months
Max loan amounts range from $10,000 to $1m
Payments can be dispersed in as little as one day (in certain cases)
Business Line of Credit Pros:
Only repay the principal and interest are funds that are withdrawn
Access to capital as you need it
Business Line of Credit Cons:
Can be more difficult to qualify for
Lenders may file a UCC-lien against your business
2. Business Term Loan
Best for planned projects.
Where business lines of credit are excellent options if you need to make several purchases at once, conventional term loans are better used for financing specific projects with predictable costs. Unlike a line of credit, you'll need to repay the entirety of this lump-sum amount, as well as interest, according to your repayment schedule.
Both banks and online lenders can provide qualified business owners with term loans and will offer lower rates, higher loan amounts, and generally better terms than alternative lenders can. However, these loans are not easy to come by. In order to qualify for a term loan from your bank, you'll need a healthy credit score, strong revenue, years of experience, a business plan, and sufficient collateral.
Luckily, there are lots of reputable lenders in the online lending space you can turn to, such as Fundation, Lending Club, and OnDeck. These lenders can provide business owners who are typically turned down by banks with the funding needed to keep their doors open. And by leveraging technology, these platforms can provide credit decisions and approved funds extremely fast, sometimes in as little as a single day.
Business Term Loan Quick Facts:
Interest rates start at 7 – 30%
Loan terms are from 1 – 5 years
Max loan amounts up to $600,000
Payments can be dispersed in as little as one day
Business Term Loan Pros:
Regular payments
Quick access to funds
Can be used for a large range of business expenses
Business Term Loan Cons:
Typically require a personal guarantee or collateral
Shorter-term loans tend to have high interest rates
May be subject to prepayment penalties
3. SBA Loan
Best for securing high loan amounts.
Perhaps even more coveted than a conventional bank loan, SBA loans carry some of the most generous terms on the market. A common misconception is that the U.S. Small Business Administration itself furnishes these loans, but in reality, intermediary lenders—most often banks—disburse loan funds, and the SBA guarantees the majority of the loan in case the borrower defaults.
Thanks to that government guarantee, banks are generally more willing to approve business owners for SBA loans than they would be for conventional term loans, particularly now during the coronavirus pandemic. However, SBA loans still aren't easy to qualify for. You'll also need to meet SBA loan eligibility standards in order for your application to any of the SBA's several loan programs to be considered at all. Then, the application process is notoriously lengthy and document-heavy.
Ultimately, SBA loans carry some of the highest loan amounts, longest repayment terms, and lowest interest rates you'll find and can be used for any business purpose (unless you apply for an SBA 504 loan).
SBA Loan Quick Facts:
Interest rates start at 6%

Loan terms are from 5-25 years

Max loan amounts range from $5k to $5m

Payments can be dispersed in as little as 2 weeks
SBA Loan Pros:
Low down payment requirements
Longest repayment terms available
Low interest rates
Can be used for a large range of business expenses
SBA Loan Cons:
Long and lengthy application process
Can require collateral
Lenders may file a UCC-lien against your business
4. Business Credit Card
Best for unexpected expenses.
Of course, you might find that you don't quite need the amount of cash you'd receive from a term loan or line of credit—or, more importantly, you might not be able to afford repaying that amount quite yet.
In that case, a business credit card might actually be your best loan option.
With a business credit card, you can purchase all those odds and ends your real estate business needs to keep chugging. Plus, credit limits on business credit cards tend to be much higher than consumer cards, so you can essentially treat your card as a small loan—with the welcome addition of perks and rewards that a business loan won't give you.
And as a major bonus, business credit cards are much easier to apply and qualify for than small business loans are: You just need to fill out your card company's online application, and you'll receive a decision within minutes (or even seconds).
Business Credit Card Pros:
Makes it easier to separate business and personal expenses
Offers access to steady capital
Allows you to boost your business credit
Can offer perks and other benefits (rewards, travel miles, cash back, etc)
Business Credit Card Cons:
Can place your personal finances and credit score at risk if not repaid on time
Interest rates and annual fees can be higher
The Bottom Line
Now that you understand just a few financing options for your real estate business, you need to determine which type of loan will work best for you. Business lines of credit are ideal financing tools for making several, smaller purchases at once, while business credit cards are crucial for covering daily purchases. Lastly, if you need to finance major projects, consider a term loan or SBA loan.
Ultimately, we recommend working with a loan specialist to pinpoint exactly which type of loan will work best for your real estate business. And, perhaps most importantly, you and your lending expert can decide which type of loan your business can truly afford.
When you're ready to apply, Fundera can help match you with the perfect business loan in a few quick steps. Simply provide your business date of formation, current credit score range, and your email address to review your best options.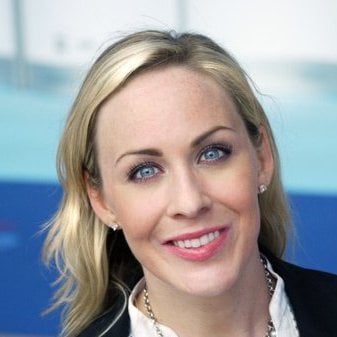 Meredith Wood is the founding editor of the Fundera Ledger and a vice president at Fundera.
Meredith launched the Fundera Ledger in 2014. She has specialized in financial advice for small business owners for almost a decade. Meredith is frequently sought out for her expertise in small business lending and financial management.
Read Full Author Bio