Tips for Successful Selling on Amazon
Utilizing the Amazon marketplace as an ecommerce platform can be an effective way to get started selling online, especially as a beginner. However, like any other ecommerce marketplace, there are a lot of different pieces involved in the process of learning how to sell effectively on Amazon—including everything from listing products, understanding shipping, and evaluating costs. 
Therefore, whether you're a brand-new Amazon seller or have been using the platform for a while, you'll likely benefit from reviewing some top tips for selling on Amazon. Use the 16 tips on our list to make your Amazon product listings stand out from the crowd and optimize your strategy to grow your Amazon business.
Tips for Selling on Amazon
As you probably know, selling on Amazon has a wide range of benefits—but whether you're a first-time seller or simply want to learn how to sell better on Amazon, it's always helpful to consult tips and best practices, especially from experienced business owners. 
Check out our best tips for selling on Amazon below:
1. Check for new orders daily.
Since customer service is a key metric by which Amazon determines your success as a seller, it's crucial to know when a new customer has purchased your product. That way, you can promptly fill and ship every order you receive.
Amazon sends you an email notification when you have a sale, but those emails aren't always reliable. Therefore, part of learning how to sell effectively on Amazon is getting in the habit of checking the Seller Central portal every day, so you can really stay on top of new orders or notifications from your customers.  
Along these lines, you may also choose to enroll in Amazon Seller SMS Notifications, where Amazon will send you a text message when you receive an order. You can also use these notifications to receive a list of unshipped orders or details of a selected order. 
This being said, it's also important to review all of the notifications you receive, new orders as well as others, and check and modify your notification settings so that they're set up in the way that works best for you. 
If you don't want to rely on emails, you can sign up for text messages as well as make a conscious effort to check new orders every day. Ultimately, you want to do whatever it takes to ensure that you see new orders and are fulfilling them as quickly and accurately as possible.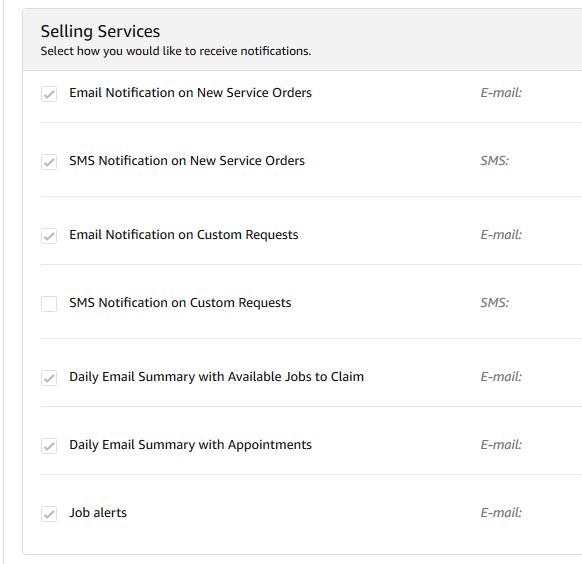 An example of the seller notification options for an Amazon Services Seller. Image source: Amazon Seller Central
2. Confirm when you ship.
Just as checking for new orders daily helps improve your customer service, you'll also want to ensure that you confirm when an order is shipped using the Seller Central Portal. 
By confirming that you've shipped an order (and doing so promptly), you'll allow Amazon to send shipping confirmation to the buyer, charge the buyer, and update their account with the shipping information, so they can see the status of their order. Along these lines, you should also be sure that you include all relevant information when confirming a shipment—date, shipping method, and tracking ID.
Additionally, Amazon only charges your customer's credit card after the shipment is confirmed—so, in addition to good customer service, following this Amazon selling tip is important to getting yourself paid quickly.
Furthermore, you should remember that you're responsible for confirming shipment within the time frame that you specified in your shipping settings. If you don't confirm shipping within 30 days of the order date, Amazon will automatically cancel the order and they will not charge the buyer, even if you already shipped the order.
In this way, ensuring that you're confirming shipment quickly helps improve your customer service, gets you paid promptly, and lessens your chance of having issues with your seller account.
All of this being said, if you're a new seller and unfamiliar with this process, you can confirm a shipped order by navigating to the Orders tab and then selecting the "Confirm shipment" button for the order in question.
You can confirm a shipment by going to the Orders tab and clicking "Confirm shipment." Image source: YouTube
3. Check your inventory regularly.
This tip for selling on Amazon may seem like common sense, but it's an important point to keep in mind. You never want to have a scenario where you receive an order for something you don't have in stock—this is a recipe for negative customer feedback—which can have a dramatic impact on your future sales.
Therefore, you should keep track of how much inventory you have in stock at all times. Plus, checking your inventory and maintaining stock will not only allow you to fulfill orders and avoid negative feedback, but it will also boost your listings on the marketplace.
When ranking products, Amazon considers the timing and quantity of sales, and because of this, if you show that you have a decent amount of items left and are selling them quickly, Amazon is more likely to display your products higher, and perhaps even put your listing in the Buy Box.
Plus, if you're using Fulfillment by Amazon (FBA) it's even more significant that you check your inventory frequently, so you know when you need to ship more products to the fulfillment center. 
This being said, if you are having trouble managing your inventory within the Amazon platform, or simply want a way to optimize your process, you might consider investing in an inventory management software, like TradeGecko or Zoho Inventory.
An example of the inventory management section of the Amazon seller platform. Image source: Amazon Seller Central
4. Keep pricing information up to date.
If you're looking for tips specifically on how to sell better on Amazon, this can be a particularly helpful point to consider. 
As you're listing and managing your products, you want to make sure you keep your pricing information updated and competitive. After all, shoppers are most likely to choose the lowest-priced deals (as long as they are listed near the top of the results page)—in fact, many customers shop on Amazon because they think they can find a better price than buying from traditional retailers. 
In this way, if you're selling an item that can be found online elsewhere, you'll want to research to make sure that you're offering a better (or at least comparable) price. Plus, with a lower price, you're more likely to boost your visibility in the Amazon search results. 
Along these lines, if you need assistance with determining how to effectively price your products, you can take advantage of tools within the seller platform. Amazon allows you to create pricing rules (i.e. set your price to $0.05 below the Buy Box price) as well as use their "Match Low Price" feature.
This feature allows you to compare the price of your listing with others on the marketplace based on listing condition, fulfillment method, feedback rating, and handling time.
All of this being said, however, it's also important to remember that you're selling on Amazon to make money—and therefore, when you're pricing your products, you should not only keep in mind the cost, but also the seller fees Amazon charges, to ensure that you're actually making money on your sales.
5. Optimize your listings.
If you ask any successful Amazon seller for advice (as you'll see below), almost every person will stress the importance of your listings. After all, your product listings will be what attracts a customer to purchase from you, as a seller. 
Plus, with Amazon in particular, your listings are even more significant because the marketplace (on Amazon and online in general) is vast. You'll want to create the best listings possible to increase your visibility and gain sales. 
Therefore, when you're building and editing your listings, you'll want to try and optimize them for the Amazon marketplace as well as for general search. As Aalap Shah, founder of the digital marketing agency 1o8 told Fundera, "Keeping SEO in mind while building copy and text that is user-centric is the best way to grow visibility in search on Amazon and convert the consumer."
You should make sure you utilize all of the fields that are available; add high-quality, professional product images; and consider your ecommerce SEO strategy when writing titles and descriptions. As a best practice, you can refer to other similar listings that already exist on Amazon and other marketplaces to see what is ranking in search and how your listing can compete with (and hopefully outrank) these options.
If you're selling headphones, for example, you can search for similar listings on Amazon and use these as guidelines for creating your own listing. Image source: Amazon.
6. Respond to customers promptly.
As we've mentioned already within these tips for selling on Amazon, customer service is key. Luckily, even as you start out on the Amazon marketplace, one of the benefits you have is your association with the brand's top-notch reliability and customer recognition.
Of course, even though you start with the benefit of Amazon's built-in credibility, it's your responsibility to maintain it by being highly reliable and responsive to customers.
If an order is delayed, for instance, you should reach out to the customer to give them a heads up. Or if a customer contacts you because they didn't receive a shipment or the product was damaged, respond immediately, and take steps to remedy the situation.
In this way, responding to customers promptly calls back the importance of your seller notifications in our first tip. To ensure that you're responding to customers as quickly as possible, you can enable your notifications, either by email, text, or both, so that you know when you have a message and can respond immediately.
By communicating quickly and effectively with your customers, you'll not only help prevent any issues from occurring in the first place, but you'll also increase the likelihood that they will buy from you again and leave a favorable review.
7. Build a five-star feedback rating.
As we've discussed throughout our top tips for selling on Amazon, cultivating strong customer feedback and response is key to your experience using this marketplace. If you want to sell effectively on Amazon, you have to gather positive reviews and ratings from customers, striving for a five-star feedback rating. 
Doing so will both improve buyer perception of your product listings as well as improve the placement of your products on the offer listing page (as Amazon is more likely to display your listing higher up if you have good reviews).
This being said, here are a few specific things you can do to help build a strong feedback rating:
Describe products accurately, in as much detail as possible.

Ship products to customers as promptly as possible.

Reach out to customers proactively with information about delays or changes to their order.

Respond to customers' questions within 24 hours.

Solicit positive customer feedback on your product packing slips.
You might also consider sending all customers who place an order with you an email to ask for their review after the order has been completed. Generally, buyers will be more likely to leave a review or comment if you actually prompt them to do so. With this in mind, if it seems tedious to send every individual customer an email (especially as your store is growing), you might take advantage of a feedback-specific CRM software like AMZ Finder or Feedback Five to help streamline the process.
Here's an example of a review request from an Amazon seller.
8. Win the Buy Box on Amazon.
If you've ever shopped on Amazon, you'll know that the platform allows multiple sellers to offer the same product. All the sellers listing the same product may compete to win the "Buy Box" for that product. The Buy Box on a product's page is located in the section where customers add items to their shopping carts.
By "winning" the Buy Box, one seller will become the default listing for any given product that multiple sellers offer—so if you win the Buy Box, you'll likely see an increase in sales.
Amazon doesn't disclose the specific targets required for sellers to win the Buy Box. But to increase your chances of winning that coveted spot, you can focus on optimizing your listings in these four areas:
Pricing:

As we discussed above, make sure you're pricing your products competitively. Buy Box listings most frequently display the lowest available "all in" prices—that is, the total amount the customer will pay, including shipping costs.

Availability:

You should keep your most popular products consistently in stock (especially if you're using

Amazon fulfillment

), and make sure you're regularly updating your inventory numbers in the Seller Central portal.

Fulfillment:

Update your shipping settings in the Seller Central to offer multiple shipping speeds and options—and, if at all possible, offer free shipping.

Customer service:

Keep an eye on your customer feedback, and use the Account Health page in the Performance section of the Seller Central portal to monitor your customer metrics.
Improving your listing placement on the Amazon Offer Listing Page requires trial, error, and a little bit of time. Therefore, you should work to provide a top-notch experience for your customers and improve your logistical processes. Over time, those efforts will translate into more Buy Box placements for your business and more customers.
In this example, you can see the Buy Box as indicated by the arrow. The Buy Box is currently held by MaxWarehouse, so if a customer purchases by clicking "add to cart" or "buy now" the product will be sold and shipped by this seller. Image source: Amazon
9. Follow the Amazon seller guidelines and understand the platform.
This may seem like an obvious tip, but with a platform as big and as prestigious as Amazon, it's more important than ever. With all of the competition that's involved with selling online using the Amazon marketplace, Amazon is not going to tolerate sellers who don't follow their rules—therefore, you'll want to make sure you keep up-to-date on all Amazon seller guidelines and any changes that are made to them. This will ensure that you're putting yourself in the best place to be successful selling on Amazon.
In addition to following the Amazon seller guidelines, it will also help to try and understand the platform as best you can and develop a selling strategy that's specific to Amazon. 
As Shannon Roddy, creator of Marketplace Seller Courses, told Fundera, "Success comes not from a single tactic or trick but from an Amazon brand strategy—understanding how the Amazon platform works, how Amazon customers think and how to leverage that all while protecting your brand equity (the perceived value of your products)."
10. Consider Utilizing Fulfillment by Amazon (FBA)
Another tip for selling on Amazon is to consider using FBA, or Fulfillment by Amazon. If you're not familiar with FBA, it essentially means that instead of maintaining your own inventory and shipping products directly to your customers, Amazon stores your inventory in their fulfillment centers and takes care of the packaging and shipping process for your orders.
Although there are fees associated with this service, on the whole, FBA makes your sales and shipping process much simpler. Amazon takes care of the most time-consuming and difficult processes, plus handles customer service issues on your behalf. 
Moreover, if you use FBA, all of your listings automatically become Prime and Free Super Saver eligible. As such, your listings are more likely to be displayed higher in Amazon search results, as well as more likely to win the Buy Box. Plus, Amazon generally gives preference to FBA sellers when ranking products.
All of this being said, a top tip for Amazon FBA specifically is to always keep cost in mind. If you determine that the FBA fees are too high and you're not making money by using this service, you'll likely want to look into other fulfillment and shipping services.
Amazon Seller Advice
Keeping in mind all of the tips for selling on Amazon that we've reviewed so far, it's worth remembering that one of the benefits of using this online marketplace is that it automatically connects you to Amazon's reliability and brand recognition—as well as a community of consumers and fellow sellers. 
Therefore, to truly offer you the best tips for successful selling on Amazon, we talked to a variety of business owners and experts to hear their top Amazon seller advice:
1. Find your niche.
"My number one tip is to find your niche category where you can sell your unique products. Don't go into a category selling products that everyone else is selling. It's important to look three to five years down the line to make sure that you're selling a high-quality, specific product that satisfies a niche market since competition will always increase. If your product is too broad, it will get lost in a sea of other competitors selling the same thing and it becomes a race to the bottom with price."

—Jonathan Goldman, president and co-founder, Quantum Networks
"Selling on Amazon successfully starts with finding a white space, such as a moderately priced version of a high-end product, and building a recurring business to ensure customers come back. This sets you apart and lets you maximize the lifetime value of each customer. Then, focus on customer segments, which can guide you in finding your 'higher purpose' and leveraging word-of-mouth."

—Taylor Gilliam, content specialist, Webgility
2. Utilize compelling social ads and other external resources.
"I strongly feel that social ads from platforms like Pinterest and Facebook that disrupt the newsfeed with compelling content (GIFs, video, and other forms of media) can help generate awareness and traffic to the listings and help convert browsers into buyers."

—Aalap Shah, founder, 1o8 Agency
3. Find community support. 
"By far the best advice I would give someone starting out is to not do this business alone. Get into a community. My business exploded when I started collaborating with other sellers."

—Ryan Reger, ecommerce business owner and author
4. Remember that SEO is key.
"Over 55% of all product searches start on Amazon so it's critical that brands and private labels think of Amazon as a search engine and branding platform before they think of it as an ecommerce platform. SEO is thus critical as a baseline for success."

—Shannon Roddy, creator of Marketplace Seller Courses
"The key to success is the creative—utilizing every photo slot available, and thinking through the page titles and product descriptions."

—Aalap Shah, founder, 1o8 Agency
5. Don't forget about your customers.
"The customer is always right when selling on Amazon. Take a loss if you have to."

—Yungi Chu, ecommerce business owner, HeadsetPlus.com
"Keep giving value to your customers. We like to help people while doing our business."

—Seri Leong, co-founder, HighOh
6. Be adaptable.
"It's important to be able to pivot when necessary because Amazon's rules quickly change and if an obstacle or opportunity arises, you need to be able to pivot to meet these changes. However, if you enter an exciting market and realize your product isn't selling, don't be romantic about the situation and continue to sell the same product; you need to quickly move on to new areas and opportunities so you're not buried in a dead market."

—Jonathan Goldman, president and co-founder, Quantum Networks
The Bottom Line
At the end of the day, by reviewing these tips for selling on Amazon, you hopefully can learn to utilize the platform more effectively to earn sales and grow your business. 
This being said, although successful selling on Amazon isn't always as simple as it seems, by staying on top of your account and adjusting your strategy over time, you can learn to be a better seller. Plus, don't forget that you always have the Amazon seller community to consult, whether to offer tips, advice, or simply answer questions as you have as you go along.