The Best Types of Funding for Eco-Friendly Businesses
With the effects of global warming ramping up—including rising sea levels, vanishing wildlife and their habitats, and increased precipitation and severe weather patterns—it's imperative that businesses retain social responsibility in their operations and key decision-making. But whether you're already running a green business, you're planning to start one, or you're planning to join the ranks of major companies like Google and Dell in going green in 2019,  at a certain point in your development you'll need to consider funding for eco-friendly businesses.[1]
As a reminder, green businesses aim to make a positive or zero impact on the environment, in addition to generating a profit. An eco-friendly business may be sustainable by nature (like a green architecture firm), incorporate sustainability in their operations (like installing solar power systems in their commercial properties), or both.
Corporate dedication to reducing environmental impact has influenced the lending sector, too. According to Green Biz, "Over the past 18 months or so, mainstream investment firms have sharpened their focus on the environmental, social and governance, or ESG, performance of publicly traded companies. In some cases, investors, lenders, and ratings groups are starting to redefine 'fiduciary responsibility' to include such things as a company's ESG data or vulnerability to climate risks."[2]
So, we all understand the importance and increasing visibility of green businesses—but how do you go about securing funding for eco-friendly businesses? Sustainable firms have a couple of financing options, including applying for federal loans and grant programs, crowdfunding, traditional loans, or taking advantage of alternative, tech-forward lending platforms (or a combination of the above). We'll run you through just a few types of funding for eco-friendly businesses so you can better understand your myriad options.
Federal Loans and Grants
Several federal agencies sponsor grant and loan programs designed especially to provide green businesses with the funding they need. Here are just a few of your options:
Crowdfunding
If your eco business can't qualify for federal funding, consider raising funds through a crowdfunding platform like Kickstarter, GoFundMe, or Indiegogo. These platforms offer businesses the opportunity to raise small amounts of capital furnished by lots of individuals. Almost any business is eligible to create a crowdfunding page, as long as you adhere to the particular platform's guidelines.
As crowdfunding platforms are donation-based, individuals contribute to the projects that they're truly passionate about—so not only is a crowdfunding campaign an excellent way to raise a portion of the funds you need (with almost no barriers to entry), it's also an opportunity to market your business's offerings.
Kiva Loans
If you need a relatively small amount of funding, another option to consider are Kiva loans. Kiva is a 501(c)(3) nonprofit and online lending platform that can offer businesses with short-term funding of up to $10,000, with repayment terms of up to 36 months. But the capital comes from individual lenders, not Kiva itself. In that way, Kiva works a lot like crowdfunding: People from all over the world can search for the businesses and individuals seeking funding through Kiva and then loan any amount they wish to those they believe in (though the minimum is $25). The recipients of those funds will repay their individual lenders according to a repayment schedule. Kiva works with borrowers to establish a repayment plan that works for their financial capacity.
While almost any business can apply for a Kiva loan, Kiva specializes in providing loans for "unbankable" individuals and businesses that have been overlooked or rejected by traditional lending institutions—including those that conventional banks deem too risky, like many eco-friendly businesses. It's also worth mentioning that Kiva has a page dedicated to providing loans for eco-friendly businesses.
Debt-Based Financing
Debt-based financing is likely what you think of when you think of lending: It's the promise of returning money, plus interest, to your creditor according to your agreed-upon repayment schedule and terms.
It's rare to find debt-based financing programs that cater specifically to eco-friendly businesses. But depending on your business's credentials and current financial needs, you may be an excellent candidate for a conventional loan, like a term loan or line of credit. Both banks and alternative lenders offer both lines of credit and term loans on their platforms, so deciding which type of financial institution to turn to will really depend upon what you can qualify for.
Banks are notoriously risk-averse, so they'll often only accept the small business clients that present the strongest credentials—which, for the most part, translates to excellent credit and a demonstrated ability to handle additional debt. But if you make it through that intensive vetting process, you'll take on a loan with low interest rates, high loan amounts, and long repayment terms.
On the other hand, online lending platforms were built with the intention of making financial products more widely accessible to small business owners, so they'll require much less stringent eligibility standards than banks. But in exchange for their relatively laxer acceptance standards, online lenders generally can't offer the same excellent loan terms than banks can.
With all that in mind, let's take a closer look at both term loans and lines of credit:
Term Loan

If you're approved for a term loan, you'll have a lump sum of capital delivered right to your business bank account, which you'll repay, plus interest, according to a set repayment schedule. These loans are best used for large, one-time projects with predictable expenses: Think office renovations, hiring a new wave of staff, or purchasing equipment.

Term loans are banks' bread and butter, but if you can't qualify for a bank term loan, consider a term loan from a premium, online lender, like Fundation or Lending Circle. Both platforms offer qualified business owners medium-term loans with repayment terms of up to four years (Lending Club) or five years (Fundation), at amounts of up to $300,000 or more.

Business Line of Credit

Business lines of credit act a lot credit cards: Your lender will give you access to a predetermined amount of capital, which you can then draw down from whenever you need to. After you repay what you've used plus interest, your credit line will restore to its original amount so you can continue to borrow funds.

You're under no obligation to pay off your line of credit until you actually use it, so this type of loan is an excellent reserve fund to have in your back pocket in case of emergency: Use it to cover cash-flow gaps, seize new opportunities, launch a marketing initiative, cover payroll, or make unplanned-for repairs, among tons of other potential uses.

Once again, it's safe to say that most (if not all) banks offer business lines of credit—but lots of online lenders do, too. We often recommend that small business owners seeking lines of credit consider Kabbage as their lending partner. This platform can offer lines of credit between $1,000 and $250,000 with either six- or 12-month terms. Best of all, Kabbage doesn't consider your credit score quite as heavily as other lenders do during the underwriting process—so if the other credentials you present in your application are strong, you'll still have a good shot at securing a line of credit from this lender.
Funding Your Eco-Friendly Business: Which Loan Is Right for You?
Government financing is arguably the most coveted form of financing available for eco-friendly businesses. But applications for federal funding will likely be time- and labor-intensive; and as they're so competitive, approval is far from a given. If you're interested in a particular federal funding program, set aside the time to thoroughly review the eligibility and qualification standards and review the application requirements. That way, you won't risk sinking time into applying for a program you're simply not qualified for in the first place!
But if you don't qualify for federal funding—or if you're cowed by those relatively involved research and application processes—rest assured that your options don't begin and end with the government. Crowdfunding and Kiva loans can be an especially appealing option to brand-new green businesses without the credit history required to be approved for a conventional loan. Both platforms are also great ways to broadcast your business's services to a crowd of like-minded individuals (and potential customers/benefactors). On the downside, you likely won't be able to raise all the capital you need through crowdfunding alone. If you can, use it in conjunction with a heftier form of financing.
And if you do have the necessary credentials to qualify for conventional financing, like a term loan or line of credit—think a healthy credit score, time in business, and strong revenue—then definitely lob in an application. Where to apply for this financing is a trade-off. Your local bank will offer you some of the most generous terms you're bound to find. But an online platform will have laxer eligibility requirements, and can almost undoubtedly provide you with a faster application and funding process, which you can complete without stepping foot in a physical bank.
Once you've reviewed your preferences, financial needs, and credentials, you'll land on the perfect form of funding for your eco-friendly business. Soon enough, you'll be spending less time worrying about your finances and doing what you intended when you started your green business: making the world a better, healthier, and more sustainable place.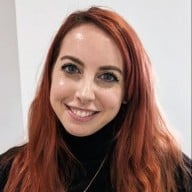 Caroline Goldstein is a contributing writer for Fundera.
Caroline is a freelance writer and editor, specializing in small business and finance. She has covered topics such as lending, credit cards, marketing, and starting a business for Fundera. Her work has appeared in JPMorgan Chase, Prevention, Refinery29, Bustle, Men's Health, and more.
Read Full Author Bio