NJ Small Business Loans: Overview
Whether you're managing, growing, or just starting a business in New Jersey, you'll likely need to seek outside business funding to help you meet your goals. One place to turn to: the state of New Jersey itself. Some of the best New Jersey small business loans are offered through state-sponsored loan programs, which are intended to help stimulate, revitalize, or maintain economic development in the Garden State.
Beyond offering small business loans, the state also offers programs that provide business owners with the mentorship, assistance, and guidance, both in identifying and securing financing opportunities and other aspects of running and growing a business. We'll walk you through all those resources, up ahead.
Top New Jersey Small Business Loans
Most of New Jersey's state-administered funding opportunities are available through the New Jersey Economic Development Authority (NJEDA), though the state has also recently made emergency funding assistance available for businesses that have been affected by the COVID-19 pandemic. Beyond that, some of the best loan programs for New Jersey business owners are federally funded loans (which you'll access through your local bank; more on that later).
Ahead, we'll show you four of the best New Jersey small business loans and funding programs.
1. New Jersey Economic Development Authority (NJEDA) Loan Programs
When in doubt, head for the New Jersey Economic Development Authority (NJEDA): "the state's principal agency for driving growth." The agency offers several loan programs for New Jersey-based small and midsize businesses, both through direct loans and partnerships with bank lenders. To give you a better sense of the types of loans NJEDA can offer small businesses in New Jersey, here's some more information about just three of their 11 loan and funding programs:
Access
This loan program provides low-cost financing for NJ businesses either directly through the NJEDA, or through one of their premier partner lenders. Loan funds can be used on fixed assets or as general working capital. Offered directly through NJEDA, the agency can offer up to $500,000 for fixed assets or $250,000 for working capital. If funds are offered through a participating lender, the NJEDA can guarantee loans up to 50%.
Small Business Fund
The NJEDA Small Business Fund is designed for eligible minority-owned businesses and nonprofits that have been unable to secure funding from a traditional bank lender. These loan funds are also intended either to purchase fixed assets or for use as working capital, and loan amounts reach up to $500,000. A major bonus with this loan program is that it offers an expedited approval process, so approved businesses can have access to their loan funds pretty quickly.
Direct Loans
In this program, the NJEDA provides direct loans of up to $2 million for fixed assets or $750,000 for working capital, with longer repayment terms than usual.
For more information about eligibility requirements and how to apply, check out their website.
2. SBA Loans
While SBA loans aren't specific to New Jersey, their low interest rates, long repayment terms, and various loan programs designed for virtually every type of small business make them some of the absolute best loans a U.S.-based small business can get.
In other words, eligible business owners in New Jersey should absolutely apply for these government-backed loans. The best way to determine which SBA loan program is right for you, your eligibility requirements, and how to apply, is by contacting your bank (if they're an SBA-approved lender). Alternatively, you can approach one of New Jersey's top SBA lenders, according to the SBA New Jersey District Office's most recent loan volume report: TD Bank, M&T, and Wells Fargo are the top three SBA lenders.
3. Jersey City Economic Development Corporation (JCEDC) Loan
If you live in or around Jersey City, check out the Jersey City Economic Development Corporation (JCEDC), a private nonprofit dedicated to stimulating economic growth in the city by providing financial assistance and counseling for local businesses.
JCEDC acts as an intermediary lender to issue SBA Community Advantage loans, a pilot loan program that intends to "meet the credit, management, and technical assistance needs of small businesses in underserved markets," according to the SBA (in other words, it's particularly ideal for newer businesses operating in underfunded areas). Practically speaking, SBA Community Advantage loans work similarly to SBA 7(a) loans (in fact, they fall under the 7(a) loan umbrella), so uses for loan funds are flexible—hiring staff, purchasing inventory or equipment, refinancing, you name it. Loan funds range from $25,000 to $250,000, and terms last anywhere from five to 10 years.
4. COVID Relief Loans
The NJEDA recently approved a package of seven loan and grant programs that provide aid to businesses that have been affected by the COVID-19 pandemic. Some of those financing initiatives include:
Small Business Emergency Assistance Grant Program
This $5 million program provides grants up to $5,000 to businesses in the industries that have been hit the hardest by the pandemic, such as retail, entertainment, and recreation, to help keep their operations afloat and retain their staff.
Small Business Emergency Assistance Guarantee Program
This $10 million program offers 50% guarantees on working capital loans made through NJEDA's Premier Lender and CDFI loans. This program also waives fees on those loans.
NJ Entrepreneur Support Program
Intended to maintain and stimulate the state's innovation economy, this $5 million program provides 80% guarantees on loans made to eligible startup entrepreneurs.
More Resources for New Jersey Small Businesses
Beyond offering loan and grant programs, New Jersey offers a few resources and hubs for business owners seeking assistance and guidance on any number of factors related to running, growing, and managing their businesses.
1. Office of Small Business Advocacy
Managed by the New Jersey Business Action Center, the Office of Small Business Advocacy provides virtually all the support New Jersey small businesses may need, including guidance on professional licensing and certification, troubleshooting hiring and workforce issues, and support for businesses competing for government contracts, among many other services. On the financing side, the office's in-house experts can help business owners identify their financing options through the NJEDA and other community micro-lending programs, as well as offer guidance on how business owners can boost their credit to better position themselves for loan approval.
2. New Jersey Small Business Development Center
The New Jersey Small Business Development Center (NJSBDC) is headquartered at Rutgers Business School, Newark, and New Brunswick, though they operate 12 regional centers and 28 satellite centers across the state. There (or online), you'll receive one-on-one guidance, workshops, and/or courses from professional business advisors on a range of topics, from entrepreneurship to growing your business to more niche concerns, like conducting international trade and how to incorporate sustainable practices into your business operations.
3. SCORE
SCORE (Service Corps of Retired Executives) is another nonprofit organization that provides entrepreneurs at any stage in their businesses with free mentorship and resources. There are tons of SCORE offices located across New Jersey. You can either visit your local SCORE office in person or connect with a mentor virtually through video calling apps like FaceTime or Google Hangouts.
The Bottom Line
New Jersey itself offers some generous loan programs for small business owners, but remember that your funding options are hardly limited to those administered through the state. Securing a loan directly through your bank is always an option, as long as you're qualified for one.
But if you're not eligible for a bank loan (which are notoriously tough to be approved for), consider applying for a loan through an online lender, like Kabbage, Funding Circle, Bluevine, or another platform within Fundera's trusted lending network. Not only are these lenders generally more inclined to extend loans to businesses that have had trouble securing traditional bank loans, but the process of applying itself is also incredibly fast and easy. Even easier: Working with one of our in-house loan experts. Your dedicated loan expert can walk you through the entire lending process, from identifying your options to packaging and sending through your loan application—a great option for all business owners, whether they're based in New Jersey or elsewhere in the country.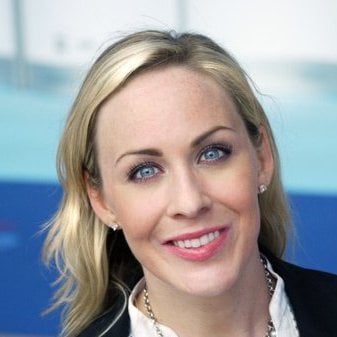 Meredith Wood is the founding editor of the Fundera Ledger and a vice president at Fundera. 
Meredith launched the Fundera Ledger in 2014. She has specialized in financial advice for small business owners for almost a decade. Meredith is frequently sought out for her expertise in small business lending and financial management.
Read Full Author Bio