What Is a Business Auto Loan?
A business auto loan, sometimes called a commercial auto loan, is a specific form of equipment financing that allows you to access low-cost capital to purchase cars or trucks—which then function as collateral for the loan itself. This self-collateralizing setup makes it much easier to find a business auto loan without personal guarantee requirements.
Overall, business auto loans are very similar to consumer auto loans—and although the rates and terms will vary based on the individual lender, these business loans are generally very affordable and accessible for businesses of all shapes and sizes.
In this guide, we'll break down everything you need to know about business auto loans, starting with the top commercial auto lenders.
The Best Business Auto Loans
If you're thinking that a business auto loan might be a suitable financing solution, you'll want to compare the best lenders to find the one that meets your unique needs.
Although there are a variety of lenders out there that can offer this form of equipment financing, you might start your search with these top six options:
See Your Auto Loan Options
How Do Business Auto Loans Work?
So, now that you have an idea of the best small business lenders offering loans for commercial vehicles, let's break down some of the fundamentals to better understand how this form of financing works.
Once again, as we saw above, many of these details will vary from lender to lender, but generally, here's what you can expect when looking for a business auto loan.
Rates
As with most forms of equipment financing, business auto loans will give you access to some of the most affordable interest rates out there, because the vehicle itself will act as collateral for the funding.
On the whole, business auto loan interest rates can fall as low 3.89% if you're accessing funding through a bank—whether Capital One, Bank of America, or, like we discussed, Wells Fargo.
With alternative lenders, on the other hand, you'll usually see interest rates start a little higher, around 8%, due to the speed and more lenient requirements associated with these lenders.
Of course, it's important to remember that business loan interest rates can range, and these are just starting rates. Generally, the better qualifications you have, the lower interest rates you can receive—so you'll want to keep this in mind when applying for a business auto loan.
Amounts
The amount you can receive for a business auto loan can range from as low as $5,000 to as high as $2 million, or more.
Additionally, most lenders will be able to offer up to 100% of the value of the vehicle you plan on purchasing with the proceeds. As we saw above, most commercial auto loan lenders will put a dollar amount cap on their loans, but this will fluctuate based on which lender you choose to work with.
Repayment Terms and Structure
Overall, most business auto loan financing will be structured similar to any business term loan, with repayments made on a monthly basis.
This being said, however, you may see some variation, like balloon-payment loans, so you'll want to understand exactly how any loan works before agreeing to work with the lender offering it.
Additionally, due to the higher loan amounts associated with this type of financing, you'll find that terms are on the longer side—ranging anywhere from one to seven years.
Business Auto Loans vs. Business Auto Leasing
As we saw with some of our top lenders, many times you have the option of choosing between a business auto loan vs. a business auto lease.
Although both will have their respective merits, it's important to note that with a lease, you won't ever own the car or truck.
As a result, you won't be able to consider any vehicle you lease an asset when calculating your business's worth. Meanwhile, a business auto loan will allow you to own your car or truck, while also paying down the cost gradually.
However, at the end of the lease, you do have the option to pay off the balance and own the vehicle or enter into a lease for another vehicle. This might make more sense if you can't qualify for a business auto loan, or if you don't want to be stuck with equipment that will soon be outdated.
When to Get a Business Auto Loan
If you want to keep the vehicle for an extended period of time, a business auto loan is a good option.
With an auto loan, you can rack up the mileage, and don't have to worry as much about wear and tear on the car.
Additionally, business auto loans are usually cheaper than leases in the long run.
When to Get a Business Auto Lease
On the other hand, an auto lease is a good option if you want to upgrade every few years to a newer model, or if you don't plan on racking up a large number of miles.
However, leases are usually more expensive than loans, especially since you'll have to pay more if you want to buy the vehicle when the lease expires.
How to Apply for a Business Auto Loan
Now that you know a little bit about how small business auto loans work and the best lenders that offer them, let's break down how to actually get this type of business financing.
When it comes down to it, you can follow these simple steps:
1. Find your vehicle.
The first thing you'll need to do is find the car, truck, or other vehicle that you want to purchase for your business.
As you're comparing different options, you'll want to consider whether the vehicle is new or used, how old it is, what condition it's in, what maintenance will look like, and of course, how much it will cost to finance.
Most lenders will want to see a quote as part of your financing application, so once you've found the vehicle that you want, you'll want to make sure to request that information from the dealer.
2. Evaluate your qualifications.
Next, you'll want to determine what type of commercial auto loan you will be able to qualify for. Overall, because business auto loans are a form of self-secured financing, they'll have more manageable requirements than their unsecured alternatives.
Additionally, finding a business auto loan with no personal guarantee will be much easier than it would be with other types of loans, if you're concerned about putting your personal assets at risk.
In many cases, you should be able to qualify for auto financing if you have a credit score of 600+, at least one year in business, and at least $100,000 in annual revenue. Ultimately, however, business auto loan requirements will vary from lender to lender—and as we discussed above, banks will typically have the strictest requirements, whereas alternative lenders will be more lenient.
That said, it's helpful to evaluate where your business stands before choosing a lender and moving on to the application process.
3. Choose a lender and submit an application.
Once you have your vehicle quote and a better sense of where your business might qualify, you're ready to choose a lender and submit your application. You might start with any of the lenders on our list above, or you might opt to work with a lender you have a preexisting relationship with.
In any case, you'll find that the specific application process will vary from lender to lender—again, banks will have more intensive processes and will be slower to fund, whereas online lenders will likely offer more streamlined applications and faster funding.
Overall, you should expect to provide your potential lender with your vehicle quote, financial statements, bank statements, tax returns, among other documentation.
4. Review your offer and get your funding.
After you've submitted an application and received an offer, you'll want to be sure to review it thoroughly—perhaps even consulting an accountant or attorney—to ensure that you understand all the terms, conditions, and fine print.
Then, once you're ready to sign, you'll be able to return your business loan agreement to the lender, receive your funding, and get the vehicle your business needs.
The Bottom Line
At the end of the day, if you're interested in seeking capital for purchasing an automobile—a car, truck, bus, or RV—for your business, then it's definitely worth considering a business auto loan.
As we've discussed, these loans often don't require additional collateral and can offer long terms and affordable interest rates.
On the other hand, however, if you think the vehicle might be out-of-date before your repayment period is over, you might look into leasing as an alternative to this form of financing.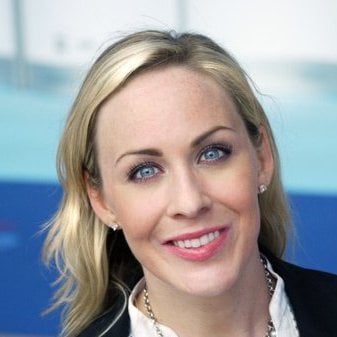 Founding Editor and VP
at
Fundera
Meredith Wood is the founding editor of the Fundera Ledger and a vice president at Fundera. 
Meredith launched the Fundera Ledger in 2014. She has specialized in financial advice for small business owners for almost a decade. Meredith is frequently sought out for her expertise in small business lending and financial management.
Read Full Author Bio