How to Get a Business Loan for a Laundromat
Starting a laundromat can be a great business opportunity. After all, people always need clean clothes, and in some big cities, few apartments have washers and dryers (New York, we're looking at you!). If your area is similar, you could carve out a niche in your neighborhood with a laundromat. You'll be providing a much-needed service and will avail yourself to plenty of repeat customers in return.
You might also be wondering how to get financing for a laundromat, given that there are plenty of up-front and recurring costs associated with operating one. For starters, you have tons of equipment costs whether you're renting or buying machinery. There's also the necessary maintenance expenses for keeping your fleet of washers and dryers running, lest you end up with too few machines to meet demand. Plus, if you want to stay competitive, you may need to pony up for customer perks, such as free detergent with every load.
The point is, these costs add up quickly—usually before your first client drops a quarter in a washing machine. Thankfully there are plenty of options available to you, whether you want to get financing for a laundromat of your own or need laundromat purchase financing to take over an existing business. Here are a few of the best options, depending on your needs.
See Your Business Loan Options
What to Consider About Laundromat Financing
As with just about any business, there are a ton of factors that should influence how you get laundromat financing, and for which purposes. Some small business loans offer better terms than others, while some come with collateral options that others don't. The point is, each of the laundromat business loans available to you are designed for specific goals. Knowing what to look for in your loan can help you make sure you're getting the right one.
The Loan's Purpose
Any time you borrow money, you should make sure you have an end goal and a purpose in mind. That's true whether you need to borrow money to purchase equipment, expand your business, or even just for getting a little bit of help with operating expenses. Having an explicit purpose for taking out a loan isn't just a sensible and responsible part of the process, it also helps lenders decide if you and your business are a good investment. After all, you're borrowing their money—they want to make sure you have a good plan in mind for what you're going to do with it.
What You Can Afford to Repay
Just because you may qualify for a big loan doesn't mean you have enough money to pay it back. You may have a down month where money is tight, which makes it hard or impossible to make a payment. Or, alternatively, you may find that your cash flow is temporarily in trouble due to an unexpected repair. These scenarios happen often—particularly for laundromat owners who often find themselves repairing heavily used equipment. Be sure to only borrow as much as you know you can afford to pay back every month. Most lenders will evaluate your ability to pay before approving your loan, but it's best to right-size your expectations before filling out an application.
Your Loan Application Materials
Each kind of small business loan requires different application materials. Some loans, such as SBA loans, require tons of background information about the applicant and their business. Other loans, like short-term loans, usually require little more than a credit check. You may find yourself working through a few different applications when looking for laundromat funding, so make your life easier by compiling as much information as possible up front.
The Best Business Loans for Laundromat Financing
Once you know why you need a loan, you can move on to evaluating the various forms of laundromat financing out there. The good news is that there are tons of options, many of which offer specific advantages for certain kinds of needs. Whether you're trying to figure out how to get financing for a laundromat that's brand-new, or how to secure laundromat purchase financing for an existing suds shop, you have plenty of ways to get the cash required to make it happen.
Getting Financing for Your Laundromat
Whether you're looking to finance a brand-new laundromat or purchase an existing business, there are a ton of loan options out there. So long as you know your business and personal credit scores, have a solid grip on your financials, and have a set purpose for your loan in mind, you can find a borrowing option that works best for your goals. You'll have to get plenty of information together about your business, but you'll be glad you did once you have access to the financing required to take your shop to the next level.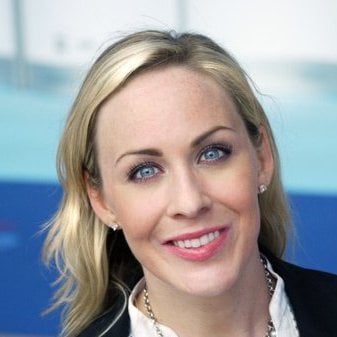 Meredith Wood is the founding editor of the Fundera Ledger and a vice president at Fundera. 
Meredith launched the Fundera Ledger in 2014. She has specialized in financial advice for small business owners for almost a decade. Meredith is frequently sought out for her expertise in small business lending and financial management.
Read Full Author Bio