Overview of Small Business Funding
The first step in finding the right funding solution for your business is understanding what's available to you. That's what this guide is here for. We'll explain everything you need to know about small business funding—including when to start looking for financing, the difference between equity and debt financing, and some of the top options—from traditional small business loans to more creative funding solutions, like crowdsourcing.
Let's get started.
See Your Loan Options
The Best Small Business Funding Options
Before we dive into the details of what you'll want to consider when you're starting to search for and compare different small business funding products, let's take a high-level look at your best options.
Ultimately, the right solution for you will depend on your current financial situation and what exactly your business needs. With this in mind, here are some of the best small business funding options for small business owners to consider:
Small Business Funding: When to Start Looking
Just like the right small business funding product will depend on your individual business and financial situation, the right time to start looking for business financing will likely be different for every business owner. However, it's always worth considering that you'll probably be better off if you start looking for small business funding before you desperately need it.
This being said though, if you simply don't have the funds you need to accomplish something, this may indicate that it's time to start your funding search. For example, if you find yourself needing or wanting to:
Hire more staff
Add additional branches or locations to your business
Buy more inventory
Buy more equipment
Refinance old debt that's become too expensive
Obtain working capital for paying rent, covering payroll, etc.
Then, it might be time to explore your small business funding options.
Small Business Funding: How Much Do You Need?
If you've decided it's time to start your search for small business funding, the next important question to ask is: How much do I need?
With this in mind, it can be tempting, particularly if you need a loan to start a business, to ask for as much money from investors or lenders as you think you can possibly get. However, this is not a wise approach because money is never free (unless someone gives your business a monetary gift). Investors will expect a return on their money, and lenders will expect you to pay them back with interest.
Therefore, it's as important not to ask for too much, as it is not to ask for too little.
The best way to know how much small business funding you need is to constantly keep tabs on how your business is performing. Either on your own or with help from an accountant, you'll want to do a forecast every quarter estimating where your business will be from a revenue and profit standpoint in three months, six months, even a year into the future. Through this process, you can better predict when you need business funding and can estimate how much you'll need.
Ultimately, the amount of money you should ask for depends a lot on these details—however, there are three questions you should ask yourself when determining your small business funding "ask":
What do I plan to use the money for? (be very specific—e.g. hiring two new employees, launching a paid marketing campaign, opening a new shop, etc.)
How much return can I get from this business use? (e.g. how much revenue and profit might the new paid marketing campaign generate?)
What business expenses, including debt and interest payments, do I already have?
The Two Main Types of Small Business Funding: Debt vs. Equity
Answering these three questions should help you figure out how much small business funding you need and will help inform you through the process as you explore and compare your different options.
The first decision you'll need to make, though, is whether you'll be looking for debt or equity financing. These are the two overarching types of small business funding—and the majority of the funding solutions you'll come across will fall into one of these two categories.
Let's learn more:
Small Business Funding Through Debt Financing
First, debt financing is a way to fund your business by borrowing money. With debt financing, a lender gives you a loan, and you pay them back over time with interest. The lender could be a bank, an alternative lender, or even a family member or friend.
For the average small business, debt financing is easier, quicker, and more practical. There's a barrier to entry to equity funding, or venture capital, (as we'll discuss below)—investors typically only do multi-million dollar deals and expect a big return on investment.
Plus, with debt financing, you can often secure a loan, line of credit, or other similar small business funding products online. Therefore, unless you have a business that's going to experience exponential growth in the first few years, your company probably isn't going to be a good candidate for equity funding.
Small Business Funding Through Equity Financing
As we've alluded to, equity financing is a way to raise funds by selling ownership in your company. In exchange for money from investors, you give them a portion of ownership and control in your business. The investors may be angel investors, venture capitalists, or even a family member or friend.
Using equity financing has benefits, particularly the experience and mentorship that the investor brings. This being said, however, there's one big drawback that often excludes this type of financing as an option for small business owners—financing through equity isn't a one-and-done transaction. With this type of business funding, you're committing to a long-term relationship with an investor who has a serious interest in the success or failure of your business. Ceding some ownership and influence over the company goes hand in hand with equity financing, so if that's not something you're ready for, you'll want to opt for debt financing.
Moreover, most business owners don't own companies that fit the mold for this type of small business funding. Businesses best for equity funding are typically high-growth businesses that have the potential to expand tremendously in the next two to three years. If you don't have those kinds of growth plans for your business, this isn't the right kind of small business funding option for you.
Small Business Funding: Choosing Between Debt and Equity Financing
So, now that you understand the difference between debt and equity financing, you'll need to decide which of these options is right for your business before you continue your search for small business funding.
How do you choose?
There are a variety of factors that may come into play for this decision; however, it's worth considering the following:
Industry
Certain industries fare better than others with equity financing. For example, tech companies, financial companies, and health care companies are often successful with equity financing because they promise good returns for investors.
Network
Another thing to consider is your network of personal connections. The more people you know, the easier it is to get an "in" with an influential investor, who in turn might help you find other investors.
Amount of Funding
Investors typically transact in multi-million dollar deals, making equity financing ideal for startups with high-growth potential. More mature companies that just need some extra working capital, however, will be better off going with debt financing.
Timeframe
The faster you need small business funding, the more you'll want to lean toward debt financing. Although getting a traditional bank loan can be a very slow process, alternative lenders may be able to get you a loan in just a few days, sometimes even the same day.
Therefore, if you need funding as soon as possible, online debt financing will be your best bet.
Control Over Your Business
This last factor is particularly important. When you use equity financing, you'll sell some ownership in your business in exchange for an investor's financial support. As part-owners, investors can exert control over day-to-day business activities, which limits your independence.
Therefore, you'll want to consider if you're willing to give up this control to an investor. If you're not, then you'll need to look into debt financing options.
Small Business Funding: 7 Top Debt Financing Solutions
With all of this in mind, it's very likely that debt financing is going to be your best avenue for funding your business. Therefore, let's next take a look at the best small business funding options within this category.
As we mentioned above, all of these products will involve borrowing from a lender and repaying what you borrow, plus interest.
This being said, these seven products will appeal to a wide variety of businesses and financial needs.
Let's learn more:
Traditional Term Loans
A traditional term loan is perhaps the easiest type of small business funding to understand. In fact, business term loans are probably what you already think of when you think about how business loans work, so if you're looking for simple business funding, then this could be your best option.
Best For
Generally, business term loans are going to be one of the best small business funding options for owners of mature businesses who want to borrow money for a long period of time (more than two years) and want a predictable monthly payment.
Term loans are great for financing business expansions, working capital needs, or refinancing other debt.
How Term Loans Work
This type of small business loan is pretty straightforward: You borrow a fixed amount of money, usually for a specifically stated business purpose, and pay back the loan over a fixed term and at a fixed interest rate.
Since these are typically low-interest business loans (especially if they come from a bank), owners will need to have strong credit to qualify, and their businesses should be financially strong.
Term Loan Example
Let's say, for example, you need $25,000 worth of small business funding to purchase some new equipment for your business—maybe you need to buy a few new computers, a vehicle, or an updated piece of machinery.
Whatever it is you're buying, you've done the research—and you know you'll be able to pay back a loan, plus interest, with the extra revenue your purchase will bring to your business.
You've managed to qualify for a $25,000 loan at a 12% interest rate, lasting five years.
Because your repayment is slightly on the longer side—some loans can get repaid within a year, while others can take 10 years—you can expect a monthly repayment schedule. For $25,000 at 12% interest over 60 months, you're looking at monthly payments of $556. With a traditional amortizing loan, the initial several payments will go primarily toward interest, and successive payments will primarily pay down the principal.
If you think a term loan is the right small business funding option for you, you'll want to start by applying for a loan from your bank (which should get you the best interest rates). On the other hand, if you can't qualify for a bank loan or need access to funds faster, you might consider online lenders like Fundation or Funding Circle.
SBA Loans
The Small Business Administration (SBA) helps entrepreneurs get funding for business needs in the form of long-term, low-cost business loans that are often the most desirable types of small business funding for business owners. The SBA is a federal agency dedicated to helping entrepreneurs improve their businesses, take advantage of contracting opportunities, and access affordable small business funding.
Although the SBA itself doesn't directly loan money to businesses, the agency incentivizes lenders (like banks) to approve small businesses for borrowing by guaranteeing all or part of their loans. For lenders, that means lower risk and higher reward.
This being said, however, because SBA loans are so desirable for small businesses, you'll have to meet a number of specific requirements and go through a lengthy application process in order to qualify.
Best For
As we mentioned (and despite the more involved process), SBA loans are one of the best types of small business funding. With the qualification requirements, however, borrowers with strong credit who are looking for long-term, low-interest loans are going to be the best fit for working with the SBA.
How SBA Loans Work
There are three main SBA loan programs that help a wide variety of small businesses get debt financing: the 7(a) Loan program, microloans, and 504/CDC loans.
7(a) loan program: First, the 7(a) loan program is the most common of the SBA's various programs for one simple reason—it's the most flexible SBA loan available. Through this program, borrowers can access up to $5 million in small business funding for working capital, equipment purchases, real estate buys, basic startup costs, or even debt refinancing.
Microloans: Microloans are just what they sound like—small loans (under $50,000) for business owners who need just a little bit of business funding to take the next major step. Entrepreneurs often struggle with getting access to smaller loans from banks because these loan sizes aren't profitable for them, so SBA microloans fill this need.
504/CDC loans: The third type of SBA loan, the 504/CDC loan, is for financing the purchase of real estate or other major fixed assets—like large equipment, land improvements, or the costs associated with improving an existing building.
It's important to remember that for all of these loans, individual SBA-approved lenders and banks will determine your eligibility. Generally speaking, you should have good credit, and your company should be profitable or have a compelling business plan with positive projections. If an SBA lender approves you, they'll also determine your loan's interest rate and repayment term—within certain boundaries set by the SBA.
SBA Loan Example
What can you expect with an SBA loan?
SBA loans are similar to traditional term loans, but with better interest rates and longer repayment terms. The SBA sets interest rate caps depending on the type and size of the loan. For example, you might get a 10-year, $100,000 SBA 7(a) loan, which would have a maximum interest rate of 2.75% plus the market prime rate (as of November 2019, the market prime rate is 4.75%, making the maximum interest on this SBA loan 7.5%).
This being said, if you think an SBA loan is the best small business funding product for you, you can look to SBA lenders like Celtic Bank or SBA marketplaces like SmartBiz for access to this type of financing.
Business Lines of Credit
Next, if you're looking for the most versatile small business funding solution available, you will want to consider a business line of credit. This type of debt financing gives you capital to draw upon to meet a variety of business needs.
Best For
A business line of credit is going to be one of the best small business funding options for businesses that have unpredictable or seasonal capital needs and those that want the flexibility to draw funding on an "as needed" basis.
How Business Lines of Credit Work
Unlike the first two small business funding options we've discussed, a business line of credit essentially works like a credit card: You have a certain amount of capital that you can draw on whenever you need—and you'll only pay interest on what you use. Plus, once you pay back the funds you withdrew, you'll have access to all that cash again. This is why lines of credit are also called rotating or revolving credit lines.
Therefore, with a business line of credit, you can get more working capital, buy inventory, handle seasonal cash flows, pay off other debts, or address almost any other business need. It's also great to have a business line of credit on hand to pay for unexpected business emergencies. This being said, however, business lines of credit are slightly more difficult to qualify for than a loan because they are constant sources of small business funding, but if you're able to qualify for one, the peace of mind will certainly be worth it.
Business Line of Credit Example
Let's say, for example, that you've qualified for a $60,000 line of credit. You withdraw $40,000 of business funding for a big expense—and your available credit goes down to $20,000. But, once you pay off that $40,000 you took out, plus interest, your funds available in the line of credit moves back up to $60,000.
This is a pretty simple example, but it illustrates the "revolving" aspect of a business line of credit.
If you think a business line of credit might be the right solution for you, there are a variety of lenders you can work with to access this type of funding. Many traditional banks offer business lines of credit, but you can also explore your options from alternative online lenders like Kabbage and Headway Capital as well.
Business Credit Cards
Best For
Ultimately, business credit cards can be a useful financial tool for any business owner.
However, compared to many of the other options on our list, a credit card will be a top funding option for business owners who don't need too much business capital funding and don't need access to cash but want the ease of having regular access to business financing in the form of credit.
How Business Credit Cards Work
Business credit cards work just like personal credit cards, but they're designed to be used solely for business purposes and covering business expenses.
Typically, business credit cards have higher spending limits than personal credit cards, as well as lower interest rates and better introductory offers.
Although you do need good credit to qualify for the best business credit cards, there are options for business owners who are rebuilding credit as well. Even startups can qualify for business credit cards. This being said, if you need a large amount of capital (over $50,000), a term loan or SBA loan will be a stronger option than a business credit card.
Business Credit Card Example
As we mentioned, a business credit card will more or less function in the same way as any other credit card. This being said, however, the introductory offers on business credit cards are particularly noteworthy, as they can go a long way to help you save money.
In fact, some business credit cards offer a 0% intro APR period for as long as 12 months after opening your account—meaning you can carry a balance without accruing interest during that time. After the introductory period, however, an APR will set in that varies depending on the market and your creditworthiness. The average interest rate on business credit cards is around 13% to 14%.
If you're looking for a business credit card to use for small business funding, you can start with major issuers like American Express, Chase, and Capital One to see what they have to offer.
Equipment Financing
Equipment financing, as the name implies, is a type of debt financing that's specific to purchasing equipment for your business. By applying for equipment financing, also called equipment loans, you can have a quick, streamlined way to access funds to purchase computers, machinery, vehicles, or virtually any other equipment for your business.
Best For
Equipment financing is going to be one of the best small business funding options for businesses that need capital to purchase or lease a vehicle, computer, tractor, or other specialized machinery or equipment for their operations.
How Equipment Financing Works
An equipment loan is asset-based financing, which means lenders rely on the equipment to collateralize, or guarantee, the loan.
Term loans, SBA loans, and lines of credit, on the other hand, depend more on your credit history and business financials. Equipment financing, however, is more like a car loan. Since the equipment itself acts as collateral and backs up your loan, the lender is more likely to approve it even if you don't have stellar credit or financials.
This being said, equipment financing can be structured in one of two ways: a lease or loan. With equipment leasing, you are not the owner of the equipment but are instead paying to rent it. You pay monthly payments and sometimes have the option to purchase the equipment at the end of the lease. Equipment loans are more like traditional term loans with a fixed repayment schedule and interest based on the funds you need to purchase the equipment.
Equipment Financing Example
Let's say, as an example, you're looking for business funding to purchase a vehicle that's worth $30,000. You could get a two-year lease with a 20% interest rate and pay $1,500 per month. Alternatively, you might get a five-year equipment loan with a 10% interest rate and pay just $550 per month.
In either case, if you think equipment financing might be a worthwhile funding option for your business, you might consider exploring lenders like Balboa Capital or eLease to finance your business's infrastructural needs.
Invoice Financing
A very specific type of debt financing, you might use invoice financing if delayed payments from clients are seriously endangering your cash flow. Invoice financing is another asset-based funding option, where your business receives cash from a lender that is collateralized by your accounts receivable.
Best For
Invoice financing is going to be one of the best small business funding options for B2B companies that have money tied up in unpaid invoices.
How Invoice Financing Works
So, how does invoice financing work?
Essentially, invoice financing, also known as accounts receivables financing, is a form of business funding through which lending companies advance your accounts receivable through a quick cash advance of about 85% of the value of your invoices. Later, when your client pays the invoice, you'll receive most of the additional 15% (minus fees). Invoice financing companies charge a small weekly percentage on the amount of your invoice.
If your business relies on customers paying their invoices, then you've probably encountered this problem before: A late payment from a customer could seriously impact your cash flow. With invoice financing, you're basically paying a small fee to get your invoices paid immediately instead of at some undetermined time down the road. Depending on how your business's cash flow works, it might be well worth the cost.
Plus, another benefit of invoice financing is that the provider won't check your credit. Instead, they care more about your customers' repayment behaviors.
Invoice Financing Example
As an example of invoice financing, let's say you have a $5,000 invoice that's due in eight weeks, but you need the money now. An invoice financing company will front you 85% of that invoice—$4,250—immediately. They might charge a fee of 1% each week that the invoice goes unpaid—that's $50 per week in this example. If the customer pays you back after the full eight weeks, that's $400 in fees. You'll pocket $4,600 out of the $5,000 of the original invoice.
If you think invoice financing can help fund your business, you'll want to look specifically for lenders that offer this type of financing, such as Fundbox or BlueVine.
Short-Term Loans
Finally, the last of our top options under the debt financing section of small business funding is short-term loans. Generally, the more quickly you need financing, the more you'll have to pay. This being said, however, short-term business loans can offer a happy medium between affordable and quick funding for business owners.
Best For
Short-term loans are going to be best for those who need quick funding and can't wait (or aren't able to qualify) for other types of lower-cost financing.
How Short-Term Loans Work
Essentially, short-term loans work like condensed versions of traditional term loans. You'll receive a lump sum of business funding that you'll pay down, plus interest, according to an agreed-upon remittance schedule. With short-term loans, though, you'll have to pay down your debt much quicker than you would with traditional term loans—typically within a year. As a result, short-term loans will be much smaller, much more expensive, and will come with more frequent payments (daily or weekly) than their longer-term counterparts.
This being said, short-term loans will definitely be one of the most accessible types of financing for a variety of business owners. Short-term lenders often provide same-day business funding, and the qualifications you'll need to secure a short-term loan are much less stringent compared to other types of financing.
Short-Term Loan Example
As an example, let's say you've taken on $100,000 of small business funding in the form of a short-term loan. After you go through underwriting, the lender came back to you with an offer of a six-month repayment schedule with an interest rate of 20%. You'll repay this loan, plus interest, with weekly repayments (though some short-term loans come with daily repayments) and you'll be completely debt-free in six months.
For easily accessible, quick-to-fund short-term loans, you'll likely want to look at online lenders like OnDeck.
Alternative Small Business Funding Solutions
As you've probably realized by this point, finding the best small business funding isn't always a cut-and-dry process.
With all of the options we've discussed under the umbrella of debt financing, as well as equity financing, you very well might find the right funding solution for your business.
However, just because these are the most common and often most accessible solutions doesn't mean they're the only ones. When it comes down to it, your small business funding options are only limited by how creative you're willing to get.
In fact, the different types of funding available for small businesses are expanding every day, so if you're willing to try something new, there are a variety of alternative options you might consider—including the following three solutions:
Small Business Funding Grants
If you're willing to put in the time to apply for them, many funding programs offer up small business grants that provide business financing that recipients don't have to pay back.
Of course, these grants are extremely competitive—you'll need to put in the time and effort to find the right grants and submit grant applications to possibly access one. This being said, there are hundreds of business grants out there—federal, state, local, private grants, and more—so if you think this funding avenue could benefit your business, it might be worth exploring.
Friends and Family
If you're fortunate enough to have friends or family members who can invest in your business or lend you money, it's a great opportunity. Because of your personal relationship, your friends or family members are likely to offer more comfortable terms on an investment agreement than you'd receive from an angel investor, bank, or online alternative lender.
Plus, depending on how your friend or family member wants to make the arrangement, you can consider proposing either debt or equity financing from them. However, it's always important to remember that reaching out to friends and family can be a high-risk, high-reward scenario—so you'll want to make sure you hedge your bets and protect everyone's interests.
This being said, if you and your friend or family member agree to a loan, you'll want to write out terms for exactly how the loan will be repaid, in what increments, and over what period of time. If your friend or family member is making an investment in your business, you'll want to clarify the exact percentage of ownership or profit share that person will take, as well as the role your investor will have in business decisions moving forward.
All in all, even if you don't involve an attorney in the process, you should put the terms in writing and have each party sign so there are no questions later about exactly what was agreed upon.
Small Business Crowdfunding Campaigns
If you're not familiar with these kinds of funding opportunities for small businesses through platforms like Kickstarter or Indiegogo, here's the basic idea: You get funding for your business needs from small contributions made by a group of people. Each individual contribution adds up to a bigger total, which amounts to the business funding you require.
Through a crowdfunding platform, you share your vision for what you'll do with the funds, set a funding goal, and then use social media and other marketing avenues to encourage potential donors to support your campaign. Because most crowdfunding platforms work on an "all or nothing" basis—that is, you must reach your funding goal to receive any cash at all—it often works best for those with more modest business funding requirements.
Additionally, one of the things to keep in mind with crowdfunding is, whether your goal is expanding your restaurant or putting the board game you've designed into production, you'll want to have a tangible result that other people, often total strangers, will be excited to support.
This being said, the challenge of crowdfunding is actually finding willing participants ready to hand over cash toward your business vision. This is where incentives come in—businesses often offer incentives for donations, with tiers that correspond to how much a donor offers. Generally, the more money someone spends, the more you give back.
The Bottom Line
Unfortunately, there's no straightforward formula to tell you exactly how to get funding for your small business, when to fund your business, or how much capital to ask for. At the end of the day, deciding what small business funding option is right for you comes down to a number of factors that are specific to you, your business, and your financial needs.
The good news is, there are currently more choices than ever for businesses that require funding. Whether you look into debt financing, equity financing, or a more creative funding solution, you'll have a variety of options to explore, compare, and consider.
Ultimately, now that you better understand what small business funding options are out there, you're in the best possible place to go forward in your search and make the right choice for your business needs, both today and in the future.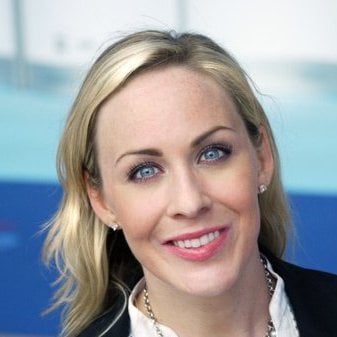 Founding Editor and VP
at
Fundera
Meredith Wood is the founding editor of the Fundera Ledger and a vice president at Fundera. 
Meredith launched the Fundera Ledger in 2014. She has specialized in financial advice for small business owners for almost a decade. Meredith is frequently sought out for her expertise in small business lending and financial management.
Read Full Author Bio