Stripe vs. Square vs. PayPal, Summarized
Stripe is an online payment API that's best fit for high-tech business-to-consumer ecommerce companies.
PayPal offers online checkout experiences, invoicing, and in-person payments best fit for ecommerce companies that need easy online payments.
Square offers POS systems, online checkout experiences, and invoicing best fit for brick-and-mortar businesses.
As top players in the payments industry continue to innovate rapidly, understanding your options can get complicated. Once you're familiar with all of the names you should know, you've got to turn around and choose one of them for your business. So, how does a small business owner even begin to distinguish between Stripe vs. PayPal vs. Square? Even more, how do you choose one of these payments companies for your business?
We'll help you understand the details that distinguish Stripe vs. PayPal vs. Square, including the ins and outs of their offerings, plus a detailed description of the costs that each comes with.
Here is your ultimate guide to understanding whether Square, PayPal, or Square offers up the best payment processing solutions possible for your business's payments needs.
Stripe vs. PayPal vs. Square: The Basics
Before we dig into the process of distinguishing Stripe vs. PayPal vs. Square, let's first lay down some fundamentals. Understanding whether Stripe, Square, or PayPal is the best option for your business will require you to be familiar with the fundamental products that each option offers.
Let's lay out the details on what Stripe, Square, and PayPal entail:
Stripe Overview
The core product that Stripe offers is an online payment API for businesses' websites and apps. Stripe is an extremely developer-centric online payments option that offers customized payment styles like billing and platform payments.
Stripe offers payments APIs through the Integrated and Customized versions of their product. Overall, Stripe is so developer-friendly that their integrations into websites are seamless: It's hard to tell when you're using a Stripe payment API to checkout. But odds are, you probably have. Stripe automates online payments for some of the biggest brands out there, like Target, Glossier, and Lyft.
PayPal Overview
Compared to Stripe, PayPal's offerings are much broader. That said, because of how many products PayPal has begun to offer, trying to understand PayPal's payment options can be a bit overwhelming. Let's break them down to make PayPal's payments suite easier to wrap your head around.
First, PayPal's core product is the checkout experiences they offer. There are three options for this product. PayPal Checkout is simply a plugin "Pay With PayPal" button that you can integrate into a pre-existing checkout. In contrast, PayPal Payments Standard offers a full, generic, and free checkout experience for your business's website. Finally, PayPal Payments Pro is a customizable payments API, much like Stripe's basic product.
Second, PayPal also offers online invoicing. Creating and sending invoices through PayPal is free, though you will have to pay a transaction fee once your customer fulfills the invoice with a credit or debit card, which we'll cover later.
Finally, PayPal also offers in-person payments through their app PayPal Here and mobile card readers that turn smart devices into functioning POS systems.
Square Overview
Let's take a look at what payment solutions Square can offer your business. Just as PayPal's payments solutions were broader—and therefore more complicated—than Stripe's offerings, so too are Square's when compared to PayPal's.
That's right—Square offers up even more payment solutions than PayPal and Stripe. But that also means they will be even tougher to understand. Let's carefully pore over all of the payments solutions Square offers:
Square's first and core product is their in-person POS system. These started as the quintessential smart device POS systems that Square is known for. Their card readers—the headphone jack magstripe reader, their headphone jack chip reader, and their Bluetooth contactless and chip reader—allow your smart device to read card and contactless payments. And their free Square POS app turns your smart device into a powerful point of sale system. Their Square Stand, meanwhile, can turn an iPad into a countertop POS system. Finally, the Square Terminal and Square Register are both fully self-sufficient POS systems that respectively offer mobile and countertop solutions.
Square also offers ecommerce solutions for businesses that want to set up online shopping for their customers. These solutions include Weebly ecommerce stores fully equipped with a built-in Square checkout experience. If you already have your own online store set up, then you can simply set up Square checkout or a custom Square payments API, as well.
Build Your Website With Weebly Today
Last but not least, Square also offers a invoicing platform. Through Square Invoices, you'll be able to send free invoices to your customers. You can set up invoices for one-time payments, repeat customers, and even recurring billing.
Stripe vs. Square vs. PayPal: The Costs
Now that you've got an overview of Stripe vs. Square vs. PayPal, it's time to start digging into the details. Beyond the products that these three payments options offer, another main criteria you'll need to consider is the fees associated with Stripe vs. Square vs. PayPal.
Let's take a look at how much any of these given payments options will cost your business:
Stripe Costs
No hardware options
Transaction fees: 2.9% + $0.30
Because the payments API that Stripe offers is so straightforward, Stripe fees will also be just as easy to understand. If you choose to go with their Integrated payments API, then you'll only have to pay for successful transactions—Stripe charges no monthly fees or setup fees whatsoever. For each payment that your Square API processes, you'll simply have to pay 2.9% of the transaction value, plus $0.30 per transaction.
Alternatively, if you opt for their Customized API for your business because of your high transaction volume or unique business model, you'll be able to access customizable rates, as well. You'll just need to contact Stripe to request a quote to get an idea of what these customizable rates might look like.
PayPal Costs
Hardware cost: $14.99 to $99.99
Transaction fees: 2.7% to 3.5% + $0.15
Now, let's see how PayPal costs stack up. Most payments processed through a PayPal product will cost your business 2.9% of the transaction value, plus $0.30 per transaction. However, there are some notable exceptions.
While PayPal Checkout and PayPal Payments Standard will simply carry that default payment processing fee, PayPal Payments Pro will cost you $30 a month along with that same 2.9% + $0.30 transaction fee.
Additionally, payments processed with a card reader through PayPal Here will only cost 2.7% of the transaction value. Card readers retail from $14.99 to $99.99, depending on which reader you get. However, if you process a keyed-in payment through PayPal Here, it will cost your business 3.5% of the transaction value, plus $0.15 per transaction.
Finally, invoicing through PayPal will simply cost your business that 2.9% + $0.30 payment processing fee when your customer fulfills the invoice with a card payment.
Square Costs
Hardware cost: Free to $799
Transaction fees: 2.5% + $0.10 to 3.5% + $0.15
Because of their wide array of payment products, Square's pricing system will be correspondingly complicated. How much you pay per transaction can vary widely based on which Square product and hardware you use, so pay close attention:
With Square POS systems, you'll pay a range of transaction fees from 2.6% + $0.10 to 3.5% + $0.15, depending on which POS hardware you process it through.
If you process a card payment through a Square headphone jack or Bluetooth reader (which range in price from free to $49), then it will cost your business2.6% + $0.10 of the transaction value. The same transaction fee applies for payments through the Square Stand, which will cost $199, not including the cost of the iPad it needs to function.
For card payments you process through the Square Terminal, which retails at $299, you will also have to pay 2.6% + $0.10 per transaction. For card payments you process through the Square Register, which will cost $799, you will have to pay the same 2.6% + $0.10 fee.
Be sure to note: Any transaction that you process through any Square point of sale system by keying in the card information, you'll pay 3.5% + $0.15.
The basic software that Square point of sale systems run on—the Square POS app—will be completely free. But the Square for Retail app will cost $0, $60, or $299+ per month depending on the plan you choose.
Alternatively, if you want to access a Weebly ecommerce store with a Square checkout experience, you'll need to pay both Weebly and Square. A Weebly will start at $12 a month, but you'll also get a year's worth of free domain services and a $100 Google Ads credit. Meanwhile, the Square checkout experience for a Weebly store will cost the same as Square Checkout and the custom Square payments API:
In-person transactions: 2.6% + $0.10
In-app transactions: 2.9% + $0.30
Online transactions: 2.9% + $0.30
Finally, if you're using Square's new invoicing platform to invoice your customers, you'll simply have to pay 2.9% of the invoice value, plus $0.30, if your customer pays with a card. However, if they pay with cash or check, the invoice will be completely free for you.
Sign Up for Square for Free
Stripe vs. Square vs. PayPal: Which Should You Choose?
Having familiarized yourself with the offerings and costs of Stripe, Square, PayPal, you're ready to start thinking about which of these three options is right for your business. Don't worry—to provide some guidance, we'll delineate which types of businesses typically succeed with Stripe, Square, and PayPal, respectively. Let's take a look:
Best for High-Tech B2C Ecommerce Companies: Stripe
Put simply, if you don't have a web developer on your team, then Stripe is probably not your winner in Stripe vs. Square vs. PayPal. You'll need a trained engineer to get Stripe up and running on your website.
But, if you do have a developer on your team, then Stripe could very well be your best option. This is especially true if you're primarily an ecommerce business, as Stripe doesn't currently offer any in-person payment solutions.
Also keep in mind that Stripe doesn't offer an invoicing platform at the moment, so it won't be a great choice for business-to-business companies that need to invoice their customers. If you're working directly with customers, though, being able to invoice through Stripe won't be necessary.
Best for Ecommerce Companies That Need Easy Online Payments: PayPal
On the other hand, if you're running an ecommerce business without an engineer on your team, then PayPal is likely your best option of Stripe, PayPal, and Square. PayPal checkout experiences are easy to integrate into your ecommerce store, and they'll be remarkably inexpensive.
Plus, by the off-chance that you need to run an in-person transaction, you'll be able to do so with PayPal Here. That said, as you can read in our Square vs. PayPal Here comparison review, PayPal Here won't offer a robust enough POS system to make it your go-to payments solution for a brick-and-mortar store.
Best for Primarily Brick-and Mortar-Businesses: Square
Finally, if you're a running a brick-and-mortar business, then Square clearly beats out PayPal and Stripe for you. If you're trying to choose between Stripe vs. PayPal vs. Square, recognize that Square offers up far-superior in-person POS solutions. And should you decide to expand into ecommerce, then Square can offer online solutions—like Weebly online store, Square Checkout, and custom APIs—that can help you with that. Nonetheless, if you're primarily working face-to-face with customers, then Square should be your go-to, especially when measured against Stripe and PayPal.
Sign Up for Square for Free
Stripe vs. Square vs. PayPal: The Verdict
Understanding Stripe vs. Square vs. PayPal involves wrapping your head around a lot of information.
But you've made it! Now that you've read through our guide to Stripe, Square, and PayPal—and how to choose which is best for your business—you're equipped with the necessary information to move forward with your winner.
But be sure to know that there are options out there beyond Stripe, Square, and PayPal. Check out our guide to accepting payments online and our review of the top POS systems for small businesses to get a better idea of what's out there.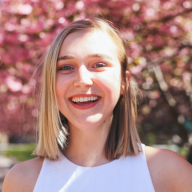 Contributing Writer
at
Fundera
Maddie Shepherd is a former Fundera senior staff writer and current contributing writer for Fundera. 
Maddie has an extensive knowledge of business credit cards, accounting tools, and merchant services, but specializes in small business financing advice. She has reviewed and analyzed dozens of financial tools and providers, helping business owners make better financial decisions. 
Read Full Author Bio