Ouray, Colorado, is about as picturesque as it gets. Perched 8,000 feet above sea level, it's known as the "Switzerland of America" thanks to its charming rivers and waterfalls, lush greenery, and gorgeous mountain views. 
And like Switzerland, Ouray is home to some delicious chocolate. 
"We've had customers come from all over the world to try our chocolate," says Susan Brawley, co-owner of Mouse's Chocolates—a chocolate and coffee shop located on Ouray's Main Street. "During the busy season we need about 30 employees working every day to keep this place going."
Despite being in a town of just about 1,000 residents, Mouse's Chocolates consistently generates upwards of $1 million in annual revenue—most of which comes between the months of May and October.
Here's how they do it.
Jon Wiehert and Susan Brawley. Photo credit: John Wiehert.
Searching for a Home
Susan and her older brother Harry have always been close.
So when Harry told Susan that he and his wife were starting a chocolate shop in Ithaca, New York, Susan agreed to move from her hometown of San Diego to help them. Harry's wife, Mouse, had recently graduated from the Culinary Institute of America and had a passion for making chocolate (hence the name Mouse's Chocolates), as well as wedding cakes.
After a few years in Ithaca, Harry, Susan, and Mouse caught the "wandering bug," as Susan says. A few of their mutual friends had moved up to Alaska, so they decided to pack up shop and reopen the business in Anchorage. After a few seasons there, the trio went "town shopping" again and resettled the business in Ouray.
"We just found the place so beautiful," says Susan. "There's a natural hot spring in the middle of town and nature all around us."
While Susan felt she had found her home, Harry and Mouse still had wanderlust. So after seven years running Mouse's Chocolates, the couple sold the business in 2008 to their friend John Wiehert. Harry and Mouse relocated to Hawaii, and Susan continued to work at Mouse's Chocolates despite the change in ownership.
Then after a few years, Susan decided to buy into the business and become co-owner.
"I bought into the business in 2016, and I've had no regrets," says Susan. "I worked a lot of different jobs before this, but nothing quite satisfies me as much as seeing the look on our customers' faces when they're buying our chocolate."
Photo credit: Mouse's Chocolates
The Business of Chocolate
Susan's main responsibility is to produce all the chocolate products sold by Mouse's Chocolates. 
She starts by unpacking 11-pound blocks of frozen chocolate, which they import from Callebaut, a large Belgian cocoa producer. 
She then uses a machine called a temperer to melt the chocolate and give it a smooth and creamy consistency.
"It's melted at a very specific level of heat," Susan explains. "This is important because if the heating is not perfect, it will start blooming, resulting in a whitish coating on the surface of the chocolate."
While the chocolate melts, Susan sets about preparing all the ingredients that need to be coated in chocolate. This includes toffee, roast nuts, ganache for truffles, as well as various batters. Mouse's sells a variety of different types of flavored chocolates, which they rotate seasonally. Flavors include mint, raspberry, peanut butter, lavender, orange blossom, and rose.
Once the ingredients are prepared and the chocolate is melted, Susan sets about the process of drizzling the melted chocolate onto the ingredients. To do this, she uses what is known as an enrobing machine. This machine is capable of drizzling the perfect amount of chocolate onto each item that passes through.
"It pours a double curtain of chocolate onto each piece of food as it passes and then it's air blown to get off all the excess chocolate," Susan says. "A lot of smaller shops may use a spatula instead of an enrobing machine, but we sell way too much chocolate for that."
Once the chocolate is coated and dry, Susan adds decorations like sprinkles and candy, packages the product, and brings it to the retail section of the store.
Mouse's sales floor is a chocolate lover's dream. Available for purchase are homemade truffles, toffees, caramels, clusters, barks, fudge, mousse, assorted boxes, flavored chocolate bars, and cookies. The chocolate chip cookies are actually one of Mouse's best sellers. Susan calls them "scrap cookies," because they're made using the chocolate that doesn't come out well from tempering.
"On a busy day, we can sell up to 36 dozen scrap cookies," Susan says. "Sometimes we add in caramel toffee and when that's leaking out of the cookie we can barely keep them in stock."
But chocolate is far from the only thing on the menu at Mouse's. Customers can also buy soft-serve ice cream, malted milkshakes, and coffee, lattes, and espressos. 
"We roast all our own coffee beans and we bought a brand-new espresso machine that really makes an incredible product," Susan says. "On a hot summer's day, we're turning out sundaes and milkshakes like you wouldn't believe."
However, when the warm weather subsides, things change dramatically for Mouse's.
Photo credit: Mouse's Chocolates
Seasonal Struggles
Ouray brands itself as the "outdoor recreation capital of Colorado." In the summer you can hike the San Juan mountains, go canyoning, mountain bike, go white water rafting, rock climb, explore abandoned mine shafts from the Gold Rush era, or simply soak in a hot spring.
But once the warm weather goes away—usually around mid-October—so do the vacationers. This creates pretty dramatic shifts in Mouse's monthly revenues, which is an issue Susan is constantly trying to mitigate.
"In the summer we need several dozen employees to make the chocolate and run the floor," Susan says. "But once the busy season ends, we only have like four people working at the shop, John and myself included."
Operating a seasonal business can also put you in a precarious position when unforeseen circumstances impact your market. For example, a few years ago the town of Ouray decided to shut down the local hot springs for nine months in order to remodel them. This led to a slower-than-usual peak season. More recently, a large wildfire in nearby Durango, Colorado, closed the San Juan National Forest surrounding Ouray.
"Things like this have a dramatic impact on the amount of business we do," Susan says.
In addition to her chocolate-making duties, Susan also manages Mouse's books, and after the Durango wildfire significantly impacted their revenue, she knew they needed some working capital to help manage their cash flow. 
So two years ago, Mouse's Chocolates took a short-term loan from OnDeck Capital. But the business soon got caught in a cycle of debt—the interest on the weekly repayments made it so that Mouse's could never fully pay off their debt, forcing them to take out yet another short-term loan.
Then they found Fundera. They filled out an application online and were quickly connected with senior loan specialist Jason Schuster. Working with Jason, Mouse's Chocolates was able to refinance their debt into a $250,000 long-term loan from Funding Circle.
"The loan had a much lower interest rate and monthly repayments, making it easier on our cash flow," Susan says. "Before Fundera, we couldn't find anyone that was willing to offer us a long-term loan. This has given us a great chance to get past our previous issues."
Mouse's has used some of their financing to buy new equipment for their shop, including a new boiler, digital menu boards, and a point of sale system. But they plan on investing a lot more money in fixing the issue that got them into trouble in the first place—finding a way to sell their product during the slow season.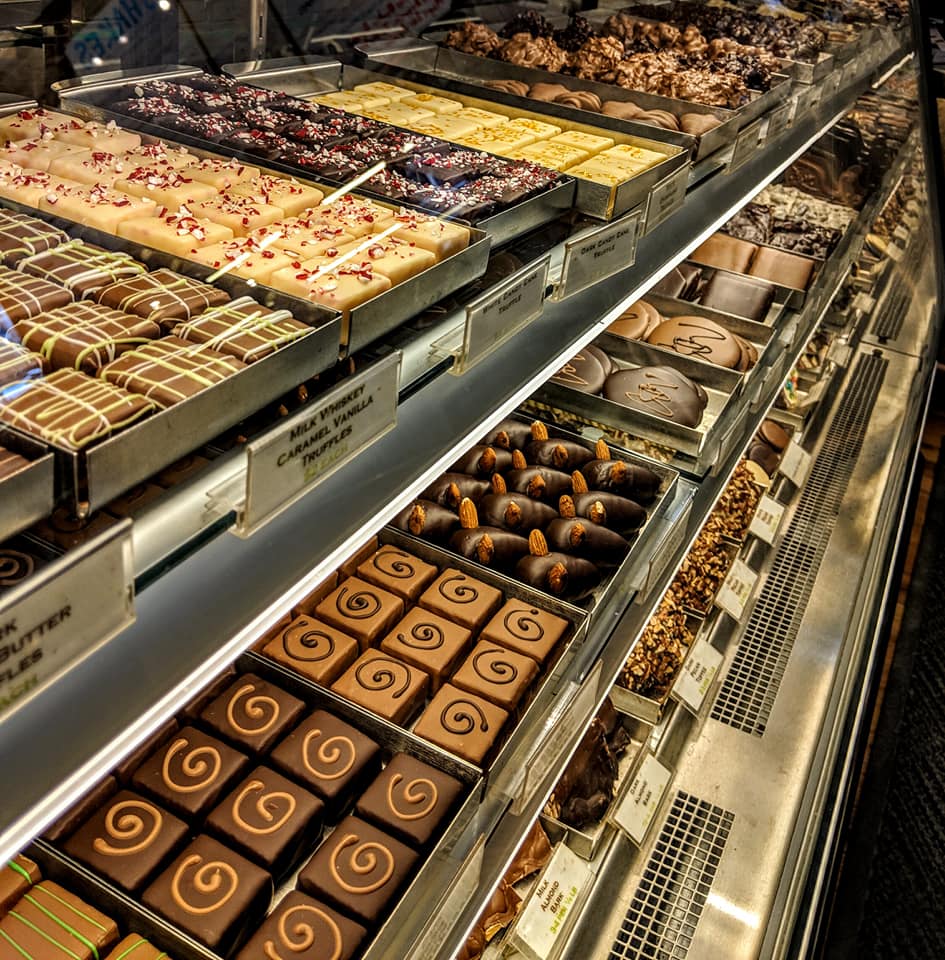 Photo credit: Mouse's Chocolates
Modernizing Mouse's
Susan believes the future of Mouse's Chocolates is online. She argues that if the business can set up a strong ecommerce presence, they'll be able to generate consistent revenue year-round.
"Everyone knows who we are within a 100-mile radius, but we need more than that to stay afloat," Susan says. "Having a retail presence just simply isn't enough anymore. You need to get your product in front of folks online who would never have heard about you otherwise."
Currently, Susan says Mouse's generates about "one-tenth of a percent" of their revenue via their Shopify website, but she hopes to increase that this year.
Mouse's is also looking into getting their product into grocery stores, and investing in data analysis to try and figure out the best ways to reinvest their revenues.
"The reporting tool on our POS showed us that we sold $200,000 worth of soft-serve ice cream last summer," Susan says. "That showed us that the $30,000 we spent on the soft serve machine was well worth it."
Mouse's is also considering moving their production to a location with more year-round help, as they've found this will ultimately lower labor costs. 
While all of this seems like daunting work, Susan says she derives a lot of satisfaction from her job.
"I love seeing the impact my decisions make," Susan says. "I've worked for a lot of people, both good and bad, and I love that I get to try and be the leader I always wanted to have."
As for others looking to get into the retail space, particularly confectionery, Susan has a few words of advice:
"It sounds corny, but you need to be passionate about what you're selling," Susan says. "If it's in your heart, it will never feel like work, and I've found that making people happy with food is something I'm passionate about."