Many business owners want the ability to sell their goods or services beyond their brick-and-mortar location—if they have a brick-and-mortar location at all. Luckily, mobile POS solutions allow users to do exactly that—with a mobile POS system, you can essentially turn your phone, tablet, laptop, or other mobile device into a cash register.
How does that happen, exactly? By downloading the POS software onto your device, then hooking up an external hardware that can process credit card payments (and/or a cash drawer to accept cash, too), you can complete the sales process without being tied to a countertop register. That mobility opens up the opportunity for you to do business pretty much anywhere you go.
Mobile POS systems—or all-in-one POS systems with a mobile option—are more popular now than ever, which means business owners have a ton of providers to sort through. Here, we've compiled a list of the five best mobile payment solutions to make the search easier for you.
What Is a Mobile POS System?
Before we review the five best mobile POS systems, let's review what a mobile POS system really is.
As a reminder, a POS, or point of sale, is the place where a retail transaction takes place; and a POS system is the machinery that handles that transaction. While traditionally cash registers were essentially the only POS terminal available to business owners, these days more and more businesses are opting for all-in-one payment processing systems. These streamlined systems refer to both the hardware that physically accepts payments, as well as the software with which it's embedded that processes those payment methods—be it cash, checks, gift cards, and all types of credit and debit cards.
Other than simply processing payments, however, the software embedded in these POS systems allows users to manage other aspects of their businesses, including inventory management, employee tracking, collecting sales data and creating reports, capturing customer behavior data, and more.
It stands to reason, then, that a mobile POS system is a POS system that retailers can use on-the-go, whether that's on their phones, tablets, laptops, or other wireless device. Mobile POS systems are also cloud-based, so all data is automatically stored and backed up online. Often, mobile POS systems are just one method of processing payments available through a given POS system provider, in addition to the provider's countertop solutions.
All told, mobile POS systems are ideal solutions for business owners who sell their goods or services beyond a brick-and-mortar location, whether that's at farmers markets, crafts fairs, trade shows, clients' homes, or even if you want the freedom to conduct the checkout process anywhere within your store.
Square
Square makes our list of the best mobile payment solutions for several reasons—not the least of which is because its software is actually free. Download the Square POS app to your Apple or Android devices to load your smartphone, tablet, or laptop with the capabilities to process payments. Then, you'll need to separately purchase Square hardware to physically accept those payments.
While Square does offer a countertop register, they also offer several hardware options that specifically allow business owners to process payments on the go. Each of these hardware options are designed to accept different types of credit cards:
Other than processing payments, the Square POS software allows business owners the following capabilities (among others):
Inventory tracking: With Square Inventory, you can quickly import new inventory data, receive alerts when inventory is low or out of stock, create data reports, and more.
Employee management: Square's employee management capabilities enable employees to clock-in and clock-out at the register, create employee sales reports, automatically calculate overtime, and more.
Customer engagement: With Square's CRM software, you can automatically send customers targeted campaign emails, let them sign up for a loyalty program, and receive private feedback from your customers.
You can access Square's other software services—like Square Payroll processing, ecommerce solutions, appointment scheduling, and much more—by paying additional monthly fees.
Square Pricing
As we mentioned, Square's software is free, but you will need to pay for the hardware necessary to physically accept payments:
Square Contactless and Chip Reader: $49
Square Chip and Magstripe Reader: $35
The exception to this is the Square Magstripe Reader, which comes for free (or $10 to replace it). Also pay attention to Square's processing fees, which you'll be charged for every transaction your process. Fees start at 2.6% + $0.10 per transaction, but they'll vary depending on the type of payment you're accepting, and the hardware you're using to process it.
Sign Up for Square for Free
Clover
Clover is a top competitor of Square's for their comprehensive, highly customizable POS solutions, but they earn its place on this list specifically for Clover Go and Clover Flex, their two mobile payment solutions.
Clover Go is a small, Bluetooth-connected device that allows Clover users to accept magstripe, EMV, and NFC cards from their smart devices. Clover Flex is a unique, handheld device with an intuitive touch-screen that can accept all types of credit payments, as well as capture signatures, scan barcodes, and print receipts.
Whichever mobile solution you choose from Clover POS, you'll also benefit from their robust software. Among many other features, Clover's software allows business owners to track and manage inventory and employee behavior, access the Clover app store, and even integrate with the apps you're already using to run your business—like MailChimp and QuickBooks—to streamline your processes that much more.
Clover Pricing
Before choosing your Clover hardware, you'll need to choose among three Clover service plans. The plan you choose depends upon the amount of sales you process, as well as the level of capabilities you want from your Clover POS solution.
Payments Plus: Free
Register Lite: $14 per month
Register: $29 per month
If you're simply looking into a mobile POS system, though—as opposed to a full-fledged register—you can likely opt for Clover's most basic (and free) payment plan, at least to start. Then, you'll pay the following for either of Clover's mobile payment processing hardware choices:
Clover Go: $59
Clover Flex: $449
As is the case with any POS system you use, you'll also be responsible for paying processing fees for every transaction you process. Clover's payment processing fees start at 2.3% + %0.10 per transaction, but, like Square, vary depending upon the type of payment you're accepting.
Open A Clover Account
Vend
Vend may be the best mobile POS system for retailers, as its software is designed specifically to convert iPads into mobile registers for retail stores. Vend also integrates with ecommerce stores.
One shortcoming is that Vend is only compatible with iPads and laptops (both Mac and PC), but not with smartphones. A plus, though, is that it's compatible with almost any external payment processing hardware—so if you already have an external card reader, barcode scanner, or cash drawer, you might not need to buy one that's dedicated specifically to your Vend software. It also works both on- and offline, so you can accept all types of payments even if you don't have an internet connection.
Here are some other capabilities included in Vend's POS software:
Inventory management: As you would imagine from a retail-specific mobile POS system, Vend has powerful product management capabilities, including real-time stock updates, adding retail prices, tags, discounts, and more.
Loyalty program: Vend's loyalty program captures customer information at the point of sale, automatically stores their purchase history, processes gift cards, exports your customer list to your email marketing tool, and more.
Performance reports: Vend software can generate detailed reports about your store's financial performance.
Vend also integrates with popular productivity apps, like Xero, QuickBooks, and other of Vend's partner apps. Vend also allows business owners to manage several store locations from one place.
If you choose Vend as your mobile POS system, you'll need to choose one of three third-party payment processors as your merchant account: Worldpay, Square, or PayPal. However, if you like your current merchant service provider, you may not need to switch, as Vend also partners with other payment gateways.
Vend Pricing
Vend has three pricing plans, which increase in features:
Lite: $99 per month billed annually. This is the best option for small retailers with just one location.
Pro: $129 per month billed annually. This plan works for single or multi-store retailers who want more advanced features from their POS system.
Enterprise: Contact Vend directly to receive a quote for this tailored POS solution, which is the best option for the largest, multi-store businesses.
All plans include a free register, but you can purchase additional registers for $59 per month (or $49 per month billed annually). You can also sign up for a free, 30-day trial period to test out any of these plans. Payment processing fees will vary depending on which of Vend's three partner payment processors you choose.
ShopKeep
While Vend is an excellent solution for retail businesses, ShopKeep excels as a mobile payment service for restaurants, coffee shops, food trucks, and bars. In fact, ShopKeep offers tailored POS solutions for all of these types of businesses (in addition to retail, clothing stores, and specialty shops).
ShopKeep's POS systems for businesses in the food industry are designed to facilitate almost every aspect of managing your business: among other capabilities, the ShopKeep software includes an online ordering system, tableside ordering, customizable tip suggestions, ingredient-level inventory tracking, and easy menu updates. (That's in addition to standard POS software features, like employee management and detailed reporting and analytics.)
In addition to their comprehensive countertop POS solution, ShopKeep has an iPad POS system that's compatible with a range of customizable hardware—including cash drawers, barcode scanners, iPad stands, and more.
ShopKeep Pricing
ShopKeep offers three software plans, each of which gives you the ability to accept sales on your phone, get paid via text message, and access real-time sales data. Here's what pricing looks like:
Basic plan: $49 per month (billed annually); $69 per month (billed monthly)
Essential plan: $79 per month (billed annually); $99 per month (billed monthly)
Advanced plan: $179 per month (billed annually); $199 per month (billed monthly)
Each plan includes an increasing number of features. If you're looking for a quick and easy mobile POS, however, you may only need the comprehensive Basic plan.
That said, each plan gives you integrated access to ShopKeep Payments, which also includes a free credit card reader. With ShopKeep Payments, you'll be able to choose between flat-rate pricing (2.5% + $0.10 for in-person, card-present transactions; 3.5% for card-not-present transactions) and interchange-plus pricing (customized for your business).
In terms of POS hardware, you can use a smart device you already own, purchase one from a third-party seller, or explore the hardware bundles that ShopKeep offers on their website.
Get Started With ShopKeep
PayPal Here
As a leader in the online payment field, it's no surprise that PayPal has developed PayPal Here, their own payment processing system. As a mobile POS system, PayPal Here consists of the PayPal app, which users can download onto their phones, tablets, or other smart devices; and an array of external hardware that allows users to physically accept credit cards.
PayPal Here offers three mobile hardware options:
Mobile Card Reader: As PayPal Here's simplest hardware option, the Mobile Card Reader only accepts magstripe (or swipe) credit cards. PayPal suggests this option for businesses that render monthly sales of less than $500. This card reader connects to your smart device's headphone jack.
Chip and Swipe Reader: PayPal's Chip and Swipe Reader is their most popular hardware option, as this device can accept both swipe cards and chip cards (two of the more popular credit payment methods). This reader connects to your device wirelessly, via Bluetooth.
Chip and Tap Reader: To accept chip, swipe, and contactless payments, opt for PayPal's Chip and Tap Reader, which also connects via Bluetooth. For an added price, you can also opt for a bundle that includes a charger for your Chip and Tap reader.
Chip Card Reader: PayPal's most robust and secure card reader, the Chip Card hardware can accept all types of mobile payments.
The PayPal Here app offers users similar features to their competitors' apps, such as inventory tracking and management, employee management, sales report generation, and fast checkout features like automatic tip, tax, and discount calculation and refund processing. Keep in mind that in order to download the PayPal Here app and use this POS solution, you'll also need to have a PayPal account.
All told, the PayPal Here model is similar to the Square mobile POS. But existing PayPal customers may opt for PayPal Here over competitors, as this POS system can easily transfer funds from your PayPal account into your business bank account.
PayPal Here Pricing
To start using PayPal Here as your mobile POS system, you'll need to pay a one-off fee for your hardware of choice:
Mobile Card Reader: $14.99
Chip and Swipe Reader: $24.99
Chip and Tap Reader: $59.99, or $79.99 for an added charger
Chip Card Reader: $99.99
For processing payments, you'll pay 2.7% per transaction for swiped, tapped, or dipped credit cards, and 3.5% + $0.10 for any transaction you manually enter.
The Best Mobile Payment Processing System for Your Business
It's one thing to read about the five best mobile POS systems on the market, but it's quite another to understand which of those mobile payment solutions actually makes sense for your business. While you search for your ideal payment solution, consider at least the following questions:
How much money are you willing to shell out for a card reader, as well as transaction fees?
Which devices will you be using as your POS terminal?
What types of payments do you need to accept?
Do you need to be able to accept payments offline, or will you always have access to WiFi?
Do you want a POS solution that's tailored specifically to your industry?
Find the POS solution that's compatible with your answers to those questions, and you'll be well on your way to doing business anywhere you want or need to.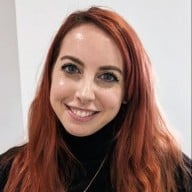 Contributing Writer
at
Fundera
Caroline Goldstein is a contributing writer for Fundera.
Caroline is a freelance writer and editor, specializing in small business and finance. She has covered topics such as lending, credit cards, marketing, and starting a business for Fundera. Her work has appeared in JPMorgan Chase, Prevention, Refinery29, Bustle, Men's Health, and more.
Read Full Author Bio