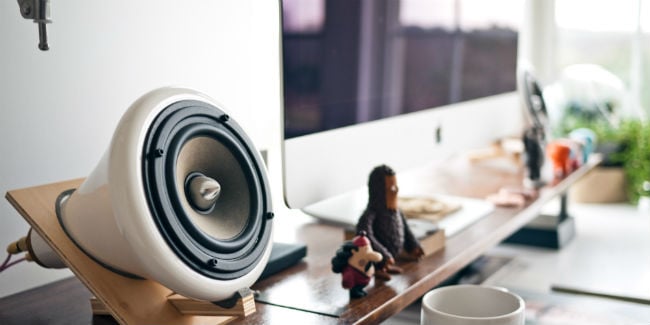 The 10 Best Business Podcasts
The runaway success of Serial has put a new spotlight on the world of podcasts. Since 2008,  Edison Research reports that the listenership of podcasts has nearly doubled. Some 46 million Americans listen to a podcast at least once a month. For busy entrepreneurs, podcasts are a great way to learn new things while you're doing something else, like commuting or working out. Here (in no particular order) are 10 of the best business podcasts around—which are all available for download on iTunes (as well as via other methods).
Marketing Smarts. MarketingProfs is a website I can't live without—I learn something useful about marketing from them almost every day. Now you can listen to them, too. The Marketing Smarts podcast features interviews with big names in social media and covers one very specific topic. The podcasts provide actionable how-to advice for business listeners—something that's not always easy to find in podcasts.
StartUp. Who better to host a podcast about startups than a former NPR employee who started his own business? Alex Blumberg's podcast has a different format than most on this list. The first season followed him through the launch of his startup, Gimlet Media. The second, current season's half-hour episodes follow the launch of Dating Ring, a dating company that combines technology with old-fashioned matchmaking and is run by two women in their 20s. I love the focus on the startup world from a woman entrepreneur's point of view—something you don't often get in most podcasts—and Blumberg's willingness to share his own mistakes along the way helps make this one of the best business podcasts.
Entrepreneur on Fire. This high-energy, half-hour podcast runs seven days a week. Host John Lee Dumas aims to inspire by featuring the success stories of entrepreneurs, including Seth Godin, Barbara Corcoran and Tim Ferriss, in an entertaining format: First, he starts by asking each guest about his or her biggest failure; then guests discuss their Aha! moments; finally, the episode ends with a Lightning Round of five rapid-fire questions. If you need something to revitalize your sagging entrepreneurial spirit, this is one of the best business podcasts to get you charged up again (the mere fact Dumas has interviewed over 700 entrepreneurs is inspiring in itself!).
The Tim Ferriss Show. Speaking of Tim Ferriss, his irreverent podcast isn't for everyone, but since it's number one on iTunes' business podcast charts most weeks, I'd say that qualifies as one of the best business podcasts out there. Ferriss gained fame as the author of bestseller The 4-Hour Workweek. (Ironically, listening to one of podcasts would take up half of that workweek, since most clock in at 2 hours in length.) However, if you've got the time, you'll be rewarded with fascinating interviews. Ferriss buttonholes high achievers in not just business, but investing, music, science, sports and more, to learn their secrets for doing things better. Whether it's CrossFit or marketing automation, he's genuinely curious about anything that can improve performance in business or in life.
Entrepreneurial Thought Leaders. Want to listen in to the weekly lectures by entrepreneurial thought leaders hosted at Stanford University? Now you don't need to fly to Palo Alto. Just check out this podcast, which features Stanford business professors, as well as venture capitalists and founders of innovative companies like Houzz, TaskRabbit and ZenPayroll. You're sure to come away inspired.
Business Insanity Talk Radio. Barry Moltz is a friend of mine, but that's not why I'm recommending this as one of the best business podcasts you can listen to. It's because Barry really knows what it's like to run and grow a small business, and all the craziness that goes with it. Plus, his hour-long episodes feature fascinating guests like Guy Kawasaki, Ingrid Vanderveldt and John Warrillow who have lots of business expertise to share.
Inside PR. Co-host Gini Dietrich is a friend of mine, too, but she's also a marketing and social media whiz who I've relied on for advice over the years with my own business. This podcast, with co-hosts Joseph Thornley and Martin Waxman, is just as interesting, insightful and down-to-earth as Gini is. One feature I like about the short podcasts, hosted in a roundtable format about 20 minutes long, is that the website includes a written overview of what you'll hear so you can easily pick the podcasts of interest to you. Each week, the hosts discuss everything from Meerkat and the latest Google algorithm change to when to hire a PR firm for your small business.
Mass Amplify. This weekly, 30-minute podcast hosted by Britt Michaelian, yet another friend, features top authors, influencers, entrepreneurs, speakers and business leaders who have built powerful brands by gathering a loyal audience to amplify their message. Guests like Bryan Kramer, Porter Gale and Ted Rubin share their personal stories, resources, tools and techniques that will inspire. Discussion topics range from branding mistakes and PR tips to social media marketing trends.
Social Media Marketing Podcast. Social Media Examiner is one of the most useful, straightforward sites on social media for small business, and its podcast is just as helpful. Designed to help busy marketers and business owners discover what works in social media marketing, the podcasts run about an hour as Michael Stelzner interviews social media experts and explores various social media tools. Some of his best business podcasts are those featuring real small business owners sharing how they found success via social media.
Breaking Down Your Business. Hosts Brad Farris and Jill Salzman take a chatty, friendly approach to business that acknowledges the problems on small business owners' minds, such as "How do I make more money without driving myself nuts?" Farris and Salzman know you're busy, so each episode is short (about 20 minutes) and easy to digest, focusing on a list of "5 Things" (like "5 Things to Look for in a Networking Group"). Most podcasts also feature useful tools for small business owners. I've been a guest on this podcast and the hosts are especially energetic and funny.
Can't get enough business podcasts? Small Business Trends publishes an annual list of the Top 100 Small Business Podcasts.

Rieva Lesonsky is a small business contributor for Fundera and CEO of GrowBiz Media, a media company. She has spent 30+ years covering, consulting and speaking to small businesses owners and entrepreneurs.

Latest posts by Rieva Lesonsky (see all)